Finder is committed to editorial independence. While we receive compensation when you click links to partners, they do not influence our opinions or reviews. Learn how we make money.
Remit2India review
Enjoy competitive exchange rates and affordable fees when sending money to India.
finder.com's rating: 3.0 / 5.0
★★★★★
Fees & rates: 4.0 / 5.0
Speed: 2.0 / 5.0
Services: 3.0 / 5.0
User experience: 3.0 / 5.0
While many providers can transfer your money worldwide, Remit2India specializes in money transfers to India. Supporting 10 currencies and transfers from 24 countries, Remit2India makes it easy to get your funds to friends, family and businesses in India.
With competitive exchange rates and minimal fees, Remit2India transfers are affordable and secure. And you have access to 24/7 customer support to ensure that help is available when you need it.
$50,000
Max. Transfer Amount
Details
Product Name
Remit2India Money Transfers
Min. Transfer Amount
$50
Max. Transfer Amount
$50,000
Transfer Methods
Online, Bank Account to Bank Account
Transfer Options
One off payments
Transfer Speed

Minimum transfer time

2 days
Customer Service
Phone, Email
Available Currencies
INR, USD
Limited options
Remit2India concentrates on helping its customers send money solely to India. If you need a service that lets you send money to India quickly, you might be disappointed with Remit2India's slow two- to six-day transfer time. This delivery speed makes Remit2India a better candidate for planned transfers or regular transfers than emergency transfers or overseas payments. In addition, Remit2India only provides one-off transfers.
If you can wait a week or more for your transfer to arrive and want to ensure more of your money gets in your recipient's hands and not the pockets of a money transfer company, Remit2India could be a strong contender for your transfer.
Highlights
Send money to India, and only India.
Non-emergency transfers. Transfer speeds vary from two to six days.
One-off transfers. Remit2India only offers one-off transfers. You can't schedule recurring payments or make forward contracts.
How much does Remit2India cost?
How much you'll pay with Remit2India varies by how much you're sending:
For transfers of $50 to $999, you'll pay a $2.99 fee.
For transfers over $999, you'll pay a $0 fee.
How are Remit2India's exchange rates?
Remit2India offers competitive exchange rates for international money transfers to India. These rates are updated throughout the day in line with global markets — which means the rate you pay would differ from the rate you see online, given market fluctuations.
To view Remit2India's current exchange rates, use its Online Exchange Rate Calculator.
Calculate your transfer with Remit2India
Choose your currency and desired transfer amount (minimum $50). Exchange rates change frequently, so visit Remit2India's site to get a final quote.

Disclaimer: Exchange rates change often. Confirm the total cost with the provider before transferring money.
Remit2India discount codes and coupons
We don't have any active promo codes for Remit2India at the moment. Check back regularly or take advantage of another money transfer offer instead.
What types of transfers can I send with Remit2India?
Remit2India offers only one-off transfers. You can transfer the money by two methods:
ACH transfers. These secure, reliable transfers are sent online through the ACH network, with your funds delivered to your recipient within six business days.
Wire transfers. Send your funds from an existing bank account for delivery to your recipient's account within two business days.
If you need assistance, Remit2India's customer service team is available by phone or email 24/7. You'll also find a handy FAQ online.
Pros and cons of using Remit2India
Pros
Expert specialists. Remit2India focuses solely on transferring money to India from over 24 countries, so you can be confident you'll get the most out of your transfer.
Competitive exchange rates.

Remit2India's exchange rates stack up strongly against those offered by your bank and other money transfer providers.

24/7 support. Remit2India offers 24/7 customer service if you need it.
Cons
Services limited to India. If you need to send money elsewhere, you'll need to use a different service.
Slower delivery. Transfers take two to six business days depending on your transfer method.
How does Remit2India compare to other services?
Disclaimer: Exchange rates change often. Confirm the total cost with the provider before transferring money.
Check if there are any Remit2India promo codes available
How do I register and transfer money with Remit2India?
Step 1. You'll first need to register for a free Remit2India account. It's a simple process that involves providing your name, date of birth, phone number, email address, proof of identity and linked bank account details.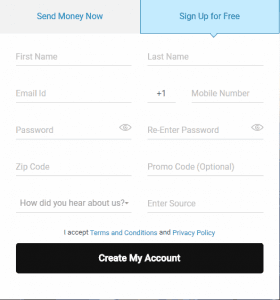 Step 2. Once you have an account, you enter details about your recipient, including their name and bank account details, as well as the amount of money you wish to send.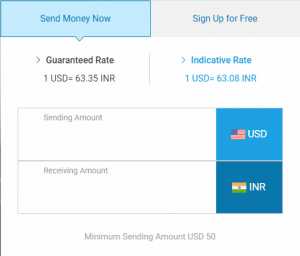 Step 3. Choose your transfer method and then submit your transaction.
ACH transfers are processed within six working days, and wire transfers are processed within two working days.
Bottom line
Remit2India is a competitive, affordable service for transferring money to India. If you need to send money to India, Remit2India can get it there securely.
However, to get the best deal for your personal circumstances, compare the exchange rates, transfer fees and other details of independent money transfer services before handing over your cash.
Frequently asked questions