Redeem Avianca LifeMiles for best value
No fuel surcharges mean you'll save big when you fly internationally.
While Avianca's award flight prices are a little less than the best in the business, the sheer earning potential of Avianca LifeMiles bulldozes this pesky little fact. With enough LifeMiles, you can book solid travel deals through Avianca and the Star Alliance.
Airline transfer partners
Since Avianca is in Star Alliance, you can earn and redeem LifeMiles on nearly every Star Alliance airline partner. You can also redeem flights using LifeMiles with Avianca partners Aeromexico and Iberia.
Awards chart
Here are a few examples of how many LifeMiles are needed to fly with Avianca to certain parts of the world. These ranges assume roundtrip flights originating from LAX.
Destination
LifeMiles required
Bogota, Columbia
Economy on sale: 16,500
Economy: 21,500
Business on sale: 33,000
Cancun, Mexico
Economy on sale: 16,500
San Juan, Puerto Rico
Economy on sale: 16,500
Data obtained March 2019. Values are subject to change and should be used only as a general guide.
Partnered flights
The amount of LifeMiles needed to fly with each airline varies by destination and cabin. Avianca offers a full table of mile ranges needed to fly with Star Alliance on their site, assuming a one-way itinerary.


Full table not shown. Data obtained March 2019. Values are subject to change and should be used only as a general guide.
You can find similar tables for Aeromexico and Iberia at the LifeMiles site.
How to redeem LifeMiles for maximum value
There are a few ways to maximize the value of your LifeMiles once you've earned enough.
1. Book a flight with StarAlliance partners
Avianca is just one of three airline rewards programs within the Star Alliance that can go towards fuel surcharges or close-in booking fees for any partnered flights.
That makes your LifeMiles especially valuable for booking otherwise pricey international flights. While LifeMiles adds a $25 booking fee to all award tickets, this pales in comparison to the fuel surcharges on a Lufthansa first class flight.
2. Book a flight on Avianca
You can find some good deals on Avianca-operated flights depending on when you book and where you're going,
For example, a business promo ticket could run you 70,000 LifeMiles for a round trip from LAX to SJU. Purchasing this same route with cash might run you about $2,747, meaning your LifeMiles jump in value to about 4 cents per mile.
3. Upgrade your Avianca flight
Avianca also features respectable rates on upgrading your flights to business class. The exact value of your LifeMiles depends on your itinerary, though Avianca offers a handy chart to give you an idea of how many points you'll need to spend.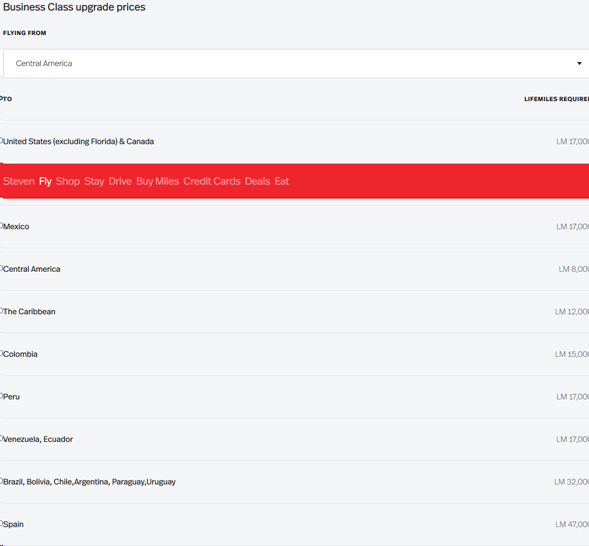 How to earn Avianca LifeMiles
The fastest way to collect LifeMiles is to effectively use associated credit cards. For more details on all of the ways you can earn LifeMiles, check out our complete earning guide.
Compare cards for earning LifeMiles
Avianca's cobranded cards offer additional LifeMile bonuses when you spend with Avianca and feature a solid signup bonus.
If a cobranded card isn't your first choice for earning LifeMiles, you can apply for one of Avianca's credit card partners. American, Express, Citi and Capital One all allow you to transfer points to your LifeMiles program, so you'll have a great card selection to choose from.
Bottom line
Avianca is just one of three Star Alliance partners to not pass on fuel surcharges, making the LifeMiles rewards program all the more intriguing. It's easy to bank a ton of LifeMiles and redeem the points on flights that'd otherwise be expensive. Learn how to best earn LifeMiles and compare your rewards credit card options to find the best fit for your preferences.
Back to top
Frequently asked questions
Do LifeMiles expire?
Yes. LifeMiles expire after 12 months unless you make at least one accrual transaction or cobranded credit card purchase within that time.
Can I reactivate expired LifeMiles?
Yes, your miles will expire if your account is inactive for 18 months. Avoid this by earning and redeeming miles at least once every year.
Can I redeem flights if I'm short the total number of LifeMiles needed?
Yes. You can combine LifeMiles and cash to book your flight using the "LifeMiles + Money" option, though you'll need at least 40% of the required mileage.
Images: Shutterstock