Checking fees hit record high; here's how to lower yours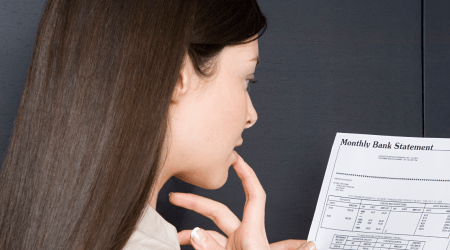 New study reveals having the wrong checking account can be costly. Explore your options.
Bankrate released its 2020 Checking Account and ATM Fee study last week, revealing that checking account fees are at historical highs while returns are at historical lows. The solution? Try lowering fees at your current bank or switch to another institution. Here's how to do it.
Average checking account fees
Bankrate's study shows that not only are checking account fees increasing, but they're getting harder to avoid thanks to ever-increasing minimum deposit requirements.
This table summarizes Bankrate's survey findings:
| Checking account fees and details | Average cost | % change from last year |
| --- | --- | --- |
| Monthly maintenance | $15.50 | Up 3% |
| Minimum balance required to avoid monthly fee | $7,550 | Up 6% |
| Overdraft fee | $33.47 | Up 0.3% |
| Out-of-network ATM fee | $4.64 | Down 1.7% |
| Interest rate | 0.04% | Down 33.3% |
The only fee that's gotten cheaper in 2020 is out-of-network ATM fees, which are now $4.64 instead of $4.72. This is partly due to a growing number of banks (35%) adopting free out-of-network ATM withdrawal policies.
Checking account interest rates were already pretty low in 2019 with an average rate of 0.06%. But the Federal Reserve dropped rates even more in 2020 in response to the coronavirus pandemic, which sent the average rate dropping to 0.04%. This means that the average checking account holder will earn $0.40 a year for every $1,000 they keep in their account.
How to lower checking account fees
Keeping checking account fees low can be as simple as watching your account and noting when your balance dips below any required minimums. But if you find it's difficult to meet your account's strict requirements, it might be time to explore other options.
For example, if you usually keep $5,000 in checking but your account requires $7,000 to avoid the $15 monthly fee, keeping that account will cost you at least $180 a year. No amount of interest you earn will make up for it.
You don't have to necessarily switch banks to find a better account. Nearly half (47%) of non-interest checking accounts are free — the highest percentage we've seen since 2010. Explore your bank's current options to see if there's a checking account with lower fees or minimum balance requirements.
5 free interest-bearing checking accounts
Online banks are notorious for offering checking accounts with low fees and high APYs — the opposite of traditional banks. If you're not tied to your bank, consider moving your cash to an institution that won't ding you for every little thing.
Here are five online checking accounts that help you maximize your money with competitive interest rates, no monthly fees and low opening deposits:
What if I've racked up bank fees during COVID-19?
Countless Americans are struggling to make ends meet during the coronavirus pandemic. As a result, many banks are offering to waive certain fees on a case-by-case basis. The following institutions released policies earlier this year telling customers to contact them if they need financial relief from bank fees, according to a US News report:
Ally Bank
BBVA
Capital One
Chase
Citibank
HSBC
PNC Bank
USAA
Wells Fargo
Just because checking account fees are at an all-time high doesn't mean you have to put up with them. Either contact your current bank to see if they can waive any fees or find a free checking account at another bank.
Photo: Getty Images