How to rebuild your credit
Get your finances back on track by improving your score.
Whether you're having a hard time making timely payments or your bills got lost in the mail, finding out that you have a low credit score can be discouraging and even alarming. But it's possible to rebuild your credit by making a plan and sticking to it.
When should you consider rebuilding your credit?
The realization that your credit score needs work often comes after you're denied a financial service or application. You might even start receiving calls from debt collectors for unpaid bills and outstanding account balances.
When a low credit score affects your ability to get approved for credit cards, job applications and even a place to live, it may be time to plan for improvement.
What's considered a bad credit score?
The industry views a FICO score of 579 or lower as bad. Fair is 580-669, but could still keep you from getting approved by certain lenders.
What made my credit score go down?
Your credit score is an accumulation of multiple factors. Possible culprits include:
History of late payments. This includes all borrowed money that you're meant to be paying back, like student loans, mortgages, auto loans, and credit cards. Your payment history indicates to lenders how risky you are as a client.
Increased credit utilization. If you're using more credit than you have available, it could negatively affect who'll lend you cash in the future. Keeping an eye on balances can help ensure you've got a healthy credit utilization ratio.
Defaulting on a credit account. Not paying back a lender at all is known as "defaulting," and means companies will hesitate or refuse to lend you more money.
Hard inquiries. If lots of entities are checking your credit, it means you're applying for a large amount of borrowed money. This could be a red flag about your financial security.
Poor credit mix. Credit scores consider how many of each account type you have. For example, a report that includes a mortgage, student loan and a couple of credit cards would likely have a better score than one consisting of only defaulted credit cards.
What else can affect your credit score?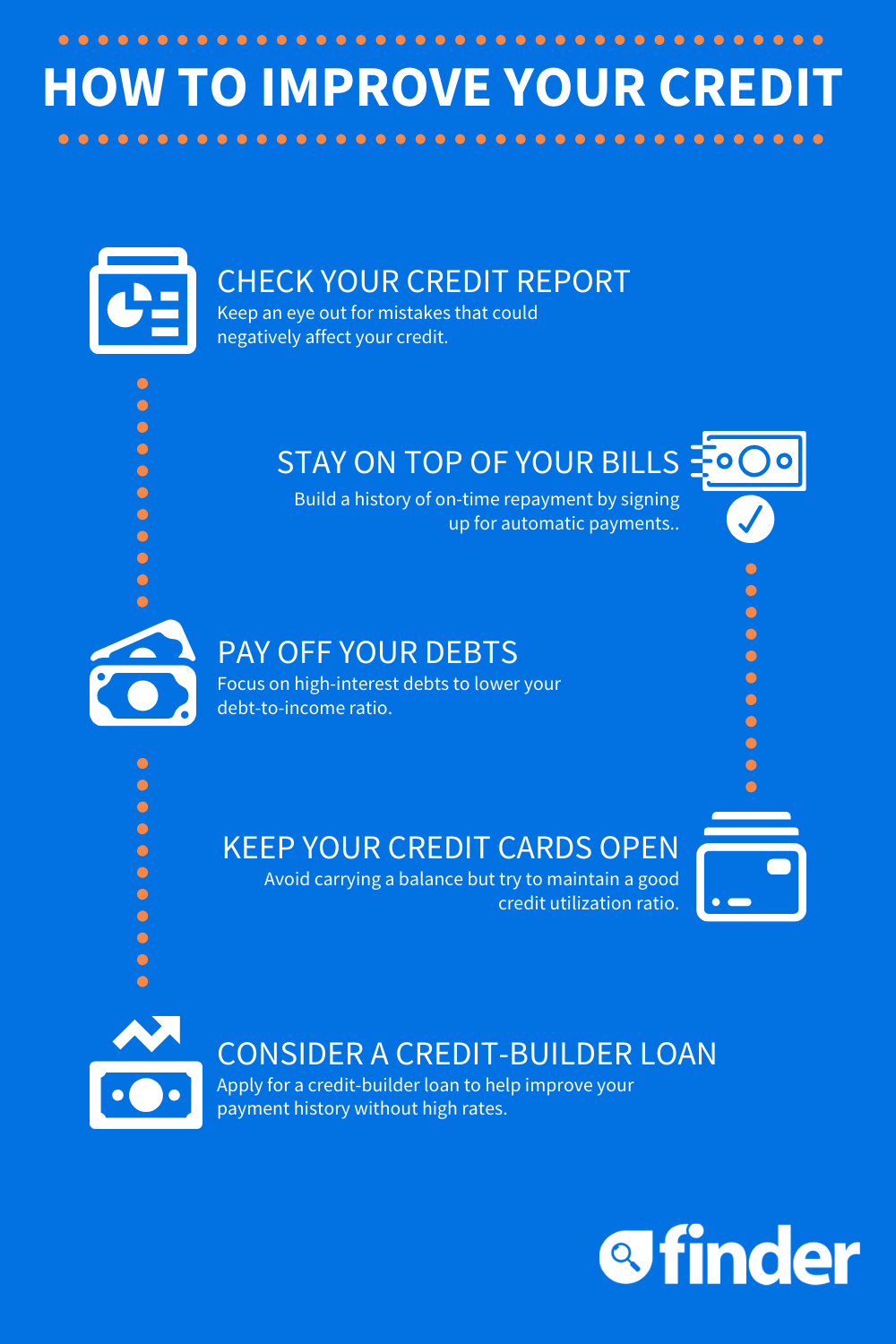 9 tips for rebuilding your credit
The good news is that there are concrete ways to rebuild your score if it's not looking too hot. Consider which of these strategies is most realistic for your situation:
1. Open a secured credit card
If you're unable to get approved for a regular credit card — or your previous accounts were closed — consider starting with a secured credit card, which requires an initial deposit to trigger the line of credit. Although opening another credit card may seem counterintuitive, timely repayments and responsible spending can indicate to lenders that you're serious about turning over a new leaf.
2. Set reminders for upcoming payments
Forgetfulness happens, but if you're consistently missing payments, set up text or email reminders for your accounts. Scheduling automatic payments directly from your bank account can be a hands-off approach to rebuilding your credit — but be on top of your balance to avoid overdrafting.
3. Repay your debt
It's easier said than done, but instituting a payment plan to start getting rid of debt is a highly effective way of getting your score back on track. You'll probably need to set a budget and stop using your regular credit card. But getting out of the red sets you on a path of financial freedom.
4. Limit credit card use
If getting rid of debt completely isn't an option due to your financial situation, just reducing the amount of credit you spend can help keep your score from going down. In general, you'll want to aim for well below 30% credit card utilization. Subbing a debit card for essential purchases and instituting a strict budget can give you a boost, too.
5. Institute spending limits
If you're an authorized user on a credit card, you might be able to set a spending limit to help you stay within your means. Similarly, a family member or close friend could add you to their account as an authorized user but cap the amount you're allowed to spend. That way, you can work on improving your credit without needing to get approved for your own account.
6. Stop applying for credit cards
It starts to feel like an endless cycle — your application gets denied, so you apply for another card, and another, in hopes of getting approved. But since hard inquiries can ding your score, it's best to hold off on more applications once you've identified that a low score is causing the rejections. And when you do start applying again, consider a basic, no-frills card to keep things simple.
7. Check for accuracy
Mistakes and accounting errors sometimes happen. Stay on top of what's happening with your credit profile to avoid mistakes on your credit. You can usually dispute a credit score by contacting a credit bureau directly.
8. Link up your phone and utility bills
The credit bureau, Experian has a product called Boost that lets you use your payments for phone and utility to count towards improving your credit. It's free to start and comes with a free report profile and FICO credit score.
9. Take out a credit-builder loan
This should only be seen as a last resort, since your goal is to reduce your amount of borrowed cash. But some banks or credit unions let you take out a loan specifically so you can pay it back and credit bureaus will be notified of your on-time payments. You'll need to prove your income and capacity to pay it back up front.
How long does it take to rebuild credit?
The amount of time it'll take depends on how much debt you owe, but in general your score should start improving within weeks of practicing better financial habits. With diligent repayment, you could see significant improvement after a year.
Check out our full guide for tips on improving your credit score.
Rebuild your credit with:
Start keeping tabs on your credit score
Bottom line
The good news about bad credit is that it's not permanent. To improve your score, start by figuring out where you're at, then create a game plan for getting back on top.
Frequently asked questions