Expect a 14-day quarantine when traveling to these states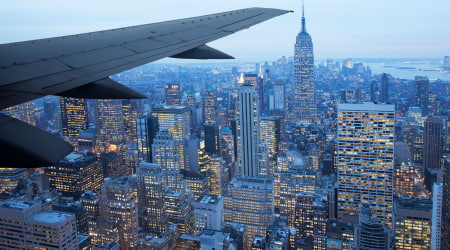 Four northeastern governors have issued advisories for incoming travelers.
People arriving in New York, New Jersey or Connecticut from the following states are required to quarantine for 14 days to help slow community spread of coronavirus:
Alabama
Arkansas
Arizona
California
Florida
Georgia
Iowa
Idaho
Louisiana
Mississippi
North Carolina
Nevada
South Carolina
Tennessee
Texas
Utah
Travelers from eight of those states had already been under restrictions after an announcement last week, but on Tuesday eight more states were added to that list.
The advisory applies to states that have more than 10 positive COVID-19 cases per 100,000 residents and states with a 10% or higher positivity rate — all over a seven-day rolling average.
The announcements do not contain information about whether a traveler might be exempt from self-quarantine if they test negative for COVID-19 upon arrival.
Who does the advisory apply to?
In New Jersey, New York and Connecticut, the advisory applies to all travelers coming from one of the states on that list — even if New Jersey, New York or Connecticut is their permanent place of residence. However, there are exemptions for essential workers.
Mandatory restrictions in Massachusetts
On Tuesday, Gov. Charlie Baker announced that starting Wednesday all travelers arriving in Massachusetts would be required to self-quarantine for 14 days — though travelers from the following states are exempt:
Connecticut
Rhode Island
Maine
New Hampshire
New Jersey
New York
Vermont
According to Baker, those seven states are exempt because they've shown low positive test rates in the past few weeks.
What does self-quarantine look like?
Self-quarantine is a preventative measure for people who might've been exposed to COVID-19, aimed at preventing non-symptomatic folks from spreading the virus to other people. This involves staying at home, monitoring your health and separating yourself from others, according to the CDC.
Travelers who plan to stay at a hotel or bed and breakfast can carry out their quarantine there — though their experience may be limited to room service and paid programming.
If you're just driving through one of the four restricted states, then you should be alright as long as you stay in your car, avoiding restaurants and public places. And you don't need to self-quarantine if you only have a layover in one of the states.
What happens if I choose not to self-quarantine?
Each state is responsible for enforcing its own advisory, so penalties could be different depending on where you go. In New York, for example, Gov. Andrew Cuomo has stated that people violating the restrictions could be faced with a judicial order and fines ranging from $2,000 to $10,000.
In Connecticut, on the other hand, "it will be up to individuals to abide by the advisory," according to its official statement.
If you're planning on driving through one of the four states, be sure to read each state's travel advisory to understand the requirements and consequences before setting out.
Making other plans
People who had planned to travel from a banned state to a state requiring self-quarantine may want to reconsider in light of these travel advisories. You could opt for a staycation instead, postponing your out-of-state travel for a future time when restrictions are eased. Or you could travel to a state that doesn't require self-quarantine — still adhering to social distancing guidelines as laid out by the CDC.
You might also look into renting a vacation home, where it's possible to self-quarantine while enjoying the physiological benefits brought about by a change of scenery.
If you do decide to travel via a summer road trip or cross-country flight, wearing a mask and taking along a coronavirus travel kit can help lower your chances of catching or spreading COVID-19.
Photo: Getty Images