Finder is committed to editorial independence. While we receive compensation when you click links to partners, they do not influence our content.
Purple mattress review 2021
How is Purple changing the online mattress game? Let us count the ways…
Raise your hand if you've been through just about every type of mattress out there but can't seem to find anything that fits your body just right. We've been there, too. Foam mattresses are wildly popular right now, but the truth is that pure foam beds aren't for everyone. If you still want the convenience of an online bed-in-a-box but with a little more spring in its step, you might want to give Purple's mattresses a try.
Available through Affirm
Financing
Review by
gabrielle.pastorek@finder.com
---
Gabrielle Pastorek is the shopping and travel publisher at Finder, helping readers to round up the best deals, coupons, retailers, products and services to make sound financial decisions. She's contributed more than 800 articles to the site and is a quoted expert in Best Company and DealNews. She earned an MFA from the University of Pittsburgh, with essays and short stories published in The Collagist, Blue Monday Review, Blotterature and others. When she's not writing, Gabrielle can be found out in the barn with her horse, Lucy.
Expert review
If you're not in love with regular foam, spring or latex mattresses, you might want to give Purple a try. This popular brand uses a patented material called Hyper-Elastic Polymer that's different from other options out there. You'll pay more for newer Purple models, but you can still snag the original at a decent price if you're shopping on a budget.
We've recommended Purple in our guides for the best mattress for couples, side sleepers and heavier people, thanks to its unique material. The Hyper-Elastic Polymer layer in all of the brand's mattresses allows for better pressure point relief and responsiveness, while its newer premium options offer the added support that heavier people and couples often need.
What does Purple carry?
Mattresses
Purple has four levels of mattress, with the main differences being the thickness of the patented comfort grid and the addition of responsive coils in the New Purple mattresses. All Purple mattresses are made with the Purple Smart Comfort Grid™, which consists of patented Hyper-Elastic Polymer™ material.
Beyond mattresses
Pillows. Purple makes pillows with the same Hyper-Elastic Polymer material as its mattresses, complete with a firm, supportive edge.
Sheets. Purple's bamboo sheets are extra stretchy for optimal comfort in your new bed.
Mattress protector. Also made of stretchy fabric, your mattress protector won't hinder a great snooze. It's water-absorbent, stain-proof and sleep-quiet.
Seat cushions. They supposedly allow you to sit on a raw egg without breaking it. How's that for support?
Foundations. Choose from a traditional platform base or the adjustable PowerBase for your new mattress.
Pet beds. Purple has joined the ranks of online mattress companies that offer a bed for your pooch. It's made of the same two foam layers and Hyper-Elastic Polymer as your mattress.
Prices and payment
The cheapest mattress option starts at $699 for a twin XL Original Purple. A king or California king of the same style costs $1,299. The most expensive model — the Purple 4 — starts at $2,499 for a twin XL and goes up to $3,499 for a king or California king.
Pay for your Purple order in full upfront using PayPal, Amazon Pay, Visa, Mastercard, American Express or Discover. Purple's website is secure. The checkout page has a valid security certificate, so you can rest assured that your payment information will be transmitted safely.
Does Purple offer financing?
Yes, Purple partners with Affirm financing. Choose this option on the payment page at checkout. You'll be redirected to Affirm's secure website, where you can submit an application for financing and receive a nearly instant approval answer. You could get anywhere from 0% to 30% APR. Note that a down payment may be required.
Features of a Purple mattress
What is it made of?
Purple is a unique foam hybrid mattress. It contains two layers of supportive foam and a Smart Comfort Grid comprised of a stretchy patented material called Hyper-Elastic Polymer. Purple 2, 3 and 4 also include a layer of individually wrapped, responsive spring coils for added support, pressure relief and durability.
Do I need a box spring?
No, Purple recommends that you don't use a box spring with your new mattress, since springs can break down and cause your mattress to sag. Instead, choose from one of Purple's foundations or bases, or use a metal, platform or slatted foundation of your own.
How many years does a Purple mattress last?
Purple mattresses are expected to last six to seven years on average, similar to memory foam or foam hybrid beds.
Can I flip or rotate my Purple mattress?
Since the polymer Smart Comfort Grid is only on the top layer, it's not recommended that you flip any Purple mattress. The company says you can rotate it if you'd like, though it's not entirely necessary.
Purple sizing guide
When you go online to buy a Purple mattress, the first thing you'll need to decide is whether you want the original Purple or one of the new Purple mattresses. The main difference among your four options is the thickness. Note that none of the Purple mattresses are currently available in a regular twin size — only twin XL.
Purple
| Twin XL | Full | Queen | King | California King |
| --- | --- | --- | --- | --- |
| 38" x 80" x 9.5" | 54" x 76" x 9.5" | 60" x 80" x 9.5" | 76" x 80" x 9.5" | 72" x 84" x 9.5" |
Purple 2
| Twin XL | Full | Queen | King | California King |
| --- | --- | --- | --- | --- |
| 38" x 80" x 11" | 54" x 76" x 11" | 60" x 80" x 11" | 76" x 80" x 11" | 72" x 84" x 11" |
Purple 3
| Twin XL | Full | Queen | King | California King |
| --- | --- | --- | --- | --- |
| 38" x 80" x 12" | 54" x 76" x 12" | 60" x 80" x 12" | 76" x 80" x 12" | 72" x 84" x 12" |
Purple 4
| Twin XL | Full | Queen | King | California King |
| --- | --- | --- | --- | --- |
| 38" x 80" x 13" | 54" x 76" x 13" | 60" x 80" x 13" | 76" x 80" x 13" | 72" x 84" x 13" |
Shipping and delivery
Can I get free delivery?
Yes, shipping is always free to the continental US, whether you buy a seat cushion or a mattress.
Does Purple offer a trial period?
Yes, you'll have 100 nights to try out your new mattress and/or pillow. If you don't fall in love — or soundly asleep — request a free return before your trial is up.
Take 30 days to try your Purple seat cushion to make sure it's right for you. If not, you can request a free return.
What's Purple's return policy?
Try your Purple mattress or pillow for 100 nights. If you don't like them at any point within that window, contact customer support to set up a free pickup and return. For Purple seat cushions, you'll have a 30-day trial period and free returns during that time.
All items must be clean and undamaged to be eligible for a return.
Only products purchased directly from Purple.com can be returned to Purple. If you bought a mattress from Amazon, you'll need to follow Amazon's return policy and protocol.
Mattress protectors, sheets, the PowerBase and the Platform base are not refundable unless they arrive damaged or defective.
Are Purple returns free?
Yes. All returns are free, as long as you're still within the given trial period for the item you'd like to send back.
How do I return items to Purple?
Contact Purple customer service at:
returns@onpurple.com
888-848-8456
The returns department operates Monday through Friday from 8 a.m.-4:30 p.m. Mountain Time.
A member of Purple's team will take you through the required steps to process your return. Note that returns cannot be handled via social media, so you'll need to call or email.
Shipping costs
Shipping and returns are free, although there may be an additional shipping charge if you live in Alaska, Hawaii or Canada.
Shipping to other parts of the world is not available at this time.
How can I track my order?
You should receive shipment confirmation from Purple when your order ships. If you don't, contact customer support at 888-848-8456 or info@purple.com.
What sets this brand apart?
To make Purple mattresses, co-founders Tony and Terry Pierce have created a patent-pending machine called the MattressMax. This machine gives Purple the power to manufacture its innovative Hyper-Elastic Polymer material right here in the US at a much more affordable price point.
With patents in use all over the world for mattresses like Stryker Medical, Svane by Ekornes, Francebed and Sleepmaker, the company definitely knows a thing or two about comfort technology. Purple has also has created the materials used for Jansport backpack straps, Dr. Scholl's Massaging Gel and Sof-Sole insoles and soft-catch toy balls by Nickelodeon.
What do people really say about Purple?
Lots of online reviewers confirm the fact that Purple's unique Hyper-Elastic Polymer material does make a difference when it comes to providing ample support and, most importantly, being comfortable to sleep on. Another big benefit of Purple mattresses is that they seem to do a great job of keeping you cool, which can be a problem for some other online mattress brands.
The biggest complaints about Purple have to do with subpar customer service and a bit of a hassle during the mattress return process. It's also worth noting that you should expect to pay a little more for the new Purple models (Purple 2, 3 and 4) than some of the brand's top competitors.
How can I contact customer support?
You can get in touch with customer support at 888-848-8456, info@purple.com or by live-chatting online. If you have a pressing matter, you might want to try calling. We tried the live chat feature and were on hold for quite a while.
Customer service hours are:
Mon – Fri, 7 a.m. to 7 p.m. MT
Sat, 10 a.m. to 4 p.m. MT
Why should I shop at Purple?
Pros
Made in the USA. Thanks to its MattressMax machine, Purple mattresses are proudly made here in America.
Unique material. If you know you don't want a regular foam or spring mattress, Purple's innovative polymer material might be worth a try.
Free shipping and returns. Shipping and returns are free to the continental US, whether you buy a mattress or a seat cushion.
Military discount. Purple offers a military discount to veterans, active duty service members and first responders. Call 844-642-5613 to take advantage of this offer.
Cons
Complaints of poor customer service. Some online reviews mentioned problems with getting in touch with customer service when they needed help.
Some big items can't be returned. If you buy either of the platforms that Purple offers, you won't be able to return them unless there's a defect.
Is Purple better than Casper?
Purple and Casper are two of the most well-recognized online mattress brands. While the two mattresses have lots in common, there are a few notable differences — the biggest being the material they're made from.
Casper has three mattress models. Two are made entirely of foam and the third — the Wave — is a foam hybrid mattress that also contains a breathable latex layer. All Purple mattresses have a Smart Comfort Grid made of patented Hyper-Elastic Polymer, as well as layers of supportive foam underneath. According to online reviews, the stretchy polymer material in Purple mattresses helps this bed sleep cool.
Both mattresses have the same 100-night trial period, 10-year warranty and free shipping. Expect to pay a little more for a Purple mattress than a Casper.
If you're still not sure which bed-in-a-box is right for you, read our Purple vs. Casper review. Or, compare even more online mattress brands to help you pick the right bed for your snoozing style.
Frequently asked questions about Purple mattresses
---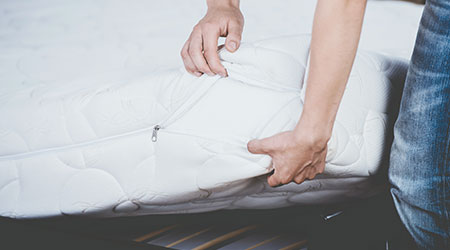 The complete guide to buying a mattress online
If you're not sure yet if Purple is right for you, jump over to our complete guide to buying a mattress online. We give you tips on how to choose the right mattress for you and compare online mattress brands side by side.