Finder is committed to editorial independence. While we receive compensation when you click links to partners, they do not influence our content.
The Original Purple Mattress and pillow review
We review the Original Purple mattress.
Provides a better night's sleep with patented hyper-elastic polymer.
Sucked in by Purple's ad campaign, I pulled the trigger and bought the Original Purple Mattress, which came with a free pillow. After sleeping on it for the past two months, here are my thoughts.
I bought myself a Purple Mattress after moving to New York from Australia. Rest assured, I've slept on it before giving this review, and you are getting an honest, unbiased opinion.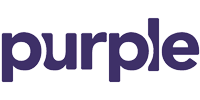 Size reviewed: Queen
Cost: $999
Trial period:
Warranty:
Free shipping: Yes
Shipping time:
Shop Purple Mattress now
Mattress review
Unpacking the mattress
The mattress arrived at my front door about a week after ordering. Unfortunately, I'd ducked down to the deli when the delivery driver arrived, which meant coming home to a 70-pound purple package. While 70 pounds doesn't sound like a lot of weight, it is when you need to get a densely rolled tube of hyper-elastic polymer up to the third floor of a walk-up — cumbersome, to say the least.
Once upstairs, the unpacking process was a breeze. The mattress comes with a pamphlet of unpacking instructions and a safety blade designed to help you get the mattress out of the vacuum-sealed plastic with ease. However, I must have missed that when removing the mattress from its outer casing, which is why you'll see me attacking the plastic housing with a kitchen knife in the video, rather than the safety razor. C'est la vie.
All in all, it took around six minutes to unfurl the mattress. And unlike many other mattresses you can order online, you don't need to wait 24 to 48 hours before it's ready to sleep on. Just unwrap and you're good to go.
Purple's promotion at the time I purchased the Original Mattress allowed me to choose between a free pillow or set of sheets. I opted for the Purple Pillow. The pillow came in similar packaging to the mattress. And, at 10 pounds, it's not light either.
Top tip from our experience
I hesitated buying the mattress and abandoned my cart. About two days later, I got an email from Purple prompting me to come back and complete the purchase with a $50 discount.
Not saying that everyone should do this or it'll work every time. Just reporting the facts.
Initial thoughts
It feels weird, which might turn off some people as it doesn't feel like a traditional bed. The top layer is made of two inches of Purple's patented hyper-elastic polymer, followed by a middle and base layers of different thicknesses and densities of polyurethane foam.
The mattress is firm to the touch of an outstretched hand, but soft once you lie down on it. And unlike a traditional foam mattress where you feel like you're sinking into it, it feels more like you're being cradled.
One month in
In the past decade, I've had two other mattresses: an expensive viscoelastic mattress and a crappy Ikea one with a memory foam topper. After sleeping two months on the Original Purple Mattress, I can say it's the most comfortable mattress I've owned.
From other reviews I've read, it can take time to get used to the Purple mattress. For me, at least, this wasn't the case — I had a great night's sleep from the jump.
A major issue for me in the past was getting too hot while sleeping. Unlike traditional latex or memory foam mattresses, the open grid design and temperature-neutral materials of the Purple mattress offers a breathable, cool sleep. That may sound like marketing BS — but, hey, it worked for me.
The only major downside I've noticed so far is the mattress's soft edges. In the beginning, I had a couple of nights where I felt like I was going to fall out of bed. But you get used to it. And the issue is rectified in the All-New Purple, which is made with responsive support coils.
The Purple pillow
I took advantage of the free Purple Pillow deal. Like the mattress, the pillow may take getting used to, as it's made from the same hyper-elastic polymer grid as the mattress. It also weighs a ton — or, you know, 10 pounds — which is bad news if you're someone who likes to flip your pillow. Though the point of this pillow is that it's cool enough to not need flipping.
While the pillow is soft yet supportive like the mattress, at 3 inches thick, it's on the thin side. In the past, Purple offered an adjustable booster to correct this issue, but it wasn't (and still isn't) available. If you prefer a high-profile pillow, you might want to skip this one. Or chuck a smaller pillow under it as a workaround and wait to see if Purple reoffers the booster.
Pros and cons
Pros
Good for bad backs. I had spinal surgery in my early 20s and haven't woken up in pain since sleeping on this bed. That is a massive plus.
Ready to sleep. After your mattress is unwrapped, it's ready for sleeping, which is a distinct advantage compared to other brands.
Great support. Because of its grid design, you get the support you need without pressure on your joints. And you can get in and out of bed without disturbing your partner.
Sleeps cool. Temperature-neutral materials make for a cool night's sleep.
Free trial. If you try and don't like the mattress, return it within 100 nights for a refund.
Cons
Soft edges. It's my major gripe because you can't get too close to the edge without the sensation of potentially falling off the bed.
The weight. The mattress comes in at 70 pounds and the pillow at 10, making it among the heaviest combos. It may be hard to get them in and out of your house.
The height. While comfy, the pillow is very thin. You might want to try before you buy.
Shop Purple Mattress now
The Original Purple Mattress vs. competitors
The Original Purple is on the expensive side, but can you put a price on a good night's sleep?
Bottom line
The Original Purple Mattress is hands down the most comfortable mattress I've slept on. If I needed a new mattress in the future, I'd definitely consider shelling out a bit more money for one of Purple's luxe options.
Learn more about the products available from this digital retailer in our Purple mattress review.
More guides on Finder