Finder is committed to editorial independence. While we receive compensation when you click links to partners, they do not influence our opinions or reviews. Learn how we make money.
PurePoint Financial CDs review
If you have $10,000 saved, you could score a 1.1% APY.
PurePoint has flexible CD terms, a market-leading APY and a rate promise which helps you secure the best rate in the 10 days after submitting your application. But to open a CD, you'll need $10,000 — which is much higher than most banks.
Details
| | |
| --- | --- |
| Minimum deposit to open | $10,000 |
| Interest compounding | Daily |
| 6-month APY | 0.75% |
| 1-year APY | 1.1% |
| 15-month APY | 1.1% |
| 18-month APY | 1.05% |
| 2-year APY | 1.01% |
| 3-year APY | 0.9% |
| 30-month APY | 1.01% |
| 4-year APY | 0.9% |
| 5-year APY | 0.75% |
| Early withdrawal penalty | 181 days interest for terms of 6 + months |
Expert review
Review by
katia.iervasi@finder.com
---
Katia Iervasi is a staff writer who hails from Australia and now calls New York home. Her writing and analysis has been featured on sites like Forbes, Best Company and Financial Advisor around the world. Armed with a BA in Communication and a journalistic eye for detail, she navigates insurance and finance topics for Finder, so you can splash your cash smartly (and be a pro when the subject pops up at dinner parties).
Expert review
PurePoint Financial CDs are best for those looking for a high interest rate on short- to long-term CDs. It has some of the most competitive APYs on the market — but the minimum deposit is on the higher end of the spectrum.

The bank also offers flexible terms and a rate promise, though the early withdrawal penalty is steep and steady across all term lengths.
What types of CDs does PurePoint offer?
PurePoint has two types of CDs with varying terms:
Online CDs
6 months
12 months
15 months
18 months
24 months
30 months
36 months
48 months
60 months
No-Penalty CDs
With these CDs, you're allowed to withdraw your total balance without penalty seven days after funding your account.
11 months
13 months
14 months
The benefits of a PurePoint CD
Opening a CD with PurePoint comes with these perks:
High APYs. For example, a 12-month CD boasts a 1.1% APY — one of the highest yields available on the market.
Best Rate Commitment. If you fund your new CD within 10 days of completing the application, you'll score the best rate that was offered during that 10-day period.
Multiple funding methods. You can fund your account via bank transfers, check deposits and wire transfers.
Variety of CD lengths. The bank has CDs with terms of six to 60 months, and No-Penalty CDs stretching from 11 to 13 months.
No maintenance fees. You won't pay a fee to open or maintain a CD, though it costs $25 to send domestic wires.
What to watch out for
While PurePoint offers flexible terms and a rate guarantee, its CDs have these potential drawbacks:
$10,000 minimum opening deposit. This requirement could exclude some savers.
Early withdrawal penalties. Like all banks, PurePoint charges a fee for the early withdrawal of funds from its Online CDs. Regardless of the term, you'll pay a penalty of 181 days of simple interest — which can be hefty for customers for short-term CDs.
Few physical branches. The bank has 22 financial centers across Florida, Illinois, New York and Texas. If you don't live in one of those states, you'll need to bank online or over the phone.
No app. The online banking system is sophisticated, but it's only available on desktop. But since CDs are low-maintenance, this may not bother you.
Short customer support window. Reps are available by phone on weekdays from 8 a.m. to 9 p.m. ET. If you need help outside of those hours, you're limited to email or mail.
If you want to open a CD with a lower minimum deposit, you'll want to keep looking. As always, compare your options when choosing a CD.
Compare with other CDs
How do I open a CD?
The quickest way to open a CD is online. These are the steps:
Go to the PurePoint Financial website.
On the homepage, hover over Open an Account and click CDs.
Let's say you're new to the bank. Press New Client.
Type in your Initial Deposit Amount and choose a CD Term. From the dropdown box, indicate what you're saving for — e.g. college fund or retirement. Click Next.
Decide between an Individual or Joint Account.
Enter your personal and contact details, date of birth and Social Security Number. Click Next.
Continue following the prompts to fund your deposit.
Otherwise you can call 855-488-7873 on weekdays from 8 a.m. to 9 p.m. ET, or visit a branch.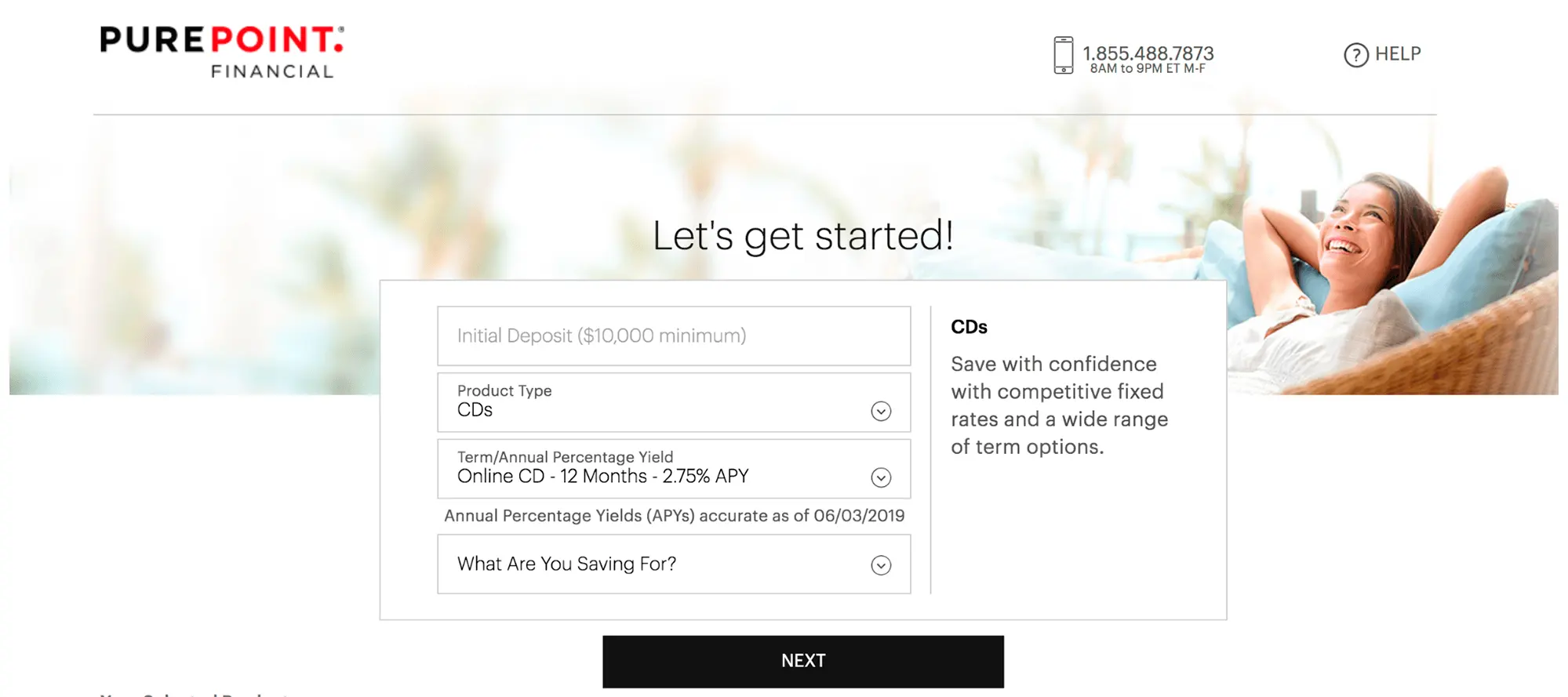 Eligibility
To apply for a CD, you must be:
A US Citizen or Resident Alien with a physical address, Social Security Number and driver's license or state-issued ID
At least 18 years old
Able to make the $10,000 minimum deposit
Required information
Have this info handy for your application:
Address, phone number and email
Social Security Number
Valid driver's license or state ID
Details for the bank account you're using to fund your initial deposit, if applicable.
Funding options
You can fund your CD in the following ways:
Electronic funds transfer. Transfer money from an external bank account for free. You'll need the bank's routing and account number, and the funds may take up to two business days to appear in the account.
Wires. Wire money into your account using PurePoint's routing number: 122238310.
Mobile checks. Log into online banking to complete a check deposit. Before uploading the check, sign the back and write "For mobile deposit only to PurePoint Financial."
Kiosk check deposits. The bank's financial centers all have kiosks that accept check deposits.
Paper checks. Endorse and mail paper checks to this address:
PurePoint Financial
P.O. Box 870
Glendale, CA 91209
How do I cash in a CD?
When your CD matures, PurePoint will automatically renew it for the same term at the current rate. There's a 10-day grace period to make any changes, though. If you don't want to renew your CD, you can cash it out or roll it over to another CD with a different term during that time.
If you choose to withdraw all or a portion of your funds, you can do so without penalty by calling 855-488-7873 or sending an email via your online account.
What other savings products does PurePoint offer?
The bank keeps it simple with a single savings account. The PurePoint Financial Online Savings Account stands out for its competitive 0.8% APY — and like the CDs, it has a $10,000 opening deposit. If your balance dips below $10,000, you'll earn an interest rate of 0.25%.
Frequently asked questions