Pudgy Penguins NFT community turns icy as project dumps founder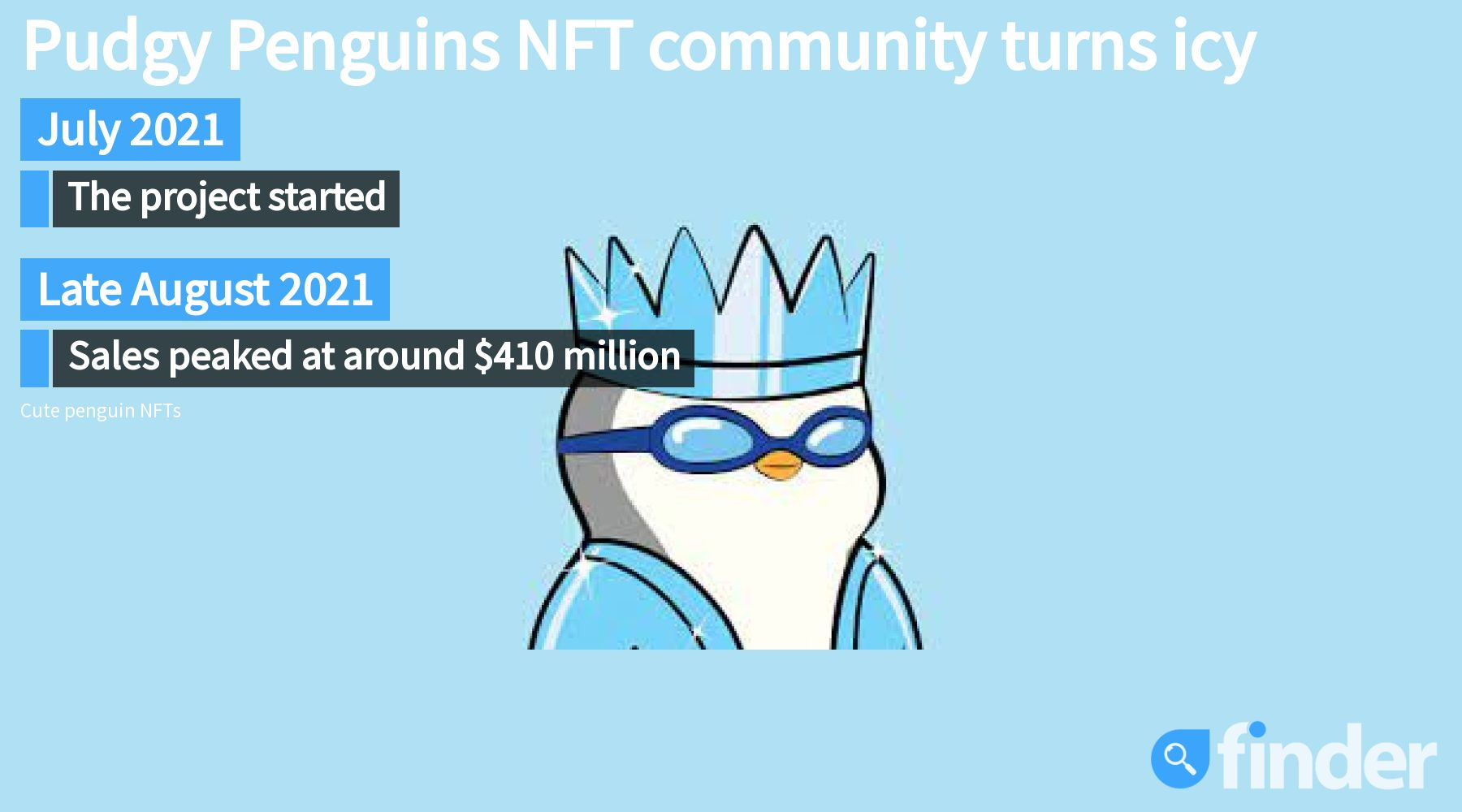 Owners and creators clash over royalty rights for NFT sensation in a spat that could help set rules for the industry.
Cute penguin NFTs, or nonfungible tokens, have become a battleground between creators and owners over who should profit from them in what could be an industry-defining moment.
The battle over the Pudgy Penguins project raises governance questions surrounding NFT projects. It may even serve as a base case that will define what happens when NFT project creators and organizers fail to deliver to the community's satisfaction.
On one side of the debate, you have the Pudgy Penguins creators. On the other, the owners — who believe the current management has failed to deliver on promises, stifling the growth of their investments.
Who ultimately wins could have major ramifications for future investors in NFTs.
A brief history of penguins
The project started in July 2021 with 8,888 chubby penguin NFTs. The character came equipped with human accessories, such as baseball caps and fishing rods. It completely sold out in 20 minutes.
It has quickly grown to one of the largest NFT collections, raising over 45,400 ETH in sales on marketplace OpenSeas. (As of January 2022, one Ethereum coin is worth about $3,235. That sale would be worth more than $146 million at today's prices.)
But not all is well in the community, and the dispute has to do with royalties.
Penguins in revolt
After rising tensions over the past several months, Pudgy Penguin owners are now revolting against the four-member team that created the NFT project.
In August, a much-hyped digital penguin egg was rolled out to NFT holders. These were digital gifts to Penguin owners expected to hatch for Christmas. When they hatched, they revealed only a picture of a fishing rod, with the name misspelled as "rog." That left many owners, who seemed to expect something of value, disappointed.
In the month following, the owners — known as "the huddle" — looked to completely decentralize the project.
Sales fall
Despite a booming start, Pudgy Penguins have fallen in value.
In late August, sales peaked at around $410 million, according to data tracker NonFungible. Sales had dropped to around $57 million by the end of November. The value of each NFT had dropped by roughly 40%.
Owner departs
The project's founder was reportedly dumped on Thursday amid allegations of failing to deliver on stated goals and draining treasury funds.
The event wasn't met with much sympathy from the ownership.
According to Twitter user and Pudgy Penguins owner @9x9x9eth, Pudgy Penguins cofounder operating under the pseudonym Cole Thereum "promised a game, a token, an educational book on NFTs and more" to the community last September.
"After a half year, they still have not yet set up the team. They are still in the stage of hiring," 9x9x9 said on Twitter.
Creators want to sell
Adding to the tension, the four creators were apparently looking to sell.
Luca Netz of Netz Capital alluded to narrowing down a potential deal to acquire the Pudgy Penguins Project for 750 ETH, according to Yahoo Finance.
Neither the fund nor the creators have confirmed the details or a sale
Who really profits?
The most important thing about an NFT is its perceived value. To measure this, a price floor for the least-valuable NFT in a collection sets the minimum for the market.
The price floor for Pudgy Penguins — which was as high as 2.875 ETH in late September, according to NFT Price Floor — has fallen below 1 ETH since mid-December.
Now those who hold the NFT are displeased. However, rumors that the leaders would be ousted triggered a price rise to 1.88 ETH.
Central to the dispute is that while NFT owners want the price to remain high, the creators benefit from lower prices.
The Pudgy Penguins founding team receives a small percentage in royalties from each NFT sale, meaning founders make more money if trading volumes are high. Lower prices, by default, increase trading volume.
Ownership fights back
To protect its investment, ownership found a way to remove the creators from the project in what is known as "Wrapped Penguins."
This new project creates a parallel community governed by the decentralized autonomous organization of NFT owners. Essentially, this would allow current penguin holders to sever all ties with the founding team.
By using a wrapper or small contract that takes an asset and issues a parallel asset, the Pudgy Penguin NFT could become the first decentralized NFT in history.
What comes next?
While it's hard to speculate exactly what will happen given all the twists and turns so far, history unfortunately isn't on the side of "the huddle."
In order for the huddle to take over, it would need to become the first NFT in history to do so.
And while crypto was built on decentralization, NFTs have never become purely group-owned.
Short of "the huddle" taking over, it's likely to be business as usual for Pudgy Penguin's NFTs.
Information on this page is for educational purposes only. Finder is not an advisor or brokerage service, and we don't recommend investors to trade specific stocks or other investments.
Finder is not a client of any featured partner. We may be paid a fee for referring prospective clients to a partner, though it is not a recommendation to invest in any one partner.