Finder is committed to editorial independence. While we receive compensation when you click links to partners, they do not influence our opinions or reviews. Learn how we make money.
Prudential life insurance review 2020
A diverse product lineup and multiple underwriting niches allow for competitive pricing.
finder.com's rating: 2.0 / 5.0
★★★★★
Get a quote if…
You're looking for a comprehensive term or universal life policy.
Pick something else if…
You want a whole life insurance policy.
$100,000 to $10,000,000
Coverage
Yes
Medical Exam Required
Details
| | |
| --- | --- |
| Free quote | Fill out an online form |
| Policy options | Term, Universal, Variable Universal, Indexed Universal, Survivorship Universal |
| Term lengths | 10, 15, 20, or 30 years |
| Monthly cost | |
| Claim methods | |
| Ratings | |
| Available states | |
| Customer support | Phone, Online |
| Riders | Yes |
Expert review
Review by
julia.cameron@findercrew.com
---
Julia Cameron is a writer and editor who has experience in finance, mergers and acquisitions, content marketing and immigration law. She has a passion for interior design and an affinity for Old Florida, where she lives with her family.
Expert review
Prudential is a solid choice for term and universal life insurance with the financial standing to offer competitive rates and potentially lenient underwriting guidelines, depending on your health and lifestyle. But you'll need to carefully read the terms of your policy, asking questions about anything you don't understand, to avoid surprises later.
What types of life insurance coverage does Prudential offer?
Prudential specializes in term and universal life insurance, reflected in a large selection of flexible policy options. Its flexible underwriting means you're protected within many classes that account for those with less-than-perfect health, occasional smokers and even risk-takers, like weekend aviators.
Term life insurance
Term life is typically your most affordable coverage. The same goes for Prudential's offerings, available in terms of 10, 15, 20 or 30 years, with most allowing the option to convert to a permanent policy.Prudential compares term life insurance to the process of leasing a car: You pay a set amount monthly, and at the end of your term, you can let the policy lapse or renew it, typically with a higher premium.
Each of Prudential's six term policies feature level premiums with adjustable payment schedules and tax-free death benefit payouts:
MyTerm and Term Essential. These standard term policies don't come with permanent conversion.
Term Elite. A more flexible and comprehensive version of Term Essential.
PruTerm WorkLife 65. Term life insurance for coverage over your working years, up to age 65.
PruLife Return of Premium. Returned premiums — tax-free — if you outlive your policy.
PruTerm One. Year-by-year term life coverage.
Universal life insurance
Prudential doesn't offer whole life insurance, instead jumping to universal life policies. These permanent policies tend to be more expensive than term life but build cash value over the life of the policy.Premiums and payment schedules are flexible, and you can contribute beyond your existing premiums to further grow the value of your policy.
Standard universal
This group of universal policies offers flexible premiums and payment schedules but fixed investment options.
PruLife Universal Protector. Lifetime coverage and a guaranteed death benefit.
PruLife Essential UL. Lifetime coverage with access to optional living benefits.
PruLife SUL Protector. Covers two lives and pays a guaranteed death benefit when the second insured dies.
PruLife Universal Plus. Cash value growth with access to policy loans and withdrawals.
Indexed universal
Indexed policies offer flexible premiums and payment schedules, with cash value accumulation tied to the S&P 500 index.
PruLife Founders Plus UL. Provides a no-lapse guarantee and payout even if your cash value drops to $0.
PruLife Index Advantage UL. Offers the greatest potential to build cash value.
PruLife Survivorship Index UL. Covers two people and pays the death benefit after both policyholders die.
Variable universal
Variable policies provide flexible premiums, payment schedules and investment options for increased cash value potential.
VUL Protector. Ideal for moderate risk with a no-lapse guarantee.
PruLife Custom Premier II. No-lapse guarantee periods and higher risk for potential higher returns.
PruLife SVUL Protector. No-lapse guarantee coverage for two people.
Read our review on Prudential's disability insurance
What riders can I add to my life insurance policy?
Prudential's life insurance policies offer solid coverage and flexible options, but your life's circumstances may require beyond-standard coverage.
Like most insurers, Prudential extends a selection of add-ons to suit you and your family's coverage needs, including:
Serious illness rider. Accelerates your death benefit if you're diagnosed with a serious or terminal illness.
Disability rider. Ensures your policy remains in force if you become disabled.
Additional death benefits. Provide affordable life insurance for your children or an additional death benefit if you suffer a fatal accident.
Cash value rider. Keeps your policy in effect or increases its cash value under specified circumstances.
Estate planning rider. Allows you to adapt your policy as your life changes or minimize taxes for your beneficiaries under specific circumstances.
Waiver of premium rider. Should you become disabled prior to your 60th birthday, your premiums will be waived for as long as you're considered disabled.
Accidental death benefit rider. May provide an additional death benefit should you die in an accident.
Accelerated death benefit. Allows the policyholder to receive a portion of the death benefit prior to death should they meet a set of specified circumstances.
How much does Prudential cost?
To get an idea of how much you might pay for your policy, check out some sample quotes below for a $250,000, 20-year term policy for an individual in good health.
| Age | Male | Female |
| --- | --- | --- |
| 20 | $24.28 | $17.50 |
| 25 | $22.31 | $17.72 |
| 30 | $23.41 | $19.25 |
| 35 | $24.28 | $19.69 |
| 40 | $28.87 | $23.41 |
| 45 | $35.44 | $30.84 |
| 50 | $54.47 | $44.41 |
| 55 | $87.06 | $62.12 |
| 60 | $158.59 | $108.28 |
| 65 | $243.42 | $194.25 |
Rates for Prudential are provided by Policygenius and are valid as of August 2019 in all states except New York and Montana.
How do I get a low rate?
Prudential's underwriting can result in a range of rates based on your health and lifestyle. But the best rates fall under three classes: Standard Plus, Preferred Plus and Preferred Best.
To get the lowest Preferred Best rates, you must meet specific eligibility in a handful of categories that include:
Blood pressure. Your blood pressure can be up to 130/80 prior to age 49 and up to 135/85 for ages 50 and up.
Cholesterol. Your cholesterol should be under 300 with an HDL ratio of 5 or less, with or without medication.
Family history. Your parents' or siblings' medical history should be free of early death due to coronary artery disease, stroke or cancer, among similar diseases.
Tobacco. You cannot have smoked or otherwise used nicotine in the past five years.
Driving record. You should have no DWI or reckless driving infractions within the past five years, no license suspensions within the past three years and no more than one moving violation or motor vehicle accident in the past three years.
Talk to a Prudential representative to learn more about Standard Plus and Preferred Plus rate eligibility.
Pros and cons of Prudential
Prudential is a top life insurance provider with the financial strength to back excellent products and solid customer support.
Pros
Possible rate reductions. While Prudential doesn't advertise specifics, customers say they've moved up in rate classes after, say, quitting smoking for a year or more — without reapplying. It's worth asking your rep for details.
Lenient underwriting guidelines. Prudential might be a choice if you're older than 60 or aren't in perfect health. It's also among the few providers to offer life insurance to applicants with DUIs on their record.
Actual age. Some insurance providers use the applicants "nearest age" to determine rates, which often means rounding up if your birthday is in the next six months. Prudential uses your actual age at the time of application.
Cons
No whole life insurance. Unlike other providers, Prudential sticks to a range of term and universal policies only.
Lengthy approval process. Policy approvals can take up to eight weeks if you don't opt for the expedited option.
Strict underwriting for best rates. As with many insurers, lowest rates go to those in ideal health — including no tobacco or nicotine use in the past five years.
Compare more life insurance companies like Prudential
Prudential reviews and complaints
Prudential Insurance Company of America isn't accredited by the Better Business Bureau, but it has a D- rating while it resolves complaints. The BBB records 69 complaints over the past three years, many of which had to do with billing and the slow claims process.
How does Prudential protect my data?
Prudential collects your personal information in order to help you with its services and for marketing purposes. Prudential does not sell your data to third parties.
Your information is protected through administrative, technical and physical safeguards.
How do I sign up?
From Prudential's life insurance page, click Buy a Policy and then Get an Instant Quote.
Enter your email address to get started. Then answer a few questions about yourself, including your email address, state, gender, birthdate, height and weight, nicotine use, and coverage term and amount.
You'll then be presented with a quote. You can make changes or proceed with the application process if you're happy with the quote. To apply, click Apply Now. It takes about 20 minutes to complete the application process.
I've signed up. What happens next?
Depending on your medical history, you might qualify without a check-up. You'll be notified of your acceptance status, and coverage will take effect once the payment for your first premium is received.
Case study: Kelly's experience

Kelly Larson
Editor
I established my life insurance policy with Prudential through a broker, so I didn't have any direct contact. They provided the lowest quote for me by far, which was the main reason I went in that direction. The in-house medical exam took less than an hour, and I received a Term Essential policy in the mail a week or two later. This may be thanks to the broker I used, but I didn't have to contend with the lengthy approval process that other customers complain about.
I didn't look into this too much during the process of establishing the policy, but Prudential also offers a decent number of add-ons that I'll likely look into in the future. So far, my policy has done no more and no less than exactly what I need it to do — quietly exist in the background.
More about Prudential
Prudential is best known for what its logo is designed to symbolize: the strength and stability of the Rock of Gibraltar. Established as the Prudential Friendly Society, its goal has always been to provide affordable life insurance to the working class. Today, it holds more than $2 trillion in active life insurance policies.
In addition to life insurance, Prudential offers a wide variety of other products that include:
Employer insurance plans and pensions.
Retirement plans and annuities.
Mutual funds.
Asset management.
How do I file a life insurance claim with Prudential?
Filing a claim with Prudential is straightforward by phone, in person or online:
Phone. To start the claims process, call 855-277-8061 weekdays from 8 a.m. to 8 p.m. Eastern time.
In office. Speak with your Prudential representative to walk through the process in person.
Online. Click File a Life Insurance Claim on Prudential's site and follow the instructions.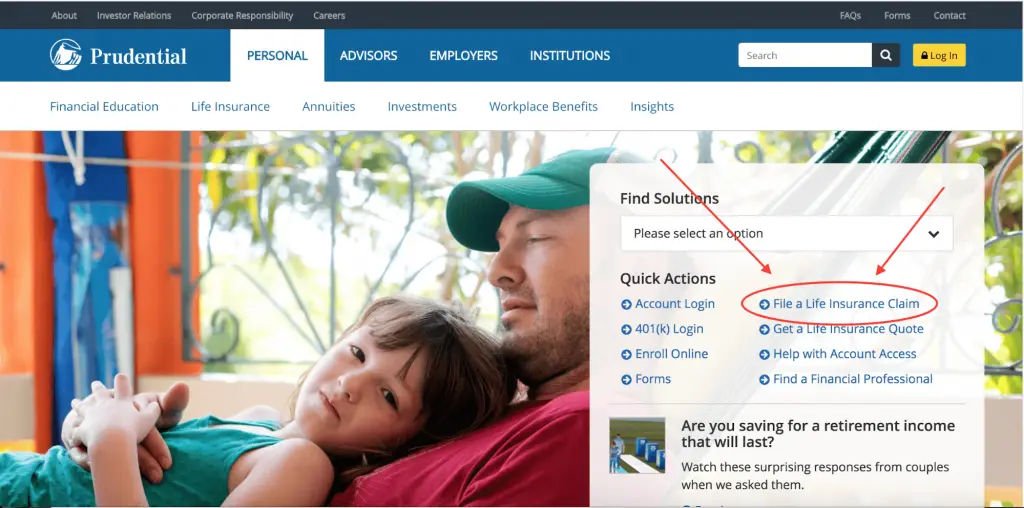 Regardless of what method you choose, here's what you'll need:
Policy and Social Security numbers
The policyholder's full name and date of birth
The policyholder's date of death
The funeral home's name and phone number
Prudential financial stability and credit ratings
Prudential is highly rated for its financial stability from trusted credit ratings agencies.
| | |
| --- | --- |
| A.M. Best | A+ Superior rating |
| Standard & Poor's | AA- |
| Fitch | AA- |
| Moody's | A1 |
---
The last word
To make sure you're getting the exact coverage you're eligible for at a price you can afford, compare your life insurance options before settling on any one provider.
Frequently asked questions
Life insurance ratings
★★★★★ — Excellent
★★★★★ — Good
★★★★★ — Average
★★★★★ — Subpar
★★★★★ — Poor
Our experts analyze life insurance companies to help you to find the strongest possible policy and premium for your family's needs. We assess their financial strength, customer satisfaction, policy features and riders. We then give each insurer a score between one and five stars that reflects their offering and reputation in the industry.