Finder is committed to editorial independence. While we receive compensation when you click links to partners, they do not influence our content.
Proven skincare review
American-made, cruelty-free skincare that's customized just for you.
Customized skincare is the latest trend in beauty, and it's not hard to see why. Instead of a standard one-size-fits-all approach, custom skincare takes your unique skin type and needs into consideration.
Proven is one of the latest customized skincare brands to make a splash in the beauty scene. The company offers cruelty-free products that are made in the USA and designed to match your specific skin concerns. Even better still, the entire process happens online — so you don't have to brave a crowded mall to get a personalized experience.
I took the online questionnaire and tried my personalized Proven regimen for four weeks. Here's what I thought about each product and my overall experience with this brand.
What I tried:
Quick take
Pros
Made in the USA
High-quality ingredients
Customized regimen
Cons
Some ingredients caused breakouts on my skin.
Proven sent me a customized three-product regimen for free, but I haven't been otherwise compensated for this review. These are my honest, unbiased opinions about the products I tried.
Proven questionnaire
It took me about five minutes to take Proven's online questionnaire. While I love the idea of getting a personalized skincare routine based on answers to a quick quiz, I'm not sure how many different formulas are available from the brand. The products that were selected for me did have sensitive skin in mind, though, which was reassuring.
After completing the questionnaire, Proven's software generated a regimen and list of key ingredients chosen for me:
Granactive retinol
Sulfur and tea tree oil
Salicylic acid
Witch hazel extract
Plant-based squalane
Ceramides
Neem oil
Allantoin
Green tea extract
Vitamins E and D
First impressions: packaging
I was impressed with the amount of information that came with the products. Individual info cards explained how to use each product and gave a full list of what ingredients are inside the bottle. I particularly liked that the card for the retinoid cream explained how to ease your skin into this ingredient to help minimize side effects.
Plus, I got a print-out of the results of the online quiz I took, so I knew they were taken into consideration when formulating my regimen.
The skincare bottles are opaque, which is great for shelf-life purposes. I only wish they weren't plastic.
Cleanser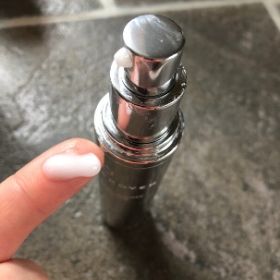 Initial thoughts
When I first tried this cleanser, I immediately loved it. It's non-foaming, which is a must for dry skin. It also left my skin feeling clean without that tight feeling that some cleansers cause — but my skin still felt refreshed. This cleanser also has a very light, pleasant scent to it and didn't cause any irritation, stinging or redness.
One month in
After a few weeks of using this cleanser twice per day, I switched back to my old cleanser at night and used this one in the morning. I started to get some breakouts and felt that this cleanser was less effective at removing my makeup in the evening than my old cleanser was.
The instructions for this cleanser say to "use once a day in the evening, or as needed," so it's not necessarily a bad mark against the product that I switched to a once-a-day application. I just personally feel that it's better as light morning cleanser than a heavy-lifting cleanser at night.
SPF Day Cream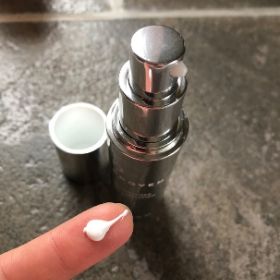 Initial thoughts
I expected this moisturizer to leave a white tint on my skin, considering it's a mineral-based SPF with zinc oxide and titanium dioxide — but it didn't leave a trace of white film! It went on smoothly and felt very light, even with mineral SPF ingredients that are often thick and hard to spread.
That said, I do generally stay away from sunscreen/moisturizer combos, because you need to apply 1/2 teaspoon of SPF to your face in order for it to reach the SPF number listed on the bottle. So make sure you're using enough of this product if you're relying on it as your only form of sun protection.
Otherwise, this day cream felt light under my makeup. It didn't make me look shiny halfway through the day like so many other moisturizers do.
One month in
I'm still loving this moisturizer, although I no longer use it on a daily basis because my skin has started to break out since I've started this regimen. I've had issues with breakouts related to certain zinc oxide products in the past, so I chose to limit its use to days when I need that extra sun protection.
Night cream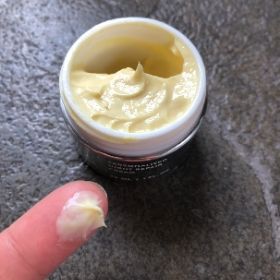 Initial thoughts
I really loved the ingredients in this night cream, apart from the combination of granactive retinoid and tea tree oil, as both are drying to the skin. That said, I love that the retinoid was combined with moisturizing ingredients like plant-based squalane and niacinamide, as well as anti-inflammatories like turmeric and green tea extract.
One month in
Prior to starting this regimen, I was already using a prescription retinoid, which I used in combination with a simple moisturizer at night. Ultimately, I switched back to my old evening regimen because I prefer simpler ingredients to help reduce redness and breakouts. I don't have any qualms with this particular product — it's simply not right for me personally.
Proven skincare alternatives
Bottom line
In general, I love that these products are made in the USA and that they contain high-quality, proven skincare ingredients. I wish that you were able to purchase individual products, because I would absolutely order the cleanser and day cream again once I run out. As of this writing, you have to reorder your entire regimen and can't pick and choose which products to add to your cart.
Don't miss our list of more American-made beauty products if this designation is as important to you as it is to me.