Finder is committed to editorial independence. While we receive compensation when you click links to partners, they do not influence our opinions or reviews. Learn how we make money.
Are private student loans eligible for forgiveness?
You have options, but they're limited.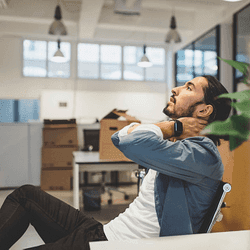 Private student loans might not qualify for popular forgiveness programs like Public Service Loan Forgiveness (PSLF) or Teacher Loan Forgiveness. But you might be able to get your debt forgiven through government agencies outside of the Department of Education (DoE) and private organizations.
Are there forgiveness programs for private student loans?
While there aren't forgiveness programs dedicated exclusively to private student loans, you still might qualify for forgiveness through private organizations and government agencies outside of the DoE. Your lender might also cancel your loans in the event of an emergency.
Like federal forgiveness programs, these typically come with work requirements and are available by profession. You usually either get a percentage of your student debt or a fixed amount forgiven. Depending on how much debt you have, you might be able to have all of your private student loans forgiven if you apply for a program that offers a high-enough fixed amount.
3 forgiveness options for private student loans
These are the three types of forgiveness and cancellation you might be able to qualify for with private student loans.
Loan repayment programs
Loan repayment programs (LRPs) and loan repayment assistance programs (LRAPs) are partial forgiveness programs offered by schools, state governments, federal agencies and private organizations. They're usually incentive programs to encourage professionals to take on lower-paying jobs in areas with a shortage of qualified workers.
You typically need to pledge two to five years of service at an eligible low-paying job to qualify. Forgiveness from an LRAP or LRP usually comes in either a fixed amount or a percentage of your loan balance over your years of service or after you've fulfilled the commitment. Some cover all student debt, while others only cover student loans used to pay for a specific degree.
Let's take a look at an example …
Say you were a nurse enrolled in the Nurse Corps Loan Repayment Program. You'd get 60% of your student loans used to pay for nursing school forgiven in monthly installments over two years of working at an eligible healthcare facility. If you work a third year, you can get up to 85% of your loans forgiven, also in monthly installments.
Employer forgiveness programs
Some companies offer student loan repayment assistance as an employee benefit, regardless of your salary. This is available to a wider range of professions than LRPs, but it's particularly popular in tech. Companies like health insurance provider Aetna and publisher Penguin House offer it to their employees.
The downside is most companies only offer roughly $1,000 a year and cap forgiveness at around $10,000. It's possible to qualify for full forgiveness if your employer is as generous as First Republic Bank or Chegg, both of which don't have lifetime limits for their employees. But it's generally a slower process than going through an LRP or LRAP.
Death and disability cancellation
If you become disabled or die before your loan is canceled, many private lenders cancel the remaining loan balance. But in some cases, your loan might become immediately due if you or your cosigner dies. Check with your servicer to learn about its death and disability policy.
Can I get rid of my private loans by filing for bankruptcy?
You might be able to have your student loans discharged by filing for Chapter 7 or Chapter 13 bankruptcy, though it's not easy. That's because you need to convince the judge that repaying your student loans will cause undue hardship. You can learn more with our article on ways to get your student loans discharged.
How else can I reduce the cost of my private student loans?
Forgiveness is only one way to reduce the cost of your student loans. Since most forgiveness programs available on private student loans only offer partial forgiveness, you might want to consider the following options in addition to or instead of forgiveness.
Refinance
Refinancing your private student loans with another provider might be able to get you a better deal, especially if your credit and income have increased since you first took out the loans. Qualifying for a lower interest rate can make for lower monthly repayments while also decreasing the overall cost of your loan. And changing up your loan term can also help you save — longer terms lower your monthly repayments, while shorter terms decrease the total cost of your loan.
Compare student loan refinancing offers
Apply for deferment or forbearance
Most private student loan providers only offer hardship forbearance, which allows you to pause repayments if you hit a temporary financial setback like losing your job or undergoing an expensive medical procedure. Typically, you can pause repayments for a few months while you get back on your feet to avoid defaulting.
Forbearance is best saved for emergencies, however. Interest continues to add up while your repayments are on hold and gets added to your loan balance when your repayments start again. And since most private lenders don't extend your term, this increases both your short- and long-term costs.
Negotiate with your lender
If your financial situation has drastically changed since you first took out your private student loans — say a parent got laid off — your servicer might be willing to adjust the rates and terms of your loan. Renegotiating with your current servicer is likely a better option in this situation since you might not be able to qualify for favorable rates and terms by refinancing.
Research all of the repayment methods available to student loans, even if your lender doesn't typically offer them. Knowing what would best fit your current situation can help you make a stronger case for yourself.
Bottom line
While there are fewer forgiveness programs available for private student loans, you still have options to have part or even all of your debt forgiven. You might want to consider alternatives as well to save as much as possible on your student loans. You can start by comparing student loan refinancing offers to see if you can qualify for a lower rate.
Frequently asked questions