Finder is committed to editorial independence. While we receive compensation when you click links to partners, they do not influence our content.
Compare printers: How to choose between inkjet and laser printers
Learn how to find the best printer for all your home printing needs.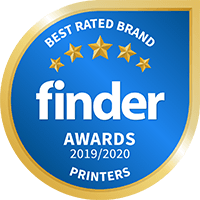 Best-rated printer brand: Brother
Out of all the best printers of 2020, Brother consistently comes out on top. 92% of Brother printer owners recommend the brand, giving it high ratings for performance, reliability, design and value for money.
Quick facts about printers
When choosing a printer, decide between a standard printer and a multifunction printer that includes a scanner and photocopier.
The most important factors to consider when choosing a printer are the type of printing you do, the purchase price and the cost of replacement ink cartridges.
Printer prices typically range from $30 up to $800, but more expensive models are available.
Types of printers
When you're buying a printer for your home, one of the first things to decide is whether you want an inkjet or laser printer.
Inkjet printer. Color inkjet printers are the most popular choice for home use, thanks mainly to their versatility. They can be used to print everything from text documents to glossy photos, and there's a huge range of models to choose from. However, they're generally slower than laser printers.
Laser printer. Known for their fast printing speeds and ability to churn out high-quality text printing, laser printers are often a preferred choice for office settings. However, they generally can't match the flexibility or photo-printing skills of their inkjet counterparts.
Next, you'll need to decide whether you want a standard or multifunction printer.
Standard printer. The sole purpose of these models is to print.
Multifunction printer. Multifunction printers combine a printer, scanner, photocopier and sometimes a fax machine into one device. They're versatile in your home office and can help you save space.
How to compare printers
Are you looking for a versatile machine to print out family photos, the kids' homework as well as scan and copy documents? Or do you frequently print large text documents and don't have much need for printing in color or graphics? And what if you want something capable of printing high-quality photographs?
Weigh the following factors when comparing printers to meet your specific needs.
Replacement ink cartridges. Consider the cost of replacement ink cartridges. Printer manufacturers are notorious for selling printers at dirt-cheap prices with sky-high prices on replacement ink cartridges. Check how many cartridges you'll need based on your usage and their replacement cost.
Price. Printers typically range anywhere between $30 and $800, with multifunction inkjet printers starting at less than $50. Laser printers tend to be more expensive, with mono laser printers starting around $100 and up.
Connectivity. How will your printer connect to and communicate with your computer? Usually it's as simple as plugging in a USB cable, and Wi-Fi connectivity is common on all modern printers.
Mobile printing. Many printers with Wi-Fi will also allow you to print straight from your mobile device, using services like Apple's AirPrint and Google Cloud Print. Some even use near-field communication (NFC) to allow you to print by tapping your phone or tablet on the printer.
Printing quality. Printing high-quality photos or documents? Check the print resolution, measured in DPI (dots per inch) — and the higher, the better. But for a true indication of a printer's performance, head in-store and ask to print a demo page using one of your photos.
Printing speed. If you need to print a lot of documents quickly, check out the manufacturer's claimed printing speed measured in pages per minute (PPM).
Color or monochrome. Printing in color will be a necessity for many people. But if you need a printer for office use and you'll be publishing a lot of text documents, a monochrome printer may be a better choice.
Additional features
Some modern printers also are equipped with other handy features, such as the following:
Email documents straight to your printer.
Connect to the Internet via Wi-Fi and print documents without using a computer.
Print or scan on both sides of a page (called duplexing).
Print directly from your camera's memory card.
Scan or copy large documents thanks to an automatic document feeder.
Three considerations
Before you buy a printer, consider a few important factors.
Check software compatibility. If you're thinking of buying a printer that's been on the market for a while, check with the manufacturer if they still provide software updates for that particular model and that it will work with the latest operating systems. And if you're using an older OS but getting a new-model printer, check the fine print to ensure compatibility before you buy.
Consider a continuous ink printer. If you're sick of buying expensive replacement ink cartridges, you might want to consider a continuous ink printer (sometimes also known as a supertank printer). These models use external ink tanks that can be refilled with a bottle of ink. This means you can print a whole lot more pages before you need to replace the ink, making them better for the environment, and they can be a cost-effective choice for people who tend to go through a whole lot of ink.
Remember the paper size. For most buyers, a printer that can handle documents up to A4 size will be sufficient. But depending on your needs, you might want to look for a model that can handle larger documents — some printers can print to A3 pages, while a few can print even larger documents. You may also want to check whether a printer can print on other surfaces, such as envelopes and glossy photo paper.
Bottom line
With so many people switching to work-from-home scenarios, take the time to find the best office investment so you can keep your productivity at its highest. Our list helps break down the info on the best printer for your situation. As always, shop around to see what's most suitable for you.
More guides on Finder