Finder is committed to editorial independence. While we receive compensation when you click links to partners, they do not influence our opinions or reviews. Learn how we make money.
Green Dot primor® Mastercard® Gold Secured Credit Card review
A secured credit card with a low annual fee and a low fixed APR on purchases.
finder.com's rating: 4.0 / 5.0
★★★★★
Get this card if you have no credit history or if you had credit difficulties in the past.
Pick something else if you want an unsecured card or a secured card without an annual fee.
Feel free to apply with no credit history or with poor credit score.
9.99%
Purchase APR (fixed)
300
Recommended credit score
Details
| | |
| --- | --- |
| Product Name | Green Dot primor® Mastercard® Gold Secured Credit Card |
| Card type | Mastercard |
| Annual fee | $49 |
| Purchase APR | 9.99% fixed |
| Balance transfer APR | N/A |
| Cash advance rate | 18.99% fixed |
| Cash advance fee | $5 or 5% of the cash advance amount, whichever is greater |
| Foreign transaction fee | 3% of the transaction value |
| Interest free period | Up to 25 days |
| Late payment fee | Up to $29 |
| Returned payment fee | Up to $29 |
| Additional cardholder fee | $29 |
Expert review
Review by
adrienne.fuller@finder.com
---
Adrienne Fuller is the head of publishing at Finder US. With a decade of experience creating guides in finance and education, she aims to deliver the accurate and transparent information she wishes she had when she made some of life's important financial decisions. For the past 3 years she has been the publisher of money transfers, helping readers save when they send money all over the globe. She has a BA from Colorado College and loves to hike with her two Catahoula dogs around her home in San Diego.
Expert review
The Green Dot primor® Mastercard® Gold Secured Credit Card has a higher-than-average annual fee of $49, but it has a very low purchase APR of 9.99% fixed. It doesn't offer rewards.
The application process is quick and easy, without processing or application fees. As with any other secured card, you'll have to deposit your credit line in an FDIC-insured account to serve as collateral. Keep in mind this card comes with many fees, including replacement card, stop payment and credit limit increase fees. Be sure to read through the card agreement before applying for the card.
The perks
Build your credit.
The card reports to all three national credit bureaus. With responsible use and timely payments, you can build your credit score.
Easy application.
Complete the application in minutes, with no application fee and no credit check.
No minimum credit score.
People with all credit histories, including none at all, are welcome to apply.
You'll also like …
Fixed APR.
You get one of the lowest fixed APRs of 9.99%. The average APR for other cards is 16%. Some cards can have an APR as high as 26%.
Credit limit.
You have to deposit from $200 up to $5,000 in a savings account at Green Dot Bank. The amount you deposit will be your credit line. However, you can't use your deposit to make payments.
FDIC insured.
The money you deposit in your savings account is FDIC-insured.
What to watch out for
Annual fee.
You'll pay an annual fee of $49 to own the card. You'll pay an extra $29 if you want to get an additional card. As soon as your card is approved, the annual fee will lower your credit line by $49 plus the fee of any additional cards.
Foreign transaction fee.
For each transaction you make outside the US, you'll pay a fee of 3% of the transaction.
Cash advance limit.
Cash advances can only be half of your credit line. For example, you can only draw $100 in cash advances from a $200 credit line.
Compare secured cards
Compare other Green Dot Bank secured credit cards
What should I know before I apply?
Be sure you meet the minimum eligibility requirements before applying.
You need to be at least 18 years old, 19 in Alabama and Nebraska or 21 in Mississippi.
You must have a credit, debit or prepaid card.
You must not have more than one open credit card with Green Dot Bank.
You need to be current with all Green Dot Bank card payments and not over your credit limit.
You'll need to provide the following information:
Your full name and contact information.
Your date of birth and Social Security number.
Monthly income and monthly expenses.
The amount you want to deposit.
You accept to receive daily emails and digital newsletters from Green Dot's marketing partners when you apply.
What do customers say about the Green Dot primor® Mastercard® Gold Secured Credit Card?
You'll find a mix of reviews online, from excellent to poor. Many complain of inadequate customer service and excessive fees, but others say that if you use the card responsibly — by keeping your utilization rate down and paying your bill on time — you'll see a significant jump in your credit score in a short amount of time.
Green Dot Bank's Better Business Bureau (BBB) profile is being updated as of this writing. Its holding company, Green Dot Corporation, is accredited with the BBB and has an A rating.
How to apply for the Green Dot primor® Mastercard® Gold Secured Credit Card
Go to the provider's site and click Apply now.
Provide all the required information.
Review and submit your application.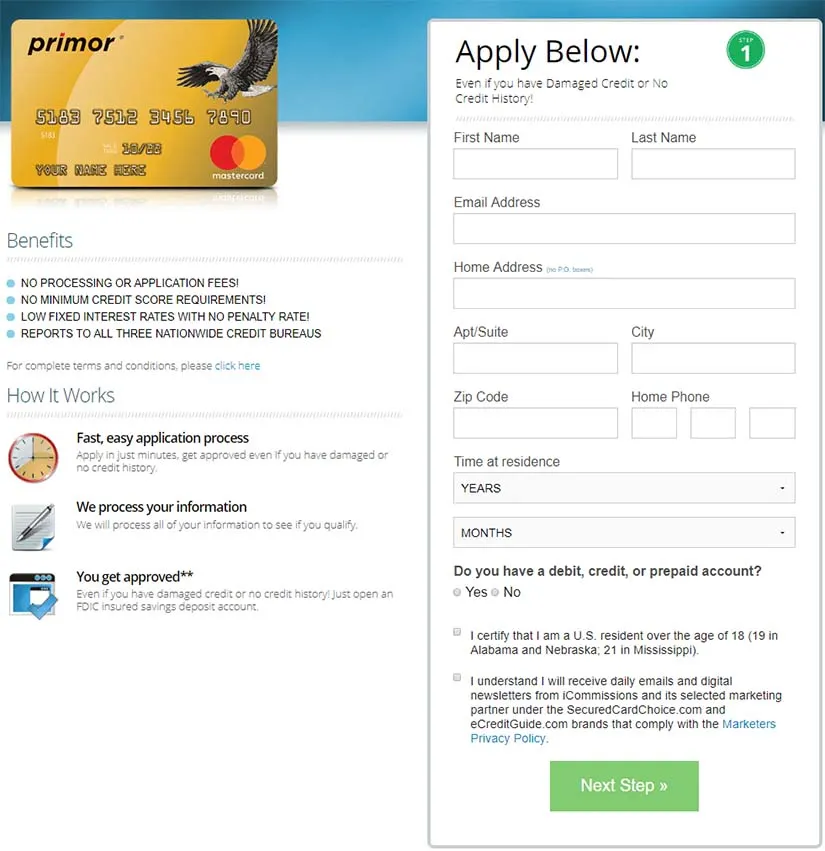 How long will it take to get my Green Dot primor® Mastercard® Gold Secured Credit Card?
Most get a decision within a minute, but it can take up to five days in some cases.
Upon approval, you should get your card in 7 to 10 days.
I got the card. Now what?
Download the Green Dot app on your mobile device. Use it to pay bills, send money, set up alerts and more.
Pay on time. Your due date is 25 days after the close of each billing cycle. Try to pay your balance by then to avoid paying up to a $29 fee.
Customer support. Call Green Dot customer support at 866-795-7597 if you have any questions.
What is Green Dot?
Green Dot Corporation is the largest prepaid debit card company in the world. Their technology is used by Apple Pay Cash, Uber and Intuit.
Bottom line
The Green Dot primor® Mastercard® Gold Secured Credit Card can be a good choice if you're looking to build your credit. You'll also get a low fixed APR on purchases, which can be useful for those who carry a balance.
Read the card's fine print to avoid paying more than needed as the card comes with many fees.
If you're not sure whether this is a good card for you, check out other similar credit cards to compare your options.
Frequently asked questions
Credit-building cards and secured card ratings
★★★★★ — Excellent
★★★★★ — Good
★★★★★ — Average
★★★★★ — Subpar
★★★★★ — Poor
Our team evaluates credit cards to determine their value against similar cards on the market.
We rank card types — travel, cash back, business — on a set of factors that are most relevant to that type of card. We create these rankings to help you narrow down a credit card that best suits your spending and budget.