Press Release
For immediate release
Michelle Hutchison
Global Head of Communications & Money Expert
+61 403 192 994
Skype: michelle.hutchison.finder
Credit cards expected to hit highest level since GFC
Number of credit cards will reach record high by July 2018: finder.com forecast
500 million cards expected to be in circulation – not seen since pre-GFC
Useful tips for staying on top of your credit card spend and away from debt!
August 8, 2016, Sydney, Australia – The number of credit card accounts opened in the United States is expected to hit the highest levels not seen since before the Global Financial Crisis (GFC), according to personal finance website finder.com.
The research shows that if the current growth rate of credit cards continues, the number of cards in circulation will reach 454 million by the end of this year, and hit the peak of GFC levels by the second quarter of 2018, at 495.8 million cards.
The number of credit cards in America peaked at 496.1 million in the second quarter of 2008, and fell sharply during the financial crisis by 118.2 million cards, to 377.9 million in the third quarter of 2010. That's a drop of 24% of cards in circulation.
The figure has been rising steadily since, and currently stands at 435.6 million cards, according to data sourced from the New York Federal Consumer Credit Panel/Equifax analysed by finder.com.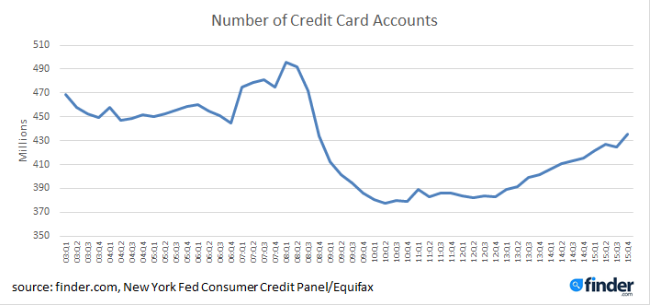 Michelle Hutchison, Money Expert at finder.com, says although numbers hit their peak in 2008, the Global Financial Crisis was a cause of significant fluctuation.
"Credit card numbers are rising and we're anticipating that numbers will be at the highest levels we've ever seen, with 495.8 million individual cards in people's pockets by mid-2018.
"This is a worrying number of cards in circulation, because it has the potential to create too much bad debt that consumers can't get out of.
"Credit cards have some of the worst interest rates of all credit options, with rates as high as 24.99%. If you're not paying off your balance each month you could be wasting hundreds of dollars.
Credit cards can be a great convenience and can save you money with better cash flow and rewards. But they can also be dangerous because of the lure to spend more money and flexible terms to pay it back. You need to be disciplined when it comes to credit cards, it's possible to make them rewarding if you use them wisely."
Here are Mrs Hutchison's top tips for cardholders:
"Firstly, it's important to keep a budget. Before you go shopping, make sure you know how much you can comfortably spend without going into debt that you can't afford.
"Secondly, resist spontaneous purchases, and check the price of everything online as well as in the store. When buying online, search for any available discount codes on a comparison website such as finder.com/shopping. This could save you a fortune!
"Also, always pay your credit card bills on time every month. If you build up a credit card debt that you can't repay straight away, compare balance transfer credit cards to move your debt across to a lower interest rate. However, make sure to cancel your old card, and try to resist going on a spending spree with the new one. And set a plan to pay off the debt during the promotional interest period otherwise the rate generally reverts to a much higher cost."
For more information on comparing credit cards, visit finder.com/credit-cards
###
For further information
Michelle Hutchison
Global Head of Communications & Money Expert
+61 403 192 994
Skype: michelle.hutchison.finder
Disclaimer
The information in this release is accurate as of the date published, but rates, fees and other product features may have changed. Please see updated product information on finder.com's review pages for the current correct values.
About finder.com:
finder.com is a personal finance website, which helps consumers compare financial products online so they can make better informed decisions. Consumers can visit finder.com to compare credit cards, mortgages, personal loans, life and travel insurance, shopping coupon codes, and so much more before choosing the option that best suits their needs.

Best of all, finder.com is completely free to use. We're not a bank or insurer, nor are we owned by one, and we are not a product issuer or a credit provider. We're not affiliated with any one institution or outlet, so it's genuine advice from a team of experts who care about helping you find better.

finder.com launched in the U.S. in September 2015 and is privately owned and self-funded by two Australian entrepreneurs – Fred Schebesta and Frank Restuccia – who successfully grew finder.com.au to be Australia's most visited personal finance website (Source: Experian Hitwise).