PPP loan forgiveness finally gets started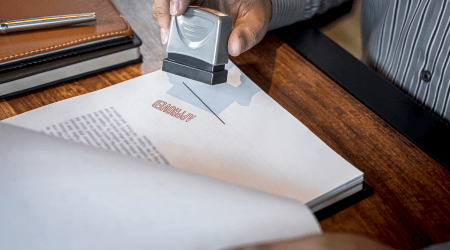 SBA now processing PPP loan forgiveness applications — but lenders may not be moving forward.
After months of delay, the SBA finally began approving PPP loans for forgiveness on October 2nd. The application process is constantly being refined, but many lenders have yet to start working through the backlog of forgiveness applications submitted by businesses — causing even more delays.
New application process for PPP loans under $50,000
On Thursday, the SBA released an updated application — Form 3508S — for businesses that borrowed less than $50,000 in PPP funds. This streamlined process doesn't require businesses to reduce the amount eligible for forgiveness if they were forced to cut hours, wages or employees during the covered period.
However, it still requires many of the same documents and information as the full PPP EZ application. You won't have to include specific math on Form 3508S, but the SBA may still choose to audit your business and request computation.
Reasons behind the delay in PPP forgiveness
PPP loan forgiveness applications opened on August 10, 2020 — but between lenders and the SBA, processing times can take up to five months. This is because lenders have up to 60 days to submit an application for PPP loan forgiveness to the SBA. After that, the SBA has up to 90 days to come to a decision regarding loan forgiveness: either full, partial or none.
To further complicate matters, there have been reports from business owners that lenders haven't begun to accept applications. This delay has caused an even longer wait — instead of waiting potentially five months to receive a decision, businesses may not know if they're eligible for forgiveness until the end of 2021 or later.
And while you are able to submit for forgiveness before the end of the 8- or 24-week covered period (depending on which round of PPP loans you applied for), the exact documentation and information your business needs to submit are still unclear.
Additional delays due to fraud investigations
The SBA released updated guidelines for the PPP, including a note that loans over $2 million would be individually reviewed for fraud. After multiple reports of funds being misused, this is to help ensure only qualified businesses receive funding. And while only a small percentage of PPP loans were over $2 million, this could create additional delays for the few businesses that qualified for these large loans.
How can I apply for PPP loan forgiveness?
If your lender has begun to process forgiveness applications or if you want to get a head start on the paperwork, you can fill out the PPP EZ forgiveness application. To qualify, you or your business must have met one of three criteria during the covered period:
Your business didn't reduce employee wages by more than 25% or employee hours
Your business didn't reduce employee wages by more than 25% and experienced financial losses due to coronavirus-related health directives
You are self-employed with no employees
Only eligible expenses qualify for forgiveness, so check that your business qualifies before submitting an application.
Will there be additional funds added to the PPP?
With stimulus talks largely stalled until after the November election, it seems unlikely that there will be any additional funding for the PPP this year. This has left many businesses — especially those in the service industry — struggling to make ends meet. There are other funding options, but none are at the low 1% APR offered by the PPP.
More sources of funding for small businesses
With no new PPP funding on the horizon, your business may need to turn to alternative funding options.
You can learn more about the types of business loans available to find the right option for your business.
Photo: Getty Images