Finder is committed to editorial independence. While we receive compensation when you click links to partners, they do not influence our content.
Compare the best pool fencing
Choose a safety fence to meet your needs and comply with state laws.
Depending on where you live, you may be required to surround your private pool with fencing or a similar barrier. Choose from a variety of materials, styles and costs when shopping for your next fence.
Top pool fences
Name
Avg. price
(USD)
Panel height
Material
Finish
Purchase
Life Saver Fencing Section Kit
$90/12-foot section
4′
Aluminum and mesh
Powder coated
Shop now
WamBam No-Dig Sturbridge Vinyl Fence
$107/6-foot section
4′
Vinyl
Vinyl
Shop now
Giantex Pool Safety Mesh Fence Section
$90/12-foot section
4′
Aluminum and mesh
Powder coated
Shop now
GLI Above Ground Pool Fence Base Kit
$185 for 8 sections
24″
Vinyl
Vinyl
Shop now
SimTek Ecostone Composite Panel
$130/6-foot panel
6′
Composite
Shop now
Data obtained March 2019. Prices are subject to change and should be used only as a general guide.
Why do I need pool fencing?
A pool fence or barrier is often required by law to reduce the risk of a child drowning in your pool. Fencing requirements vary by state and municipality, so check with your local officials to make sure your fence or plans comply.
According to the World Health Organization, drowning is the leading cause of accidental death in children ages 1 to 3. The most common way children gained access to a pool was through a faulty fence or gate.
Pool fence regulations
Pool fence regulations are not governed by federal law. Rather, state requirements are in place to ensure that children cannot climb the fence, squeeze through gaps, knock it over or easily unlatch a gate. You're required to meet these regulations. Keep in mind, regulations even if your household doesn't include children.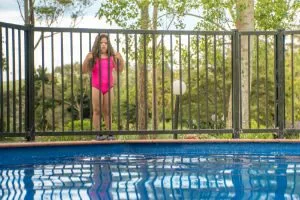 Depending on where you live, you may need to comply with building codes when designing your pool, deck and fence if the water is 18 inches or deeper:
Minimum height of 48 inches.
Gaps of 4 inches or less.
Less than 2 inches between the ground and the bottom horizontal rail.
Self-closing gates that open away from the pool.
Latches at least 54 inches above ground or grade level.
If you haven't yet built your pool, knowing your state's regulations in advance can save you time and money. A licensed builder can help make sure your fence meets requirements. If you're worried about costs, many lenders are available to help finance your pool.
How to compare pool fences
Fencing prices range from $90 to $600 a panel, but the overall cost of your fence depends on the size of your property, the materials you'll use and the design of your barrier.
For example, a 65-foot aluminum fence might cost $2,000, while a frameless glass fence of the same size could cost more than $10,000. You may pay more for installation and added components.
5 key pool safety tips
Maintain your fence. A pool fence must be checked often for loose bars, panels and latches to ensure safety and compliance.
Supervision is required. Even with a fence, children need constant adult supervision around pools.
No diving. If your pool is shallower than 9.8 feet, it's too shallow for diving. Consider a "no diving" sign to display inside the fence.
Take swimming lessons. Make sure all members of your household know how to swim, including children.
Consider furniture placement. Ensure there isn't any climbable furniture or other items near your pool fence.
Bottom line
Many states and local municipalities require you to build a fence around your pool if it's at least 18 inches deep. But the look of your fence is up to you. Compare your options based on your budget and personal preferences.
How did we choose these products?
To choose our list of top pool fencing, we conducted our own online research and considered material, type, maintenance and price.
Frequently asked questions
Latest deals for your home and garden
More guides on Finder