These sites help you plan an online wedding or virtual shower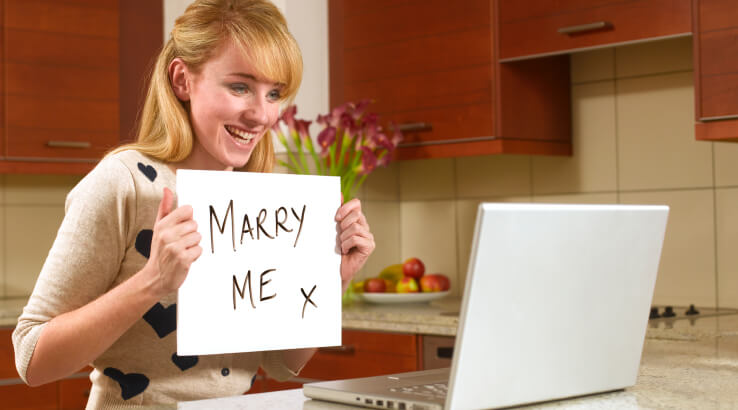 Pull off a virtual ceremony with all the bells and whistles.
Eager to make it official? As social distancing measures continue in an effort to slow the spread of the coronavirus, couples are saying "I do" over the Internet. New York Governor Andrew Cuomo recently signed an order allowing clerks to perform ceremonies via video conferencing through May 17. Several others are also offering marriage licenses remotely.
Even if you don't live in New York and want to host an online shower or engagement bash, these sites and tools will help you plan your special day on a budget.
Which states allow virtual weddings?
As of April 21, New York is the only state that permits virtual weddings. But you can apply for a marriage license online in several states and counties. New York, Colorado and some individual counties, including Cuyahoga County in Ohio, currently offer marriage licenses online.
A handful of states — California, Colorado, Montana and Texas — allow proxy weddings, where one person needs to be present in the state and with the officiant or clerk. Montana is the only state that allows double proxy weddings, where neither party is present — but two people must physically stand in for the couple.
What you'll need to get married online
Both parties on the video call need to show a valid ID and be present in real time — no pre-recordings are allowed. Both parties must sign the license and send it to the clerk.
Video conferencing software options
Holding your wedding ceremony, party or shower online is budget-friendly and a way to celebrate on your original chosen date while sticking to social distancing measures. Video conferencing platforms like Zoom and Skype make it possible to hold virtual weddings. Be sure to designate someone in charge of taking screenshots, so you can see your guests' reactions when you clink the champagne flutes in your first toast.
Zoom. The basic version hosts up to 100 people for free, but has a 40-minute time limit. The next tier plan is $14.99 per month and includes up to 24 hours of meeting time. You can also record with this option. Simply share your meeting room link to allow attendees to join the party.
Skype. Revel with 50 of your closest friends and family members and record the video call for free. The catch is all your guests must have Skype downloaded, or local and international calling rates apply. If 50 is too small a guest list, you might consider Zoom.
Cisco Webex. Free for up to 100 participants — and meeting time is unlimited as part of a limited time promotion. Guests can join via your Webex link or by phone.
Facebook Live. Also a free option, Facebook Live lets you live stream your event to a group of Facebook friends. Create an event on Facebook and invite your guests. At the scheduled time, go live and broadcast from your page, group or profile. You'll need a connected camera and streaming software to go this route.
What about invitations?
Instead of traditional paper invitations and RSVP cards, these sites can help you create beautiful e-invitations for your virtual gathering.
Photo credit: Getty images