13+ places welcoming remote workers right now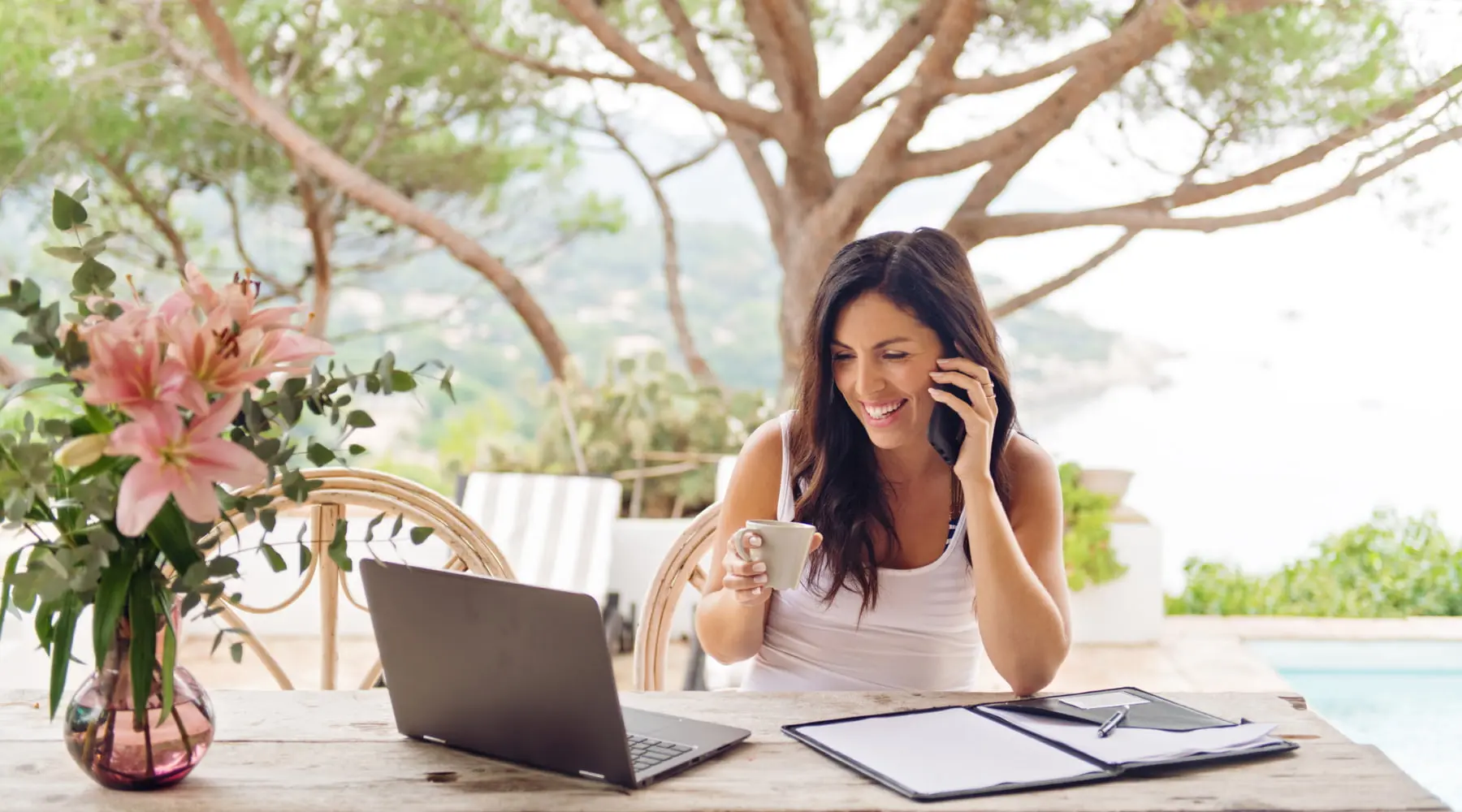 Live, play and conquer your to-do list in these far-flung destinations — and also Arkansas.
The COVID-19 pandemic has been especially tough on the economies of destinations that rely heavily on tourism. To help attract tech-savvy professionals and make their economies more sustainable over the long haul, places like Barbados, the Cayman Islands and even Arkansas are developing work-live programs and visas specifically for remote workers.
Governments aren't the only entities that want to capitalize on the newfound flexibility that many workers are facing. Hotels including Hyatt, Hilton and even MGM Resorts in Las Vegas have put together packages to incentivize longer work-play vacations. Wake up, enjoy complimentary coffee and order room service while checking your emails.
Read on to see some of the best options for remote workers who are itching to escape the four walls of their WFH grind.
Countries
These countries have special visas or programs that allow remote workers to conduct business while staying for extended periods of time. Some countries on this list, including Germany and Portugal, have offered these visas for a while, but we decided to include them regardless so that remote workers suffering from wanderlust can see all their options at once.
Country
Program
Eligibility
More info
Antigua and Barbuda
Its Nomad Digital Residence program invites remote workers to live there for up to two years. It costs $1,500 for single people, $2,000 for couples and $3,000 for families of three or more

Earn at least $50,000 yearly
Proof of employment
Employer must be located outside of the Caribbean

More info
Aruba
Live and work in Aruba for up to 90 days through its One Happy Workation program. It has package deals and discounted prices for local accommodations, including resorts and rental homes.
More info
Barbados
The 12-month Barbados Welcome Stamp welcomes you to the island for up to a year. You can apply online. The visa costs $2,000 per person, or $3,000 for a family bundle.
More info
Bermuda
Bermuda's Residency Certificate Policy lets you live and work on the island for up to a year. The certificate costs $263 and is open to students as well as remote workers.

At least 18
Proof of health insurance
Sufficient means or continuous source of income

More info
Cayman Islands
The Global Citizen Concierge Program encourages remote workers to live and travel within the Cayman Islands — in the heart of the Caribbean Sea — for up to 24 months.

Single people must make at least $100,000 yearly
Couples must make at least $150,000 combined yearly
Clean criminal record
Proof of health insurance

More info
Czech Republic
With the Czech Republic's Business Visa, you can live and work in the country for extended periods of time.

Proof of income
Proof of accommodation
Travel medical insurance

More info
Dubai
Dubai's one-year "virtual working program" allows remote workers and their families to live there for up to a year. It costs $287 to apply, and perhaps best of all, Dubai doesn't collect income tax.

Earn at least $5,000 monthly
Medical insurance that's valid in Dubai
Passport that's valid for at least another six months

More info
Germany
Germany has a special visa for freelancers — called the "freiberufler" visa — that allows independant hustlers to live and work there for up to three months. Then it can be converted into a permanent residence visa.

Proof of income
Travel insurance
Letters of recommendation from previous employers

More info
Georgia
The Remotely from Georgia travel program is meant for freelancers, full-time employees or business owners who want to live and work in the Eastern European nation for at least 360 days.

Earn a minimum of $2,000 monthly

More info
Iceland
This island nation just opened its Work in Iceland program to US citizens. You can live and work there for up to six months without a visa.

Make at least $88,000 yearly
Work for a non-Icelandic company or be self-employed
Have health insurance

More info
Mauritius
Live and work in this East African nation for up to a year.

Proof of accomodations
Your main source of income must come from outside of Mauritius

More info
Spain
The self-employement visa allows you to live and work in Spain for up to a year.

Proof of employment
Pass a background check

More info
Portugal
Its temporary stay visa allows self-employed freelancers to live and work there for up to a year.
More info
US states
Two US states are looking to attract bright minds with relocating programs that offer free perks.
Hawaii
Its Movers & Shakas program provides free roundtrip airfare to Oahu and discounts on beachfront lodging. In return, you'll have to volunteer a few hours of your time each month to a local nonprofit. The Hawaiian government hopes that incentivizing tech professionals to come stay will help build a more resilient economy. The catch? Only 50 applicants will be accepted.
Arkansas
The Life Works Here initiative, spearheaded by the Northwest Arkansas Council, is offering remote workers $10,000 and a free bike for moving to the region. To be eligible, you must be at least 24 years old, with at least two years of work experience.
Hotels
Maybe you're not looking to move somewhere permanent but just want to book a vacation that includes a quiet, fully-equipped space to work during the day. Many hotel chains are offering up WFH packages so you can do exactly that. Here are a few of our faves.
Hyatt
Book a "Work From Hyatt" package at over 90 Hyatt properties worldwide, including the dreamy Andaz Makakoba Resort Riviera Maya in Mexico and the Hyatt Regency Lost Pines in Texas. Rates start at about $139 per night and include a dedicated workspace, high-speed Wi-Fi, housekeeping and other perks that vary depending on the property (private cabana, anyone?). You'll get a separate, private workspace or complimentary second guestroom along with food and beverage credits, complimentary parking and more.
You can also rent Hyatt rooms on a daily basis at hundreds of properties across the US for about $65.
MGM Resorts in Las Vegas
Stay at the glam Vdara or Aria in Las Vegas through MGM's Viva Las Office program. It has luxury packages available starting at just $102 nightly. You'll get a room equipped with secure Wi-Fi and a desk setup. When you book a Viva Las Office package, you'll get $375 in food and beverage credits to use during your day, along with a dedicated "executive assistant" to help coordinate your schedule … like that midday massage you know you deserve.
Hilton
Hilton's day-use rooms for remote workers include an ergonomic chair, tea and coffee, bottled water, premium Wi-Fi and a spacious desk so you can spread out. Hilton Honors members will earn points and credit with every booking, plus 10,000 points the first time you try WorkSpaces by Hilton.
Marriott Bonvoy
This popular hotel chain came up with the Work Anywhere program, designed specifically for remote workers. The rooms are furnished with desks, and you'll get premium Wi-Fi along with complimentary bottled water.
Stay Pass. Meant for families with working parents, the Stay Pass includes supervised activities for the kiddos and booking access to semi-private workspaces and meeting rooms. The Business Concierge will help ensure all your WFH needs are taken care of.
Play Pass. With this pass, you'll get a private workspace and unlimited access to hotel amenities and fitness facilities.
You can book a Work Anywhere room directly on Marriot Bonvoy's website. It also has day passes available, in case you're staying local but need a quiet place to work.
What if the hotel I want to stay at isn't on this list?
If you have a specific destination or hotel in mind and it isn't on this list but it hasn't published information about a WFH package, we suggest calling the concierge to see whether they might be able to offer you a deal. Many hotels are willing to offer discounts for longer stays, especially since the travel industry has taken such a hit during the pandemic.
Another way to book extended hotel stays that won't break the bank is to browse discounts and deals on regular rates.
… and a cruise ship
If your idea of paradise is floating above sapphire waves, this one's for you.
MS Satoshi
The owners of this retired P&O cruise ship — two tech investors who founded a company called Ocean Builders with the goal of establishing remote worker communities at sea — are offering short- and long-term cabin rentals while the ship is docked outside of Panama City, just a five-minute boat ride from the vibrant Taboga Island. Monthly rates start at $1,311 for an interior cabin, $2,777 for a balcony stateroom and $3,818 for a mini-suite.
But when you rent a cabin, you're not just renting a bed. You'll get access to the theater, casino, gyms, restaurants and retail space too. Cabin rentals are slated to start on January 5, 2021.
Traveling during the COVID-19 pandemic
If you plan to travel during the pandemic, monitor and understand the
risk assessment levels for your destination
when planning your trip, before departure and on arrival. Follow safety measures that include wearing a mask in public settings, maintaining social distancing and washing your hands. If you are diagnosed, have symptoms of or are waiting for test results for COVID-19 — or are otherwise at risk of illness — do not host, attend gatherings or travel for 14 days. Note that the
CDC warns against cruise travel
at this time.
Photo: Getty Images