Finder is committed to editorial independence. While we receive compensation when you click links to partners, they do not influence our content.
Why Should You Keep Your Credit Cards Active?
Having multiple credit cards can sometimes be more of a problem than a blessing. For those who could not manage more than two cards, owning a lot more seems stressful, and riskier when it comes to accumulating debts. Cardholders sometimes end up drowned in debts because they could no longer manage their credit. Others opt for cancellation for many reasons aside from no perks offered with the card.
We understand how owning a credit card can be tough, especially for first-timers. And we wrote this article for you to think twice before allowing that plastic to sit in your wallet or get canceled for inactivity.
Why is your first credit card important?
Your first credit card is not always the one you dreamed of. Some cardholders owned their first card through bank endorsement – a privilege they did not apply for. As a result, the credit card is often secured and lacking rewards. Many of us don't get what we want for the first time, and we settle for what the banked approved us for.
You can't always choose love, and so is your first credit card. No matter how eagerly you aim for a cashback or an airmiles card, the first one is always a treasure regardless of its features. No matter how unrewarding your first credit card may be to you, it will and should always be active for a while.

Your first credit card is a useful reference when applying for another, mainly that banks use your length of use as a benchmark when gauging your eligibility. The banking relationship says a lot about your money management skills. Active credit cards for more than a year serve as a basis for your approval of higher-tier ones.
Why should you keep your cards active?
Whether it is your first credit card or not, keeping them active can be advantageous to you in more ways than one:
1. It is suitable for your credit score
Owning one or more credit cards can be a benefit for you, especially if you intend to improve your credit standing. Some issuers like HSBC provide credit cards to carded individuals. HSBC is an international company that grants you access to a bunch of privileges. If you close your credit card account with another bank, it might not be very easy for you to get approved for another one from issuers with stricter requirements.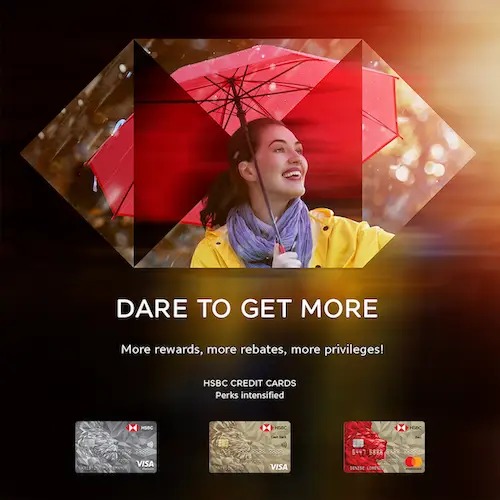 2. You enhance your buying power
A credit card is a credit opportunity that saves you from the tedious process of traditional ways of borrowing money. You don't need to prepare tons of documents before getting hold of money to buy your necessities, keeping your credit cards active means broadening your credit line and giving enough room for future purchases and payments.
3. You can use it for business
Depending on your credit limit, you can use the credit card to start a sari-sari store or a buy-and-sell business online. Some cardholders purchase stuff from overseas merchants and resell these to local customers who don't have the facility to purchase. It is a means to earn from your spending if you're not using a cashback or rewards credit cards with rebates.
How to keep your credit cards active?
Juggling one credit card to another isn't easy. You need to be familiar with the cards' cut off dates, billing cycle, and due dates. You should also be updated in terms of promos and treats to maximize their benefits. Here is how you can keep your credit cards active and get enough value from them.

Use your card once a month. Yes, you don't need to congest a credit card with all your payments and purchases. Using your credit card once in a month lets your issuer send updates for discounts and promos. If you have multiple cards, delegate your expenses to make sure you keep each one active. For instance, all your dining expenses should be charged to the credit card that gives dining rebates. All utility payments should be directed to the credit card that provides accelerated bonus points. Moreover, purchases of gadgets and appliances should be assigned to your credit card that allows installments at 0% interest or deferred payments.
If two or more cards offer the same benefit, use every two months alternately. Credit card issuers report your most recent activities to the credit bureaus. That means your credit card use for the last two months gets assessed. Bear in mind that utilization rate is essential, and for most credit evaluations, the utilization rate of 0% is bad, up to 10% is ideal, 30% is acceptable, and over 30% should be avoided.
When to cancel your credit card?
Canceling a credit card won't need a second thought if:
1. You start accumulating debts
Don't wait for the time when you've maxed out your credit limits, and you find it hard to pay off balances in full. Start canceling the ones with high-interest rates to prevent the charges from padding your balances.
2. You don't reap rewards
If your credit card doesn't have perks like monthly promos or rewards, then you can decide to close it after a year. Your spending should at least let you earn rewards points or treats to spice up the use of these plastics.
3. The annual fee is too high
There are already lots of credit cards that do not charge you with annual membership fees. If the high-tier card lets you pay as much as a yearly php5,000 fee or more, you might want to reevaluate its existence. The privileges entailed with the card should be more than what you pay as the annual fee.

Final thoughts:
Keeping your credit cards active can be suitable for your credit standing, but deciding whether to cancel or not depends on your situation. If the annual fee of your card is waived, you might as well keep them open for emergency purchases. However, if you get stressed with billing statements and due dates, you can maintain two to three cards and have the rest canceled at once.
Credit cards are tools that should help you realize financial goals. Evaluate your spending habits. Keep track of how these plastics impact your life. If you think they affect your budget in a not-so-beneficial way, maybe it high time to call the issuer and request for cancellation.