Finder is committed to editorial independence. While we receive compensation when you click links to partners, they do not influence our content.
Top Credit Cards for First Timers 2019
Credit cards are undoubtedly the most convenient tools for cashless transactions. From shopping to traveling, dining, and fueling up your car, their virtually universal and practical use knows no bounds — except your credit limit. What many people fear about credit cards is that it can be easy to lose control over spending and end up buried in debt. However, you can attribute this outcome to mismanagement, rather than a fault of owning a credit card itself. After all, having any means of making purchases on hand — whether cash, cards, or online paying apps — entails a lot of financial responsibility.
And a step as big as a credit card requires more than surface-level fiscal knowledge. It requires you to pay attention to nuances such as your credit limit, minimum payments, building a credit score, and other things that fall within the realm of being a responsible adult. That's why many banks put a barrier between you and credit card ownership — a list of requirements that determine your eligibility to own one, and a small starting credit limit to stop you from overspending. However, that shouldn't stop you from applying for one as there are so many ways in which you can benefit from credit card ownership, from airmiles to frequent flyer programs, reward points, cashback, rebates, and discounts.

With a good sense of financial control and management, and a willingness to understand how you can fully utilize a credit card, you're pretty much ready to begin owning one. However, there is a myriad of options that are easily accessible to first-time credit cardholders, making it challenging to settle for one. Below are GoBear's picks for the top credit cards for first-time users. Check them out and see which one meets your needs.
Citibank Simplicity+
If you want something practical and uncomplicated, the Citi Simplicity+ Credit Card is as simple as it sounds. An ideal partner that gets the shopping done hassle-free, it's a lovely entry-level card as it does away with credit card fees that many first-time users mull over. Annual fees and over-limit fees are some things that you may be uncomfortable with, especially when you're just testing the waters. And if you're earning an entry-level salary, then high annual fees can be quite a stretch to your budget and won't justify how much you spend.
With this card, all you need to worry about is where to use it, but that won't make you break a sweat, either! Citibank has an array of partner establishments that offer exclusive deals and promos on dining, shopping, travel, and lifestyle services. You can find deals on virtually every category so that you can save money by spending on necessities and a few luxuries. If keeping things simple is your philosophy, then there's no better partner than the Citi Simplicity+ Credit Card.
Features:
No annual fees
No late payment fees
No over limit fees
10% interest back
Learn more about other Citibank credit cardsor you can also see if you're eligible for a Citi Rewards Card.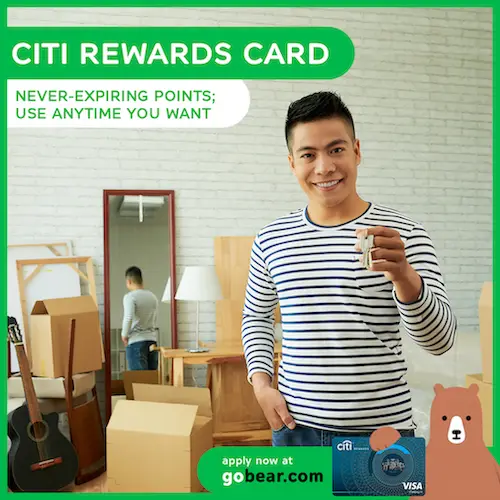 PNB Essentials
The PNB Essentials Credit Card offers an arsenal of rewards, especially for wanderlusts who can't help jet-setting around the world. It gives you perks when you shop, dine, and travel. But what truly sets it apart is a generous Airmiles exchange rate of 1 point to 1 airmile and 2,000 Mabuhay Miles for every 2,000 points. With that, you can quickly rack up points from day-to-day and travel purchases — a win-win that'll help you travel more by spending on necessities. There's no better feeling than knowing that for every purchase you make, part of it gets allocated into your travel fund. The best part is that it comes with travel insurance, purchase protection, and fraud transaction insurance so you can be safe while exploring new destinations. All you have to do is to use your PNB Essentials Credit Card for purchasing any travel tickets. That will qualify you for insurance, and you're all set for adventures that await.
Features:
Get 1 air mile for every rewards point
Get 2,000 Mabuhay Miles for every 2,000 points
Earn 1 rewards point for every ₱50 spent on shopping, dining, and fuel at partner establishments
No expiry on rewards points
Bank of Commerce Classic
The Bank of Commerce Classic Credit Card is a versatile and rewarding companion that gives you rewards the more you use it. Charge your groceries, fuel, installment, and other purchases to enjoy more exclusive perks. The Bank of Commerce Rewards Program features a wide selection of rewards merchandise and partner establishments so you can choose the rewards you want.
Features:
Earn 1 rewards point for every ₱25 spent
Get 4 bonus points when you spend on shopping
Earn as much as 5x rewards points when you use your credit card at select establishments
Enjoy 0% installment offers at select establishments
Enjoy low monthly interest rates when converting to install big-ticket purchases
No expiry on rewards points
BPI Blue
The BPI Blue is a credit card that you can take with you anywhere in the world. Whether it's in the crazy streets of Tokyo or the historically-rich city of Paris, you'll never have to worry about cash because this credit card has got your back. A fun travel partner that'll never say no to a shopping spree, the BPI Blue comes with a generous P2 million travel insurance coverage as long as you use the card to purchase your travel tickets.
Most local and international long-distance travel transportation qualifies, so you can feel safe even when you ride a boat to sail across the world. The best part is that although some places may not accept cards, you can use this credit card to withdraw cash up to 30% of your credit limit. No matter where you are in the world, you can get cash among 1 million Maestro/Cirrus ATMs globally, so you don't have to worry about not having a debit card. On top of that, a generous peso to point conversion and cash rebate program will make all shopping trips guiltless.
Features:
Earn 1 rewards point for every ₱35 spent
Enjoy waived annual fees for the first year
Get a ₱100 cash rebate for every 1,000 points earned from shopping expenses
Metrobank Classic
The Metrobank Classic is the credit card that answers the call of the times. An embedded chip enhances security so you are protected from fraud and unauthorized use of your credit card. It also provides a multitude of perks, discounts and rewards from M Here partner establishments. You can also use it to pay you're your utility bills with ease through the Bills2Pay facility that's exclusive to Metrobank.
Features:
Earn 1 point for every ₱20 spent
Enjoy exclusive discounts and freebies from M Here partner establishments
Avail of the 0% instalment program from a wide selection of establishments
Convert big-ticket purchases to instalment terms
If it's your first time applying for a credit card, the credit cards listed here are great ones to start with. They will help you learn more about how credit cards and other financial services work, plus get you on your way to establishing your credit score.
Not what you're looking for? Find the credit card that fits your lifestyle by comparing credit cards with GoBear today!