Finder is committed to editorial independence. While we receive compensation when you click links to partners, they do not influence our content.
Top 5 Reasons To Choose Personal Loan Over Loan Sharks
Life can be tough, primarily since much of it revolves around finances. It's challenging to find a job and start a business in the Philippines, where high tax rates and few opportunities for employment make it difficult to earn a stable income. As a result, many Filipinos resort to taking personal loans whenever they need funds, especially for making big purchases and paying off other debt. But there are drawbacks to this, which includes a tremendous number of requirements and a long processing time.
These make personal loans from banks a luxury that you need to plan ahead of time — something that not many can afford to do. As an alternative, many people opt for loan sharks who offer "5-6" loans, which essentially means that if you borrow P500, you give back P600. That is a whopping 20% interest rate, as opposed to bank rates of about 1.4%. Despite this, some Filipinos are willing to take the financial risk and dive into a tank full of sharks.
Loan sharks defined
A loan shark is an entity that offers loans to cash-strapped individuals, often targeting a demographic that's unable to take legal bank loans. The BSP limits contractless loans to have an interest rate of up to 6%. But loan sharks charge beyond that fair value, often asking for 20% or more in interest to be paid in a short amount of time. Their funds usually come from unidentified sources, and they operate in low to mid-income neighborhoods or on the internet.
Aside from cash, they may also offer big-ticket furniture and household items such as beds and cabinets. Loan sharks usually target Filipinos who need quick cash and are willing to provide the money on short terms, but they also require the money to be paid in a short amount of time. If the borrower fails to pay on time, sharks may resort to violent means to get their money back. This system is highly marauding, as it takes advantage of a demographic that is more likely to need cash on short notice.
The problem is so rampant that in January 2019, President Duterte issued a warning against loan sharks who lend money to government employees and teachers with exorbitant interest rates.
Loan sharks vs. Sangla-ATM
The primary difference between loan sharks and the Sangla-ATM is that the former is an insecure type of loan, while the latter is secured. Loan sharks may not require collaterals from their borrowers, and only needs need a signed document as proof of their informal loan agreement. On the other hand, the Sangla-ATM system requires borrowers to surrender their ATM cards and PINs as collateral, essentially giving Sanglas access to their immediate salary and source of funds. This nuance ensures that borrowers pay loans on time, but through unethical means. However, many still opt for this variation as interest rates are a little lower than their 5-6 counterparts. Regardless, both of these loan types are informal and don't operate legally.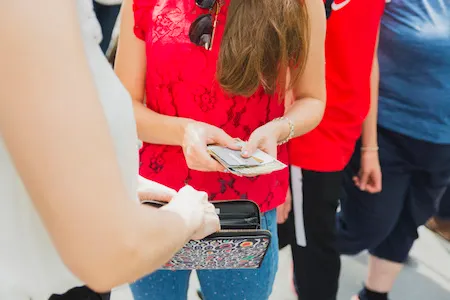 The Sangla-ATM scheme has earned popularity among minimum-wage earners who cling onto opportunities to get money to resolve an immediate financial pinch. Borrowers can still make over-the-counter debit withdrawals even without access to their ATM cards, but banks may charge a fee of P50-100, which can be hefty for some. Moreover, borrowers can get in trouble with lenders if the latter finds out about the withdrawals. Both loan sharks and Sangla are unethical, illegal, and neither is better than the other.
Why loan sharks can be a terrible choice
Here are some things you need to consider before deciding to get into the water with loan sharks. We highly suggest that if you choose to go for personal loans from a bank instead of informal lending schemes, compare options on Gobear. We don't bite, and we're free to use.
1. Loan sharks do not require background checks
Stringent background checking from banks and other legitimate lenders is likely the main reason why low-income Filipinos refuse to apply for personal loans – the same reason why they prefer to borrow from loan sharks. Despite the considerable interest, 5-6 acquire a lot of customers due to the ease of application and release of funds. More often than not, borrowers seek refuge from loan sharks when they needed a quick bail from credit woes.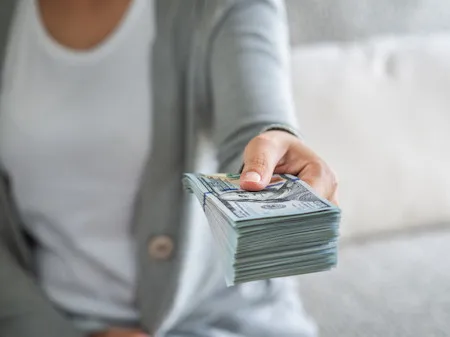 However, it's important to note that interest rates accumulate quickly. If you're unable to make enough money to pay piles of debt back, then you're merely digging yourself an even bigger financial hole. By taking a loan from sharks, you may end up spending your entire life in a loop of debt — taking one loan to pay off another. Don't let things get worse by avoiding illegal loans and hefty interest rates altogether. There's no harm in giving a personal loan from a bank a try, so go for it and save yourself over 17% in interest.
2. Loan sharks are illegal and punishable by law
The bastardization of personal bank loans is a form of exploitation — an illegal business of lending money at unreasonable interest rates that mostly favors the lender. If you're ever in dire need of cash, remember that loan sharks offer them at 20% interest rates. And if you can't pay it back, there's a massive possibility of intimidation, which could lead to something else. Loan sharks are undoubtedly punishable by law — and that's a big red flag that should convince you to opt away. You're never going to get a loan from a shark that involves an ethical process. Their goal is to milk money out of those who are already in a financially bad place.
3. Personal loans allow you to build a credit history
Do you plan to open up a business in the future or get other lines of credit for getting a house or a car? If yes, then getting a small loan initially or applying for a credit card and paying it off on time is your best bet for securing bigger loans in the future. The Credit Information Corporation monitors this system. It is an organization that "collects, collates and disseminates credit information" from and for different banks in the country. They make it easier for banks to check on your credit history, and whether or not you have a long list of delinquent payments from another bank. If you have a good credit standing, approving of your loan will take as long as advertised by the bank: 5-7 banking days. As a result, it's pertinent to start building a good credit score as early as possible — and paying off personal loans is an excellent way of increasing credit.

4. If it's too good to be true, it's probably illegal.
Loan sharks only need 1 or 2 IDs to scan or photocopy, and you can get your money in 24 hours or less. But that means that you agree to interest rates that are off the roofs with very little time to pay them back. Other sharks will ask you to give an initial payment as collateral to the loan, but that concept in itself is flawed and should be a high sign of a scam. You'll later find that you can no longer contact or track them as loan sharks don't have registered companies. Loan sharks are an illicit business, and any shiny offer comes with an unjustified pay-off. Don't risk signing with the devil by avoiding them altogether.
5.Personal loans allow you to consolidate your debt.
Some people get personal loans to pay the debt from other lines of credit. This concept sounds counterintuitive at first, but it's a smart move. There are a lot of programs today that allow you to transfer your debt from one bank to another with lower interest. This service is called balance transfer, and we have an entire segment about it here on Gobear. Your debt from the loan shark is not applicable for a balance transfer, but there's a program called "Inter-Debt Relief Program" that you should look into to help you restructure your existing credit debt.
People also read:
*5 mistakes to avoid when applying for personal loans
*Should You Get A Personal Loan for Your Dream Trip?
Bottom line:
There are so many ways of borrowing money in the Philippines, but grabbing easily-available and convenient methods can be detrimental. If you find yourself drowning in debt, it's time to ponder on your financial choices. The easy way out always comes with consequences, and more often than not, it's better to take the time and courage to go through a bank's loan application process. Don't fall into debt traps and enter illegal doors opened by loan sharks, Sangla-ATMs, and the 5-6 nonsense. These are impractical and dangerous options both personally and financially and will do nothing to your current and future credit line and history.
Personal loans are more than just ways of getting you out of debt or a way to obtain a lump sum for expensive purchases. It's a financial tool that can help you manage your finances as long as you apply from legitimate lenders.
Was this article helpful to you? For more stories on financial tips, follow the GoBear Blog.