Finder is committed to editorial independence. While we receive compensation when you click links to partners, they do not influence our content.
Pros and Cons of Extended Due Dates During the Lockdown
In time with the enhanced community quarantine for Luzon, most banks in the Philippines have extended the payment due dates of car loans, personal loans, credit cards, and home loans to their eligible customers. The extension states that due dates falling within the lockdown period will be moved 30 or 60 days so borrowers can have ample time to fund the monthly installments and credit balances.
Due to the increased risk of getting infected by the coronavirus, the government has mandated most establishments to close down, thus leaving the majority of the workforce to lose their income. Some people depend on a daily wage scheme such that the lockdown left them with a little amount of money for food, much less for loans and bills.
The advantages of extended due dates
Having more time to settle your debts means getting rid of worries while in a pandemic risk. Banks released their extension advisories like Bank of the Philippine Islands (BPI), East West Banking Corporation (EastWest), BDO Unibank Inc. (BDO), Metropolitan Bank and Trust Co. (Metrobank), Security Bank Corp (Security Bank), Union Bank of the Philippines (UnionBank), Rizal Commercial Banking Corp. (RCBC) and China Bank Savings (CBS) among others.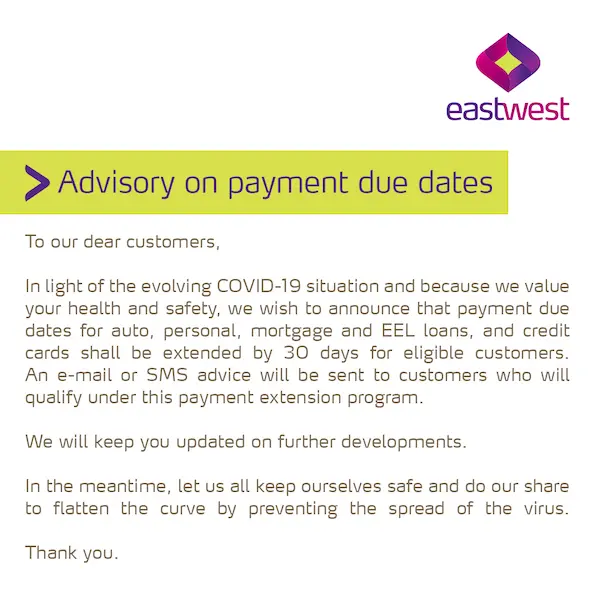 The advisories have left the majority of us, borrowers, battling coronavirus with peace of mind knowing that we don't need to come up with huge cash to pay off our debts.
In a nutshell, borrowers will benefit from the extension in several ways:
1. Peace of mind
As mentioned earlier, you no longer need to be in the dilemma of risking our lives to find money and paying the dues. You can now focus on finding ways to sustain your families' daily needs, such as food, medicine, and potable or drinking water, at least for a month or so.
2. Better cash flow
The pandemic results in more stringent economic flow, especially in households that need to store food, toiletries, and other necessities. We need more cash to sustain our obligations because not all operational supermarkets and groceries accept credit cards. Thus, instead of paying the dues, you can now prioritize buying necessities instead of using the cash for installment payments.
Smart Techniques to Repay Loans
3. Reduced penalties
In these trying times, it will be challenging to find the money to pay off your dues. If these banks didn't extend the payment date, then you may end up incurring late payment fees and penalties. With the extension, you can pay the principal after 30-60 days, without getting charged for paying beyond the due date.
4. Lengthened preparations
Extended due dates will give enough time to prepare and devise a budget plan. While at home, explore other ways to earn and maximize the time on worthwhile activities. You can also review our finances and scrap out those unnecessary spending and assign the money instead for basic home necessities or even health and life insurance.

The disadvantages of extended due dates
Knowing that your bank will not require you to pay at the end of the month is a relief. However, it should be essential to note that the extension has terms and conditions.
Here is how the extension could hurt you and your wallets:
1. Finance charges apply
A late payment fee is charged when we miss paying at least the minimum amount on the deadline.
A finance charge refers to the cost of borrowing that includes the interest and other fees entailed with the transaction.
Some banks can waive the late payment fees while still applying the finance charges. This means there will be no charges for not paying on time, but there will be charges for the balances that are left unpaid after the due date. You can't be too relaxed by just knowing the due date is extended. You can at least call the bank and make sure you can comply with the terms and conditions of the extension. Ask if your banks can waive all the fees. If not, then you can immediately review your payment plans during the lockdown.
2. Prolonging the agony
The extension lengthens your agony, knowing that after 30-60 days, your debts are still reflected in your credit accounts and need to be paid immediately. Nobody knows if the government will lift the lockdown as planned. If the situation gets worse (hopefully not), then the lockdown can go beyond April 14.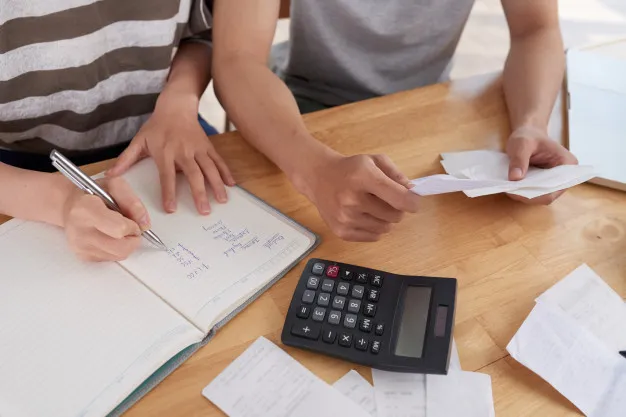 3. Your debts pile up
Meralco, Globe, Smart, PLDT, and other companies, along with the banks, have all extended their due dates for you. Sounds great, but this also means that after April 15, you need to produce the money to pay them all. That would mean you need to have the cash equivalent to two monthly payments because the due date after the lockdown is not included in the extension offer.
What you can do:
Setting your priorities can help you make both ends meet during the enhanced community quarantine period. You can make a list of all your dues and prioritize those that could come with charges if payment is delayed. If you have multiple credit cards or loans, take the time to read the terms and conditions of your providers. You can also delay the dues with the most lenient policy and with the lowest charges. Prioritize dues that come with finance charges and high-interest rates and with imposed finance charges.