Looking for the best personal loan but don't know where to start?
You could take out a personal loan for a range of different reasons. While one person might need a personal loan to buy a car, another might take one out for renovating a home or making a consolidating debt. There's a large number of personal loans available, so, how do you find the best one for you?
Must read: What is the best personal loan?
The best personal loan is the one that meets your needs and circumstances. So, while that means that there is no single answer to that question, there is a way to find the best personal loan for you. This guide will take you through what you need to know.
* The personal loan offers compared on this page are chosen from a range of personal loans finder.com.au has access to track details from and is not representative of all the products available for comparison in the market. Products are displayed in no particular order or ranking. The use of terms 'Best' and 'Top' are not product ratings and are subject to our disclaimer. You should consider seeking independent financial advice and consider your own personal financial circumstances when comparing personal loans.
---
3 steps to help you find the best personal loan
What type of personal loan will best suit my needs?
Not sure what type of personal loan you need? Look at the images below and find what you are borrowing for to see the loans that may be suitable for you.
Loans designed for your loan purpose or borrowing situation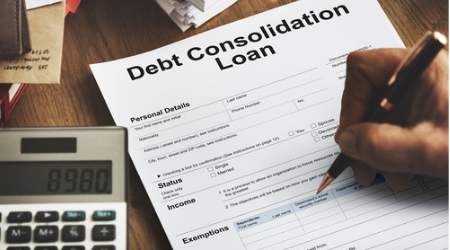 Debt consolidation
You want to take out a loan to consolidate debt across your existing credit cards and/or personal loans.
Large purchase or investment
If you want to make a large purchase such as furniture, electronics, a holiday or need funds for an investment, an unsecured personal loan might suit your needs.
Home renovations or an ongoing project
If you need access to funds for an ongoing period or you aren't sure how much you need to borrow, you may want to consider a line of credit personal loan.
A new or used car
If you're purchasing a new or used car you can benefit from a lower interest rate when you take out a secured car loan.
You already have a vehicle to use as security
Secured personal loans let you benefit from lower interest rates when you attach an asset you already own as security. You can then use the funds however you need to.
You have bad credit or are on a lower income
Short-term lenders may consider you for a loan but keep in mind the costs are much higher than with standard personal loans.
How to compare personal loans to find the best one for you
When you want to apply for a personal loan you should first compare multiple offerings so you can track down the right product. Pay attention to the following aspects and you could enjoy considerable savings:
Secured or unsecured?
Both of these loans suit different purposes. If you're looking at buying something like a car or you already own an asset like a car, you can consider a secured personal loan. You will benefit from a lower interest rate by using the asset as security but you risk losing it if you default on the loan. An unsecured personal loan may come with a slightly higher interest rate but requires no security and allows you to use the funds however you need to.
What is the interest and effective interest rate?
Compare interest rates against similar loans. While you should also check the fees you will be charged, the effective interest rate (EIR) will give you an idea of the true cost of the loan as it is comprised of both interest and fees.
What fees are charged?
Consider all the fees associated with the loan. For example, there may be processing fees, early or late repayment fees.
How much can you borrow?
The amount you can borrow should also factor into your decision. You will not find out how much you will be approved for before you apply but lenders will have a set minimum and maximum borrowing amount. Ensure how much you want to borrow falls within these limits.
What restrictions apply to the loan?
Are there restrictions on additional repayments or repaying the loan early? Are there restrictions on how you can use the loan amount? Find out what restrictions apply with the loan.
What will the term of your loan be?
Work out how much you can afford to repay and what repayment terms you will need. Then, make sure the loan you are applying for offers these terms.

What should I keep in mind when looking for the best personal loan?
While personal loans are helpful in many scenarios, it's in your best interest to avoid certain traps and pitfalls.
Read the fine print.
Scrutinise all your options carefully right from the start and remember to look for processing fees, early repayment fees and late payment fees. Read the terms and conditions document from start to finish and ensure you are aware of all fees and restrictions.
Don't take on a loan you can't afford.
When borrowing money it is always important to use a calculator to find out what your repayments will be. If you can comfortably afford a loan don't feel tempted to consider borrowing more in the even that you can't afford it.
How to submit your personal loan application
Before you apply for a personal loan, establish how much you want to borrow and your monthly repayment ability. You should find out how long it might take for you to pay the loan off completely, remembering that you can usually choose between making weekly, fortnightly or monthly payments.
Read through the eligibility criteria set by the lender and then ensure you meet them. Also make sure you have the required documents – usually your government-issued ID, financial and employment documents and bank details – on hand. If you're applying for a secured loan you will need details of the asset.