Finder is committed to editorial independence. While we receive compensation when you click links to partners, they do not influence our content.
How To Use Online Platforms To Help Typhoon Victims
Blaming 2020 for all the troubles it has caused seems like the most harmless thing to do. We are less than a couple of months away from its end yet we are nowhere near the plot twist we have been dreaming of. Despite all the setbacks, there is always one thing to be grateful for. Whatever you have been through, deep down you know that other people are in a much more difficult situation.
One morning we all woke up seeing images of flooded homes in different parts of the country because of the typhoon. People were using hashtags to direct rescuers to typhoon victims seeking shelter on others' rooftops. You think to yourself, you should reach out to them. Even though you cannot travel to volunteer on the grounds, there are ways to offer help.
Start a call for donations
Your posts do not go unnoticed on social media. There will always be a friend or a follower who will come across it on their feed. Take this chance to initiate a donation drive. You can ask your friends if they have things to donate that might be of use to those staying in evacuation centers. Clothes, blankets, pillows, hygiene kits, towels, food, and bottled water are some of the items you can collect and send to affected communities.
,
Look for an organization near you that is also gathering these items to reach the beneficiaries. You may also collaborate with your friends for a call for donations. They might be thinking of also donating but have no idea how to start or how to go through with it. One of you can make travel arrangements or split shipping costs to send the donations the soonest.
There are also Isabela-based organizations like Tres Marias SariSari, whose owners maximize the use of social media to intensify their donation drive.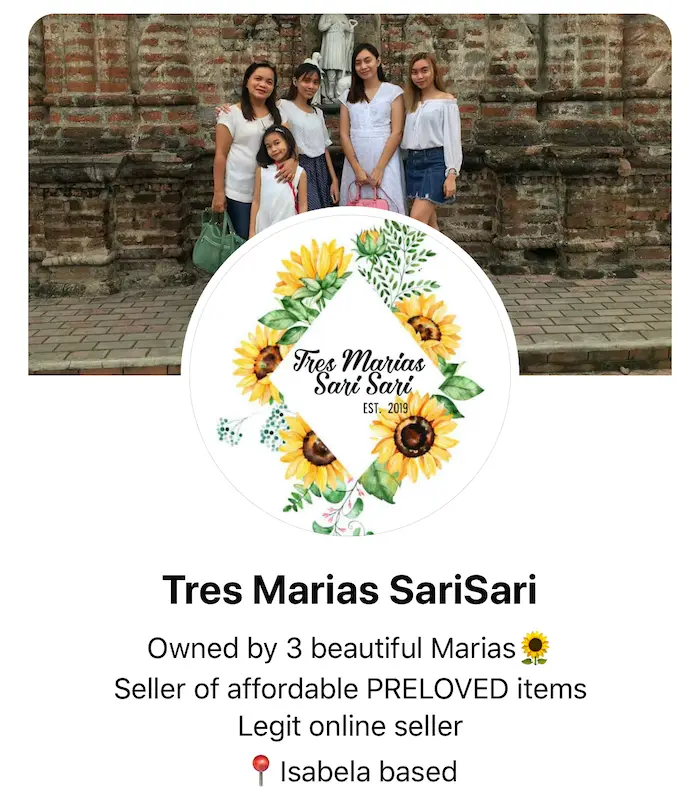 Use your business
Businesses are now using their resources to help typhoon victims. Some have set a schedule when profits from orders placed on those days will be set apart as cash donations to fundraising initiatives. Others announced that a certain percentage of their sales will be donated to the victims.
Elaine Espanol started her baking business after being retrenched from her job as a television reporter. She knows what it is like to lose a source of living. So, she decided to help.
"I also remembered how hard it was to recover when typhoon Pepeng struck our province. Our house was flooded and all of our furniture was damaged. This time, I want to be a blessing to others," shared Elaine.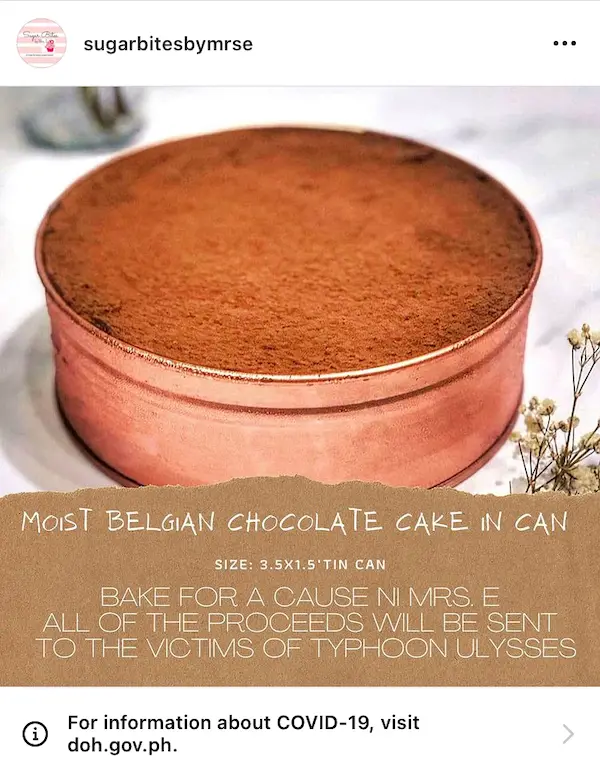 "I have already established connections with my clients, which makes my Facebook page an avenue for this initiative," added Elaine.
After the typhoon hit, Elaine announced that 100% of her profit for her cake-in-a-can products will be donated to typhoon-hit communities in Cagayan. The proceeds will be sent to a church-based in Tuguegarao City for relief operations.
READ:How To Use Social Media To Advance Your Business
Your business might also have facilities that can be used to produce items beneficial to evacuees. One online shop that sells towels offered a deal to its clients. For every towel bought, another will be donated to typhoon victims.
Krisha Camille Rueco-Angoluan's family also used their business, a water refilling station, to aid donation drives. They asked friends to donate in cash, which will then be used to buy plastic bottles. They will then fill these containers with potable water and partner with other organizations for the distribution.
"Our business has just started. It was the right time to use it seeing as potable water is needed right now," shared Krisha.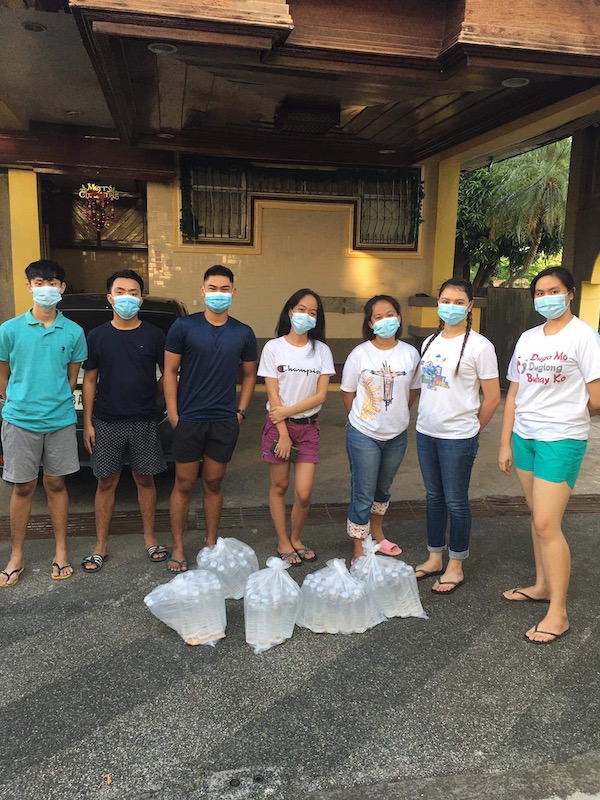 Sell second-hand items
You might have long been thinking of decluttering your room but have not yet found the time and energy to do so. This might be the right motivation for you. You can pick clothes, bags, or books from your room and sell it to your friends online. The money from your sales could be donated to fund relief efforts launched by your trusted organization.
This is what Micaella Ilao and her friends in Baguio City decided to do. Days after the typhoon, they scheduled a live online selling of preloved items to gather cash donations.

"It was my friend Nicole Ularte who had the idea. Since we can't donate used clothes, we decided to convert it into cash by selling them. It's also convenient so that the sales from the activity can buy other needs like medicine and toiletries," said Micaella.
Some of their friends also pitched in and provided clothing items to be sold.
"It's frustrating to know that some of our fellow Filipinos are suffering but we can't be physically there to help them. So, to help them despite the distance, we decided to do a donation drive," shared Micaella.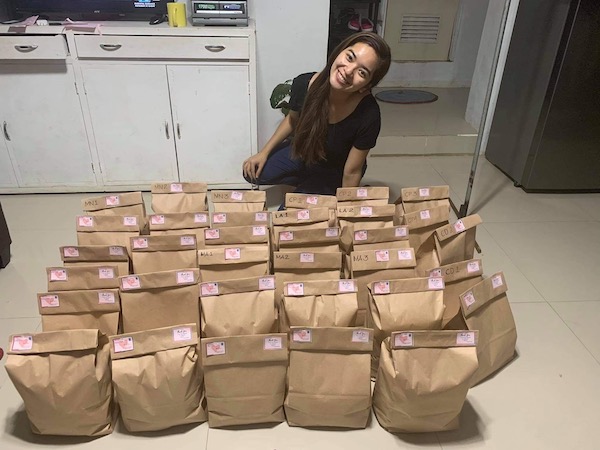 Use your rewards points
The points you have earned from your postpaid plan or credit card provider might already be enough for a gift certificate, a discount, or rebate. Why not use it this time to send cash aid to non-government organizations.
Your Globe Rewards points, for example, can be converted as cash donations for relief operations organized by ABS-CBN Foundation and Ayala Foundation. You can easily do this by downloading the GlobeRewards mobile app and choose which foundation to donate these points too. They are done in increments so you can plan your donation well and donate to both organizations.
Even before the typhoon, banks have already partnered with organizations so their clients can donate earned points as cash.
YourBPI Real Thrills Rewardscan be donated to the following:
SOS Children's Villages Philippines Foundation
World Vision Development Foundation, Inc.
Smile Train
BPI Foundation, Inc.
Children's Hour
Caritas Manila
Check your bank's website. Converting your points to cash donations will not make a dent if you do not have much saved on your bank account yet.

Donate online
If you do not have the time and resources for the ideas mentioned above, you can directly fund relief efforts by donating through online transfers. If you want to make it part of your budget, you can also arrange to donate regularly.
BDO, for example, can arrangemonthly fixed donationsbetween their clients and partner organizations such as the following:
ABS-CBN Bantay Bata 163
BDO Foundation
Child Hope Philippines
Hands-on Manila Foundation, Inc.
Haribon Foundation
Bottom line:
After receiving food items and hygiene kits that will help them survive the next few days, typhoon victims will face the season trying to get back on their feet. Industries that provide a source of income for a lot of people have already taken a hit because of the pandemic. The typhoon made everything worse. If you want to help typhoon victims put the pieces back together, go for sustainability. Do not stop now. Patronize businesses based in typhoon-hit areas that employ workers from the community. Support projects that help build their homes and provide a livelihood. It might seem like an effortless move to you, but as Hellen Keller said "Alone we can do so little; together we can do so much."