Finder is committed to editorial independence. While we receive compensation when you click links to partners, they do not influence our content.
How To Get Quick and Easy Cash Through Pautang Apps
Borrowing money is a part of every Filipino's way of life. It is unavoidable that Pinoys find ways to relieve financial emergencies through short-term lending or pangungutang. And since most banks have stern requirements when it comes to personal loans, Pinoys turned to online apps that allow them to get cash fast by just completing the online form and submitting a copy of one valid government-issued ID.
What are Pautang apps?
Pautang apps are applications downloaded from the App Store or Google Play. The apps let you apply for quick cash loans up to Php12,000. The loan process is entirely done online, and money borrowed is released through the apps' partner remittance centers like Cebuana Lhuillier, Palawan Express or MLhuillier and may even be directly deposited by the online lender to your nominated savings account.
Pautang apps paved the way for Filipinos to access quick cash wherever they are in the Philippines.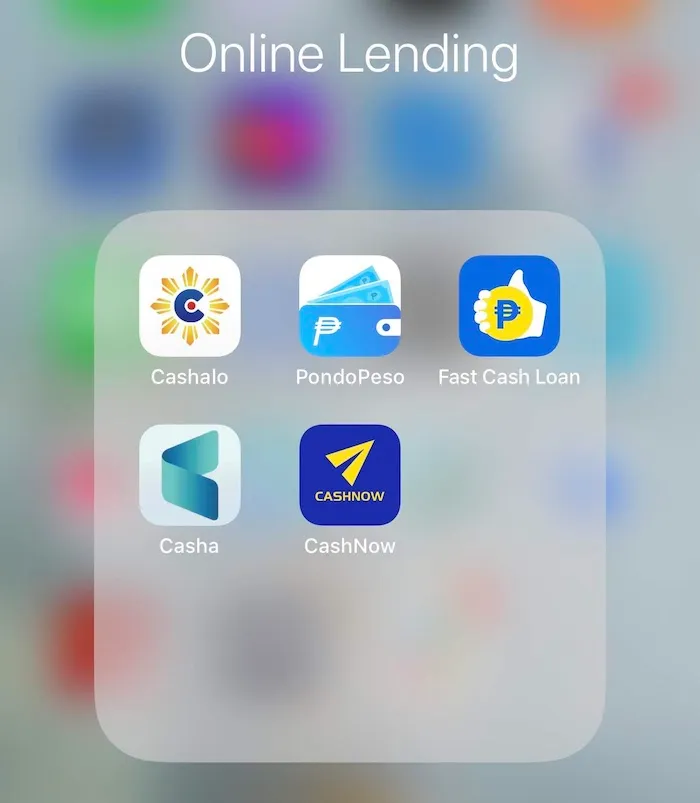 How do pautang apps work?
Most online lenders have lending apps that facilitate the loan process. Interested borrows are required to download the app, fill out the application form and click on the submit button. Most online lenders quickly process the application and provide feedback in as fast as one hour after application. Terms and conditions of the loan are discussed to the borrower. Once the borrower agrees to it, money is then disbursed within the day or in a maximum of three days.
What are the online lending apps you can download?
1. GCash
Download via Google Play and App Store
Processing fee: None
Effective interest rate: 5% monthly
Disbursed amount: Full
GCash is a mobile money service using mainly Globe and Touch Mobile sims. Its main goal is to provide a safer way of going cashless for many transactions like buying load, sending money, and paying bills. GCash lets you build your credit history or GScore over time and once the app finds you worthy of credit, it automatically notifies you about your approved limit.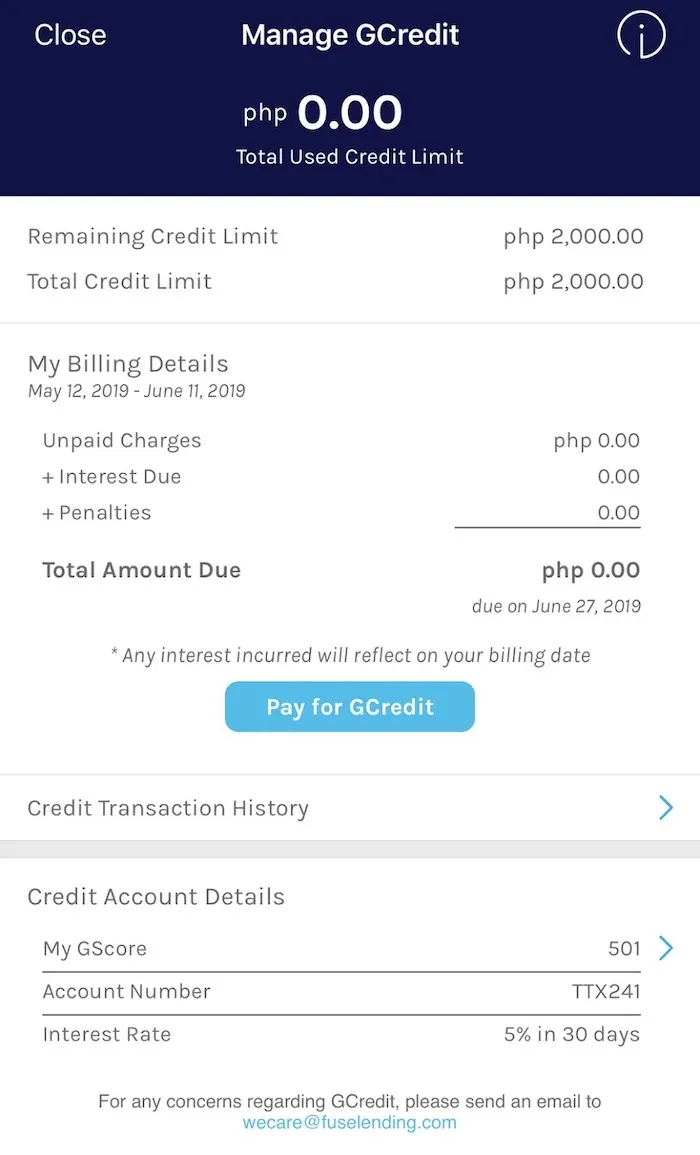 2. Tala Philippines
Download via Google Play
Processing Fee: Php750
Effective interest rate: 16%
The processing fee is deducted upon loan disbursement
Tala Philippines is a lending app for those using Android smartphones. Tala is operating in India, Tanzania, Kenya, Philippines, and Mexico. In 2018, Tala announces it has reached 1 million customers globally and has reached $65M worth of financing.
3. Online Loans Pilipinas
Download via Google Play
Processing Fee: Php500
Effective interest rate: 34.49%
The processing fee is deducted upon loan disbursement
Online Loans Pilipinas is a Philippine-based fintech company focused on consumer financing. The company provides instant financial solutions without requiring collateral and long waiting time for approval.
4. Loan Ranger
Download via Google Play
Processing Fee: Php500
Effective interest rate: 34.49%
Loan Ranger lets you borrow up to Php10,000 for a maximum of three months tenure. Upon filling out their online application form, the full cost of the loan will be computed and shown to you. It takes one day for Loan Ranger to assess your application and inform you whether it is declined or approved.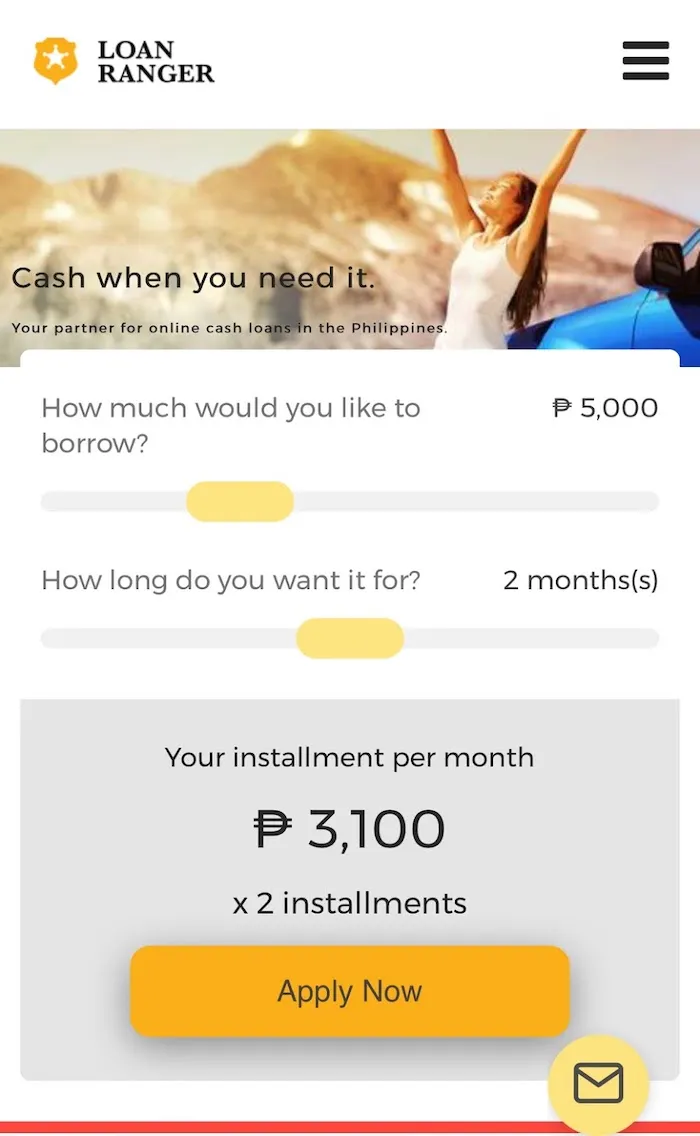 5. Cashalo
Download via App Store and Google Play
Processing Fee:
Effective interest rate:
One of the most popular online utang app is Cashalo which enables affordable and secure access to credit anywhere you are in the Philippines. Once approved for a loan, Cashalo directly deposits the amount in your nominated bank account. You can make payments through Robinsons Business Centers, ECPay outlets, 7-Eleven, online banking using Robinsons Bank and BDO Over-the-Counter.
6. Cashwagon
Download via Google Play
Processing Fee: Php
Effective interest rate: 40%
Cashwagon offers loan amount up to Php20,000 disbursed in an hour after application. Initial loan amount of Php7,000 is interest-free while succeeding loans come with a 40% interest rate. Cashwagon is financed by Green Money Tree Lending Corporation.
7. Quickpera
Apply on their website
Processing fee: Computer generated upon processing of the loan
Effective interest rate: .65% per day or 19.5 monthly
Quickpera aims to bridge the gap between paychecks by providing quick and secure short-term loans. Upon approval of the loan, all charges like processing fee and interest shall be deducted from the loaned amount which will then be disbursed through your nominated bank account.
8. Robocash
Apply through their website or through their physical branch
Processing fee: NA
Effective interest rate: 2.5% per day
Robocash offers shorter loan tenors of up to 15 days. You only need to present one primary ID or 2 secondary IDs and a list of character references which includes 2 from your work and 2 relatives. The maximum loanable amount is Php10,000 and repayments are made via 7-11 and remittance centers.

Pros and Cons of Utang Apps
Pangungutang is unavoidable and most Filipinos have already made it as a primary solution to monetary woes. These utang apps are useful for many but you have to balance the benefits and consequences before applying:
Pros:
1. Quick processing
Online lending is way easier and faster compared to personal loans offered by banks. You just need to download the app, fill out the application form, submit and expect disbursement in less than 3 days once approved.
2. Accessible
You don't need to be in Metro Manila to process the loan. Online lending via pautang apps can be accessed by any Filipino anywhere in the country. Disbursement partners like Palawan or Cebuana are universally located even in far-flung areas.
3. Easy requirements
Income tax return, certificate of employment, bank statement, and other documents are required by traditional lenders before processing your loan. In the case of online lending, borrowers will only need to submit any valid ID issued by the government.
Cons:
1. High-interest rate
Most online lenders charge at least 1% interest per day which sums up to 30% in a month. Others go more than that rate depending on their terms and conditions. If you borrow Php5,000 for 30 days, you will be paying an additional Php1,500. Look at the computation below:
Php5,000 = loan amount
Php1,500 = interest charges
Php500 = processing fee
Php7,000 = Total payable amount after 30 days
2. Deductibles
Since online pautang schemes are unsecured loans by nature, most lenders deduct all charges upon disbursement of the loan amount. This leaves borrowers cash way lower than what they applied for.
Let us take into consideration the example in #1. For a loan amount of Php5,000, the total charges would be Php2,000. Borrowers will then receive Php3,000 out of Php5,000.
3. Loan tenor
Most quick cash loans let you borrow from 7 days to 2 months depending on your credit history. Your interest charges highly depend on how long you will be paying the loan. The longer the loan, the higher the amount you will pay for interest charges.

Final thoughts:
Online money lenders are there to help those who are badly in need of cash. Whether you want to pay your electricity bills or your child's school fees, it is easy to access cash via pautang apps. The ease of payment, application and approval all come with a hefty price of paying interest charges that are up to 40% of the loaned amount. Before applying, make sure you've made your calculations. Once you are certain that the relief of financial emergency is worth the disadvantages, then download the app immediately and apply.
Short-term loans are supposed to help you and not to further drown you in debts. Be a responsible borrower. Pay your loans on time and save money against piled interest charges due to delinquencies.
People also read:
When Should You Apply for a Short-Term Loan
The Advantages and Disadvantages of Short-Term Lending