Finder is committed to editorial independence. While we receive compensation when you click links to partners, they do not influence our content.
How Much Does Distance Learning Cost?
Even with strict quarantine measures trickling into a lighter and more general quarantine, there's no doubt that it would be months – or even longer – before the world can go back to its pre-pandemic state. With large gatherings posing a major health risk, schools have moved to our homes with new distance learning arrangements.
For a few teachers, parents, and students, distance learning isn't new. They've been used to using their home gadgets like laptops and tablets and the internet for self-learning, webinars, training, and work. For the majority of Filipino learners, the concept is foreign… and expensive. The idea of buying a mobile phone and data package is something a lot of us are whining about.
,
If you haven't yet made that distance learning setup at home or if you're still planning to buy the equipment, it pays to read along and check out some ideas to keep you guarded with pricing bills, and specs.
How does distance learning work?
Essentially, distance learning entails partly online and partly offline schooling. The online aspect involves joining a live video class, and the offline aspect involves projects, schoolwork, and exercises that don't require students to stay connected to the internet.
,
Distance learning does not involve physical interaction between the teachers and the students and relies mostly on digital forms of communication like video calls, messaging apps, and discussion boards.
Learning and teaching remotely save both the teachers and the students from disruptions like a flood, rainy days, and COVID-19 restrictions. It provides learners with the flexibility to work at their own pace and have enough time to review them.
What costs should you prepare for?
Laptop, desktop, or iPad
A laptop is more practical to have if there is no home PC to type out papers. Note that there is currently a shortage of low-cost gadgets so going for the cheapest option at this point may not be feasible.
A mid-range laptop starts from Php14,000 which consists of a 500gb hard drive capacity, Intel Celeron processor, 2 GB memory, and 0.3-megapixel webcam.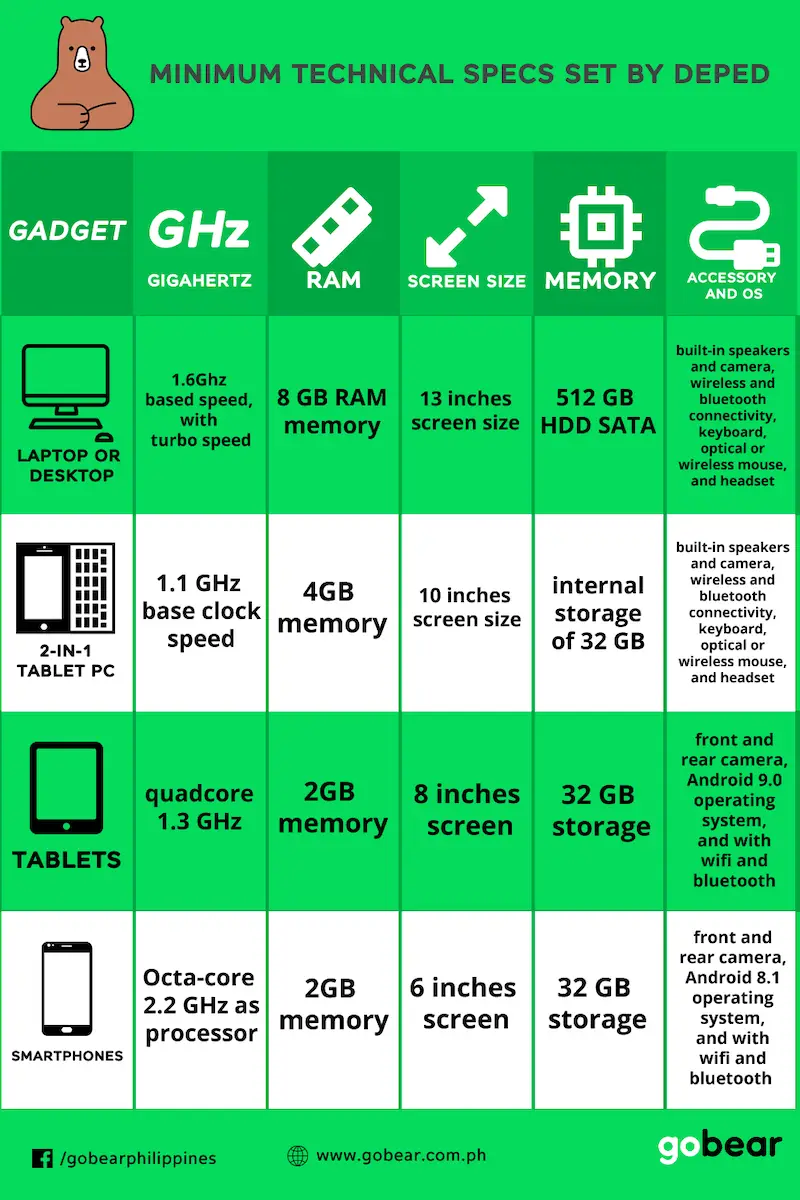 On the other hand, a desktop could cost a little higher compared to the laptop mentioned above. From Php15,000 or higher, the laptop's essential features include processor and motherboard, memory card, hard drive, and video card. Prices vary depending on the brand and quality of these features.
Tablets or iPads are other options when it comes to distance learning. Although these can be very handy and useful for research, video, and reading purposes, the lower price tag limits what you can do with it. One can start learning with a tablet for as low as Php3,000.
In your computation, you should also include some tech accessories like keyboard and mouse (Php450), webcam (Php1,500), and headset (Php700).
On average, the total cost for basic distance learning equipment is at a minimum of Php20,000.
Internet connection
Internet connection costs also differ depending on the nature of your subscription. If you go for prepaid data, prepare as low as Php50 for 1gb. Postpaid deals can be cheaper with telcos offering generous data allotment to unlimited browsing capacity each month.
,
According to the Department of Education, teachers can spend a minimum of Php500 per month (10GB bandwidth) and students around Php300 per month (6GB bandwidth).
If you find these suggestions insufficient for your needs, you can opt for a prepaid data connection package valid for 30 days for Php600 per month. If you want to consider subscribing to a postpaid plan, then the lowest could be at Php1,299 for a limited data capacity of 100-150gb per month.
Electricity bills
Since the onslaught of COVID-19, consumers start to complain about increasing electricity bills. Much more should be expected if everyone is at home working and the kids, learning. An average household of four could be paying around Php2,500 per month, With distance learning and stay-at-home routine, this could even double or triple as more time is spent at home.

Tuition fee
Some schools are adamant about lowering tuition costs despite not having to use building facilities. Parents might expect that miscellaneous and tuition fees could be lower because of the absence of face-to-face learning. However, there may be schools that won't lower the fees due to the pandemic's economic impacts on almost every business and organization in the world.
Books and other materials
Not all schools will provide learning materials for free in PDF form. You'll have to pay a couple of thousand for those as well, depending on the school your child attends. There might be some video or learning channels you also need to subscribe to. There might be some modules that you need to pay for.
The impacts of COVID-19 on our lives is unimaginable. Our education system has drastically changed and turned into digital means should not in any way tamper our opportunity to grow and become wiser.
With everything at home, it may be difficult to get your child to focus on schoolwork, especially with only a few hours of online schooling a day. Try to create an environment free of temptations, including a dedicated workspace — preferably not the bedroom, kitchen, or TV room.