Finder is committed to editorial independence. While we receive compensation when you click links to partners, they do not influence our content.
GoBear Guide to Pag-IBIG Housing Loan
Your home is your sanctuary.
It's hard to make it one if you are only renting the place or still living with your parents. There's nothing wrong with that. But if you want to get settled and put your hard-earned bucks to a worthy investment, building a house will work for you in more ways than one.
Visualize yourself coming home to your very own living area. Feel the immediate relief in taking off your shoes and slouching on the couch. Imagine the quiet and the calm. Get excited about going thrift shopping to redecorate your room and make it the coziest place on earth.
If you think those things are for you yet your savings account disagree, take a look at your payslip. Your Pag-IBIG contributions are the key to having your own home.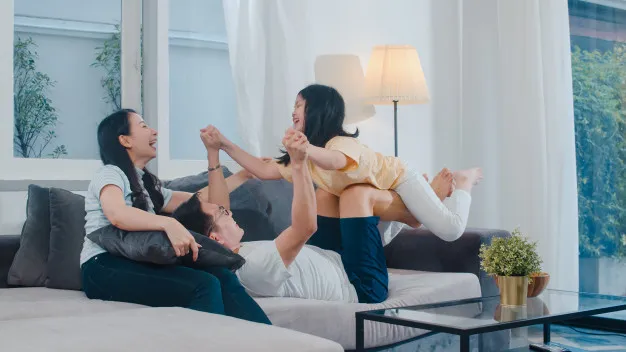 What is Pag-IBIG?
It stands for Pagtutulungan sa Kinabukasan: Ikaw, Bangko, Industria, at Gobyerno. In 2009, the organization's name was changed to Housing Development Mutual Fund (HDMF).
Pag-IBIG is committed to serving by helping Filipinos purchase or renovate their humble abode. Aside from going to the banks for financing, you can seek help from Pag-IBIG to act as your channel in borrowing money to pay for your housing needs.
Members can borrow as much as Php6-M to fund their homes. Recently, they came up with a promo for interested borrows to pay for their loans at a lower interest rate. From 5.375% per annum, the rate dropped to 4.985% per annum under a one-year repricing period. The rate for a three-year repricing period also decreased from 6.375% to 5.375%. These rates are only good for housing only applications submitted until December 29, 2020.
Am I eligible and what should I prepare?
Pag-IBIG has its standards in choosing who can be granted a loan. The eligibility is listed below.
an active member with at least 24 months savings
not more than 65 years old at the date of the loan application and is not more than 70 years old at the date of loan maturity
legally capable to acquire and encumber real property
no Pag-IBIG housing loan foreclosed, canceled, bought back, or voluntarily surrendered
If with existing Pag-IBIG Housing account or Short Term Loan (STL), payments must be updated
There are also documentary requirements for you to avail of funding. They vary depending on the purpose of the loan (see next section). Here are what's generally required.
FROM BORROWER
FROM SELLER (and/or BORROWER)

1. Housing Loan Application with recent ID photo of borrower/co-borrower (if applicable) (2 copies, HQP-HLF-068/HQP-HLF-069)

2. Proof of Income (the needed document depends if the borrower is locally employed, self-employed, or an overseas Filipino worker (OFW))

3. One (1) valid ID (photocopy, back-to-back) of Principal Borrower and Spouse, Co-Borrower and Spouse, Seller and Spouse, and Developer's Authorized Representative and Attorney-In-Fact, (if applicable)

1. Transfer Certificate of Title (TCT) (latest title, Certified True Copy). For Condominium Unit, present TCT of the land and Condominium Certificate of Title (CCT) (Certified True Copy).

2. Updated Tax Declaration (House and Lot) and Updated Real Estate Tax Receipt (photocopy)

3. Vicinity Map/Sketch Map leading to the Property subject of the loan
You can easily fulfill the requirements in availing a Pag-IBIG housing loan, but the answer to the question lies on how prepared and committed you are. Even though it's a low-interest loan, the mortgage will still take up a bulk of your monthly budget. You have to thoroughly study your income flow and assess your lifestyle. If you are willing to let go of temporary pleasures for long-term investment, then take the plunge.
Is the loan only applicable to constructing a house?
No. Pag-IBIG caters to the different needs of its members. The loan need not be used in purchasing a lot and building a house on it. It can also be utilized for ready-for-occupancy properties.
The allowed loan purposes are:
purchase through Pag-IBIG accredited developers
purchase of lot/residential unit
house construction/home improvement
purchase of a lot with house construction
refinancing
READ: Should You Build Or Buy A House In The Philippines?
How do I get started?
Before you venture on a housing loan, it's best to make sure that you can afford to pay for its mortgage. Pag-IBIG can help give you an overview by entering your details in anaffordability calculator. It can determine the following:
How much income is desired for your desired loan value
How much you can borrow based on your income
How much you can borrow based on the value of the property
You only need to fill out the needed information such as your gross monthly income, preferred repayment period (up to 30 years), and preferred fixed pricing period. The pricing period, also known as the repricing period, determines the interest rate that Pag-IBIG will charge you. If you choose a five-year repricing period, the interest rate that will be charged from you is 5.375% per annum is 7.270% within that period. After that, you will no longer be protected from interest rate fluctuations that can get higher or lower depending on existing economic factors.
Here is the interest rate applicable for each pricing period as of July 16, 2020.
| | |
| --- | --- |
| Pricing Period | Interest Rate |
| 1 year | 4.985% |
| 3 years | 5.375% |
| 5 years | 7.270% |
| 10 years | 8.035% |
| 15 years | 8.585% |
| 20 years | 8.800% |
| 25 years | 9.050% |
| 30 years | 10.000% |
Here is a sample of an affordability calculation from Pag-IBIG. This determined how much the member with a Php20,000 gross monthly income can borrow. It also indicated his monthly amortization based on the chosen repayment period and pricing period.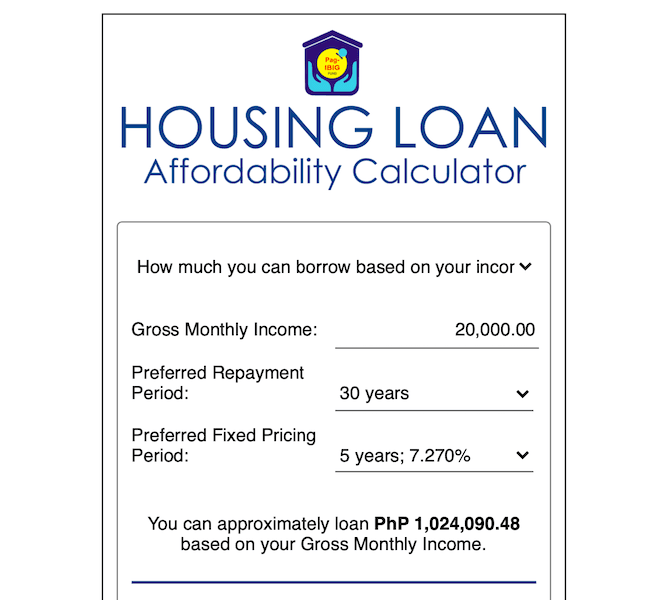 Once you've completed a self-check, you can now proceed to process your loan application. Pag-IBIG simplified it into a six-step procedure.
Step 1
Get a checklist of requirements.
Step 2

Submit the housing loan application.
(JELP Business Solutions Building, Shaw Boulevard, Mandaluyong City, or any Pag-IBIG Branch near you)

Step 3

Receive the notice of approval (NOA) and the letter of guarantee (LOG).
After 17 working days, claim at Servicing Dept. 2/F JELP Building, Shaw Boulevard, Mandaluyong City.

Step 4

Accomplish the NOA requirements for the release of loan proceeds
The borrower will be given 90 calendar days; Transfer of title; Annotation of mortgage

Step 5

Receive loan proceeds at the Pag-IBIG Fund.
Return annotated documents to Serving Dept., after 10 working days release of loan proceeds.

Step 6

Start paying the monthly housing loan amortization.
Monthly amortization shall start exactly one (1) month from the DV/ Check Date.
Do I need to show collateral?
Yes, you have to show Pag-IBIG Fund collateral. But unlike other lending transactions, the collateral for a Pag-IBIG housing loan is a clean title only. It can be an original certificate of title (OCT), a transfer certificate of title (TCT), or a condominium certificate of title (CCT) issued by the registry of deeds.
Land rights are not accepted as collateral. Lands with disputes, claims in the court, and free patent not covered by RA10023 also cannot be accepted as collateral.
There are also limitations as to what lands can be funded for housing loans by Pag-IBIG. These are the following:
Less than 28 sq. m. lot area
Less than 18 sq. m. condominium area
Properties with road right of way less than 1.5 meters
Land types classified other than residential use


What else should I know?
If you are new in real estate, Pag-IBIG has a list of acquired properties that are open for the public to purchase. These are sold at discounted rates depending on the mode of payment (30% for cash, 20% for short-term installment, 10% for Pag-IBIG housing program, or long-term installment).
These properties were foreclosed then acquired by Pag-IBIG from their borrowers who defaulted on their payments. Pag-IBIG will now offer it to the public in an auction at a lower price. Like all transactions, buying a foreclosed property through Pag-IBIG has its disadvantage. You have to take note that these are sold on an "as is, where is" basis. This means you have to live with the properties' physical status, including whether it is occupied or not. Some borrowers refuse to leave the foreclosed property, which causes the transaction to drag on to mediation involving authorities such as barangay officials.
The schedule for the bidding and the list of properties areposted on their website. There are three modes of acquisition for these assets.
Properties under negotiated sale.An interested buyer has the option to choose a property from the list and submit an Offer to Purchase (OTP) to Pag-IBIG Fund in a sealed envelope. The buyer with the highest offer on that property will be declared as the winning buyer.
Properties under public auctions (no discount).A minimum bid will be set by the Pag-IBIG Fund. The bidder with the highest offer will be declared as the winning buyer.
Properties under public auctions (with discount).A minimum bid will be set by the Pag-IBIG Fund. The bidder with the highest offer will be declared as the winning buyer.
There is also an affordable housing loan for minimum-wage earners. They can borrow up to Php750K at a 3% interest rate. The monthly payment is as low as Php2,445.30 per month. The term of payment can also be as long as 30 years.