Finder is committed to editorial independence. While we receive compensation when you click links to partners, they do not influence our content.
DIY Home Improvement During Community Quarantine
People of all ages have adapted to the community quarantine by looking at the bright side of staying at home. Gen Z, Millennials, and Boomers are knocking themselves out at doing the things that they wished they could do when they were working. Photos of plant and fur parents are on the rise of different social media platforms. Some people are engaging in handicrafts such as sewing, knitting, and painting.
There is also a noticeable number of people who are into renovating their homes! People share their works with the before and after pictures of the area that they have improved for everyone to see.
If you are planning to DIY your home improvement and home repair soon, here are some of the easiest ones to do:
Light fixtures
Changing faucet
Greasing doors and windows
Putting curtain rods
You may check the varieties that you like from the nearest hardware stores near you. Most of the things for home decorations are also available on online shopping apps likeLazada app. If you are looking for more inspiration there are lots of apps like Pinterest which offer a wide variety of DIY inspirations that you may copy.
Meanwhile, we present to you three DIY home improvements executed by real people during community quarantine! Check them out and see if you can use them as inspiration for your next home improvement project.
READ: Personal Loan vs. Home Loan: Which is Better for Home Renovation?
LEVEL: Easy
Samantha Fabia, 28 years old has recently moved to their new home. She is looking for a less expensive alternative to painting the cement finished walls. The trendy peel and stick wallpaper is her choice in facelifting the cement finished walls of her new home. She has also installed a color-changing mood light for her living room to further enhance the aesthetic of the place.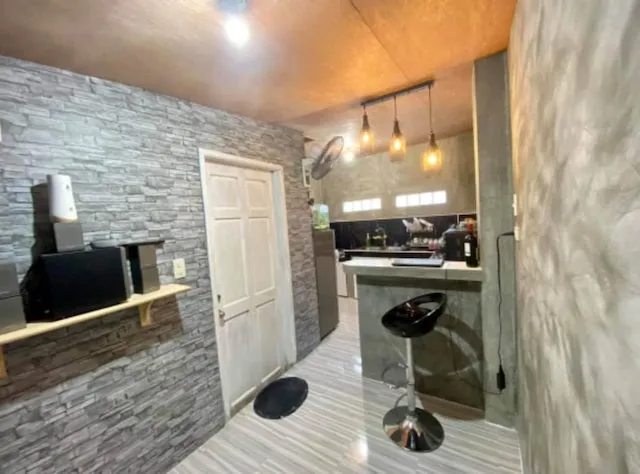 There are different textures, prints, and sizes of wallpapers to suit your taste. Wallpapers are convenient to use, affordable, and trendy. It is easy to apply, you just have to peel and stick it to the wall like you are putting a big sticker. Wallpaper is the best option for you if you like upgrading the look of your rooms now and then. These easy to apply wallpapers are waterproof and odorless. It comes in rolls so it is also easy for you to carry and stock.
If you are sold to using wallpaper and mood light for your next DIY home improvement project, feel free to check your favorite hardware stores near you. It is also available on your favorite online shopping apps likeLazada app,Shopee, and Alibaba.
LEVEL: Moderate
Life partners Donna Alvarez and Oliver Mapata joined the DIY bandwagon when they decided to renovate their room during this community quarantine. Their main goal is to maximize their space and create a conducive workspace for them since they are on a work from home set-up since the community quarantine began.
They put some serious research and work on the woodwork that they have done. For some parts of their home improvement, they have solicited help from a carpenter but they did most of the work because they want to make the project theirs as much as possible. Working on their home improvement is also a great way of spending below their budget.
Donna and Oliver opted for an elevated wood sleeping deck and they transformed the space below as their workspace. They have also installed a wooden cabinet for storage. They have spent around 18,000-20,000 pesos and this already includes the additional fixtures that they have used.
LEVEL: Pro
Alvin Bunao is a jack of all trades when it comes to handyman work. He is a skilled worker who got bored during the community quarantine but he used this time to finally act on his improvement plans for their home. He started with the accent in their room. He used paint to create an illusion of installed tiles on the beams of the room. The design that he did is an excellent accent to what was a plain powder blue room before. This is just warm for his big project.

He has been planning to change their sink for quite some time now. It was old, dilapidated, and outdated. Alvin immediately got to work and demolished their old sink. He chose gray granite tiles which are far from the old white ones. He also installed a wooden cabinet below the sink for proper storage of tools.
His last project was arranging the small garden with potted ornamental plants outside. He painted the walls gray with another accent painting of gray bricks. Aside from that he also welded a plant stand using corrugated steel.
Alvin only spent a total of 10,000 pesos for all of his projects because he did it alone. When asked about his secret in his quality work he says that the materials he used are of high quality.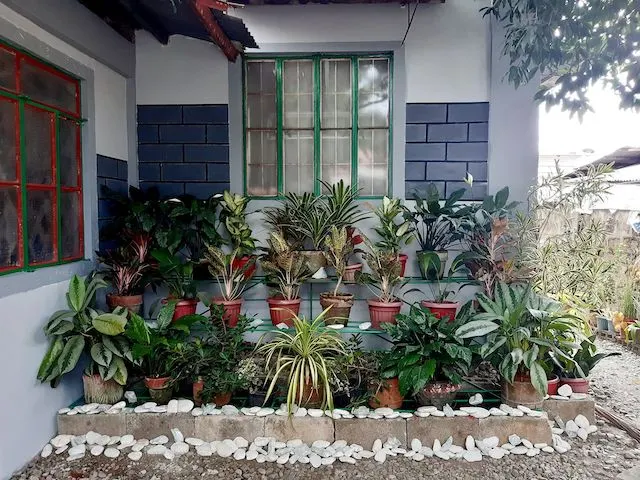 GoBear Tip:
There are lots of things that we can improve on during the community quarantine. It takes a lot of energy and effort to redirect our focus on things that we can do and control. If you plan to improve your home, it is best to start small to avoid overwhelming yourself especially with the spending that it entails. A successful project starts with excellent planning and costing. Stick to what you have planned for to ensure the success of your home improvement.
Worried that you do not have enough cash to cover the expenses? Well,credit cardsare accepted at your favorite hardware stores. Alternatively, you may apply forlow-interest personal loansat your bank or via online apps if you wish to pay for your materials in cash.
READ: Interior Design Tips That Can Save You From Years of Debt