Finder is committed to editorial independence. While we receive compensation when you click links to partners, they do not influence our content.
Credit Card Fees And Charges You Should Know About
People usually get past fees and charges when choosing their credit cards. Often, they focus on the perks and privileges, so they do not give enough attention to one of the most crucial aspects of these plastics. Interest rates vary from one credit card to another. Interest charges and fees won't matter if you're sure you can pay your balances in full each month, and you won't ever fall prey to cash advances. However, choosing the best credit card with the lowest interest rates and fees can help you save more, maximize your money, and amplify their buying power.
Citibank credit cards
Annual fees: Citibank credit cards range from Php2,000 to Php12,000 depending on the type of your card. Citi Simplicity+ may not have the perks of other Citi credit cards but comes free for life. The most expensive Citi card is the Citi Prestige, wherein the annual membership fee is non-waivable and is billed in full on your first billing statement.
Finance charges: The monthly effective interest rate for all types of Citi credit card is 3.50%. Citi calculates interest charges based on 30 days.

Cash advance: Cash advance service charge is Php500 or 3% of the total amount withdrawn, whichever is higher. The applicable effective interest rate for cash advances is 3.63% – much higher than the usual financial charge.
Service fees: Other fees for all Citibank credit cards include foreign transaction fees at 3.525%, balance transfer disbursement fee at Php250, and card replacement fee at Php400. The late payment charge is at Php850 or the Minimum total amount due, whichever is lower. There are no late payment fees for balances under the Citi Simplicity+ credit card.
HSBC credit cards
Annual fees: The annual fees for HSBC Red MasterCard, HSBC Platinum, and HSBC Gold Cashback are waived for life when you apply online or via GoBear until December 30, 2019. If you miss the promo, annual membership fees range from Php1,200 to Php5,000. The yearly fee for supplementary cardholders is also half the cost of the primary cardholder's yearly fee.
Finance charges: All HSBC credit cards have a monthly effective interest rate of 3.50% except for the Premiere MasterCard, which entails an interest rate of 3.10%.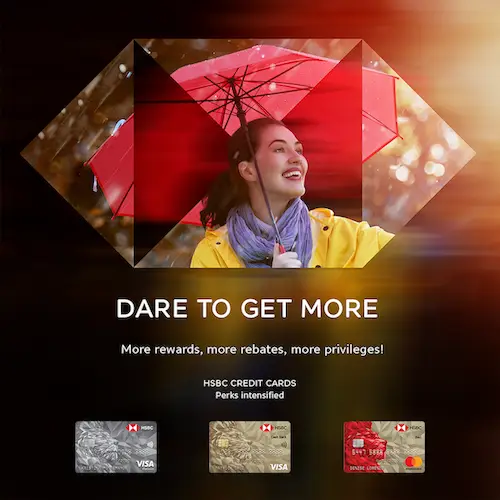 Cash advance: You might want to think again when planning to make a cash advance transaction with any of your HSBC credit cards. The cash advance monthly effective interest rate is at 3.75%. The processing fee is 3% or Php500, whichever is higher.
Service fees: The fee for every late payment is either Php700 or the total minimum amount due for the billing cycle. Overlimit price is set at Php500, while a returned check can cost you Php1,000.
Unionbank credit cards
Annual fees: From co-branded, branded, specialty, and other types of Unionbank credit cards, the annual fee starts from Php1,500 to Php5,000. Corporate credit cards have a yearly fee of Php1,500, and supplementary cards under this type do not have any annual membership charges.
Finance charges: Unionbank computes the monthly effective interest rate based on average daily balance at 3.5%. Whether you pay the minimum amount due or less than that, interest charges will be automatically billed to outstanding balances in the next billing cycle.
Cash advance: Cash advance fees with your Unionbank credit card differ depending on the nature of your transaction. If the cash advance is made over-the-counter, then there is an additional fee of Php500 per transaction. ATM withdrawals come with 6% of the transaction amount of Php300, whichever is higher.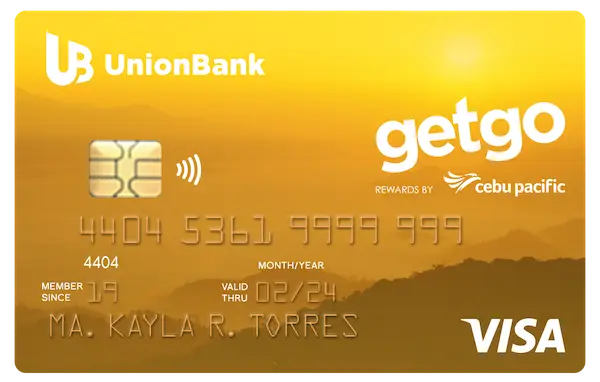 Service fees: The over-limit fee is charged when total transactions exceed the credit limit. Going beyond your limit can cost you Php500, which is automatically billed on the next billing cycle. Other fees include Php1,500 for a returned check, Php1,000 for disputes, and Php 500 or 5% of the remaining balance for installment transactions.
EastWest Bank credit cards
Annual fee: Annual membership fees for EastWest Visa and Mastercard starts from Php1,250 for classic primary cardholders and Php750 for supplementary cardholders. Gold principal credit card is tagged with Php2,500 for principal card and Php1,250 for additional cards.
Finance charges: Computed based on the average daily balance, the interest charge is set at 3-50% per month or 42% annually.
Cash advance: A cash advance fee made from your EastWest credit cards is worth Php600 or 3% of the total amount withdrawn, whichever is higher. The interest charge on every cash advance amount is 3.50% computed from the time of availing until the day when the full amount is paid.
Service fees: Late payment charge is equal to 8% of the minimum amount due while the over-limit cost is worth Php500.
BPI Classic
Annual fees: The yearly membership fee for principal cardholders ranges from Php1,250 (BPI Classic) to Php5,500 (BPI Visa Signature). The first supplementary card is free for life, and succeeding supplementary cardholders will be charged with half the cost of the principal cardholder's membership fee.
Finance charges: BPI credit cards impose finance charges on the unpaid balance from the previous month. Among all of BPI credit cards you can apply for, BPI Classic offers the lowest finance charge at 2.75%. Your Php5,000 balance will become Php5,137.50 on your next billing statement.
Cash advance: Cash advances are equal to 3% of the withdrawn amount of Php500, whichever is higher. The transaction fee does not include the monthly interest charge should you fail to settle the entire amount before the next billing cycle. If you do not pay your dues on time, expect a penalty of Php700 or amount equivalent to your minimum amount due.
Service fees: Bank services like card replacement, charge slip retrieval and check protect also come with a price tag. Your replacement for the lost or stolen card is worth Php400, while a copy of your bank statement is tagged with a Php200 fee.

PNB credit cards
Annual fees: PNB Gold visa has the lowest annual fee at Php600, while PNB-PAL Mabuhay Miles World Mastercard has an annual membership fee of Php6,000. If you want to avail of free for life credit cards, you can apply for PNB-AAAIM Platinum Mastercard, PNB-AAXS Platinum Mastercard, and PNB-ICAAA Platinum Mastercard. PNB Mabuhay Miles NOW Mastercard annual fee is Php1,000, which is waived for the first three years.
Finance charge: PNB imposes a finance charge of 3.25% for World Mastercard or 2.7% depending on the outstanding balance.
Cash advance: The cash advance rate is at 5% of the transaction amount in Peso or 2% of the transaction amount for Dollar. This fee is incurred by the cardholder from the moment he or she makes the cash advance transaction.
Service fees: Non-payment, late payment, or payment below the minimum amount due is charged with 7% in Peso or 5% in dollar. On the other hand, you'll be charged with Php300 or $10 for exceeding the credit limit.
Final thoughts:
Owning a credit card is a privilege, but the use of these plastics come with a price. The moment you make a transaction through these cards, issuers already have a good list of fees. It is best to learn the terms and conditions on imposing these fees before activating your card to avoid incurring them. Having a good understanding of different dates could also help you avoid sustaining the fees. When comparing credit cards, don't forget about the figures. Responsible use of these plastics will help you save a lot of money.
Know how credit cards work and what you need to qualify