Finder is committed to editorial independence. While we receive compensation when you click links to partners, they do not influence our content.
Crafting Money From Art: How A Millennial Earned From Her Passion
Starting with creating friendship bracelets, Beatrice "Bea" Marie Basi has nurtured a bond with crafts that no one in this world can snap. During the day, her mind is set on fulfilling the demands of her job in a government institution. Once her uniform is thrown into the wash, the thought of coming up with a new trinket fuels her into grabbing her materials and getting into a project.
Her line of bracelets is labeled "Slash Wrist." There might be bleakness in the name, but this venture helped Bea maintain a healthy and happy mind.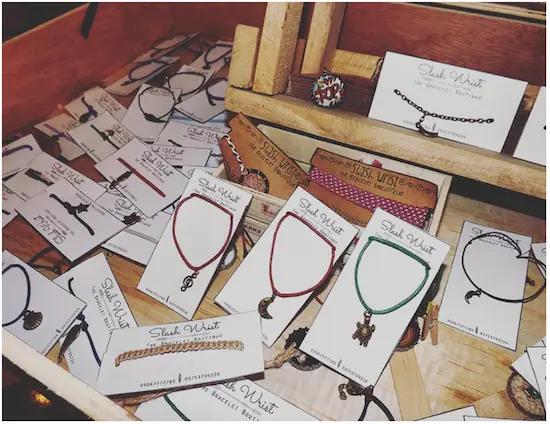 "Crafting helps me clear my mind and release stress. When I focus on only one thing, it feels like the world just fades away and it takes all my worries with it. Working on craft projects has helped me foster my well-being and self-esteem. I can say that craft projects made me happier," Bea shared.
The impact of arts on Bea's mental health during her first years in the scene got her hooked on exploring more craft ideas such as embroidery.
From a simple bookmark to framed images, Bea catered to the creative demands of her customers by making a bold statement.
She was not afraid to etch reality in her craft. Her bookmarks are made of plain fabric stitched with words one person might utter just out of whim. It was meant to be funny and accepting at the same time.
READ:5 Profitable Hobbies You Can Start At Home
Bea's are also meant to inspire others. Her watercolored and embroidered fabric set in hoops or frames were created to spread positivity. Once you place these on your tabletops or hang them on your walls, you will be reminded every day to always look on the brighter side of things.
Bea's craft projects have been featured on news programs and art fairs. She is now earning on the side because of her passion. If you also want to journey on the same road, here are nuggets of wisdom from this empowered artist.
Improve on your craft
While some believe that artists are born and not made, Bea thinks there is still a lot to learn even if you were gifted with a talent. She never enrolled in a workshop or art class, but she diligently searched the internet for instructional materials that can add to the techniques she can incorporate in her works. She also found inspirations on Pinterest, a haven for pegs, and tutorials.
"I just keep making these craft projects until I find a new, exciting craft project to work on. To improve, I think it's a must to keep repeating the craft techniques until your hands become used to doing it," Bea said.
READ:Of Overruns and Overflow: Mom Unboxes Secrets in Growing a Business
Build your portfolio
Bea did not rush in making a business out of her craft. It was just something that she enjoyed while making a little money out of it, just enough to buy new materials for her next projects.
She posted her finished works on Facebook and Instagram. It piqued the interest of her friends and followers. Soon, they were asking to buy her friendship bracelets and handmade accessories.
"Initially, I spent P2,000 for the materials. And from that, made handmade accessories good for a whole year of joining craft fairs. That year, I joined or was invited to about six fairs. Each fair, I can earn P2,000-P5,000," Bea recalled.
In those art fairs, Bea found a community of zealous artists who lift each other into achieving more. Eventually, Bea had to move from Dagupan City to Metro Manila for a job. There she only accepted commission works, earning P200 to P3,000, depending on the range and difficulty of the project.
,
Bea believes craft can be one's main source of income, but she or she should first establish their name and business. You also have to be able to pour out your heart and time for it.
"As for me, it's still a side project as I still love working in the communications field. And at times, I lose motivation making handmade works as tasks to make these can be repetitive and painstaking," Bea added.

Be open to feedback
Clients tend to buy unique crafts. Bea had to patiently deal with their requests. She, however, also makes sure, to be honest, if it cannot be fully attained.
"I try to satisfy their needs and suggest other alternatives to their requests, alternatives that I can do. I know I'm not an expert at this, so I also try to manage their expectations a bit," Bea shared.
Being honest with your clients will establish the integrity of your business. Customers will appreciate it and you will be rewarded with their trust and loyalty. This will assure them that you have their best interest at heart.
Learn the business
Math and marketing go hand in hand in establishing a business. Your work may be intricately made, but that has to be captured well to catch the attention of your target audience.
Bea recommends learning basic photography and owning a nice camera, whether it's your phone's or a compact type. This will ensure that you are taking a high-quality image that can be posted on social media, enticing the netizens to browse your projects.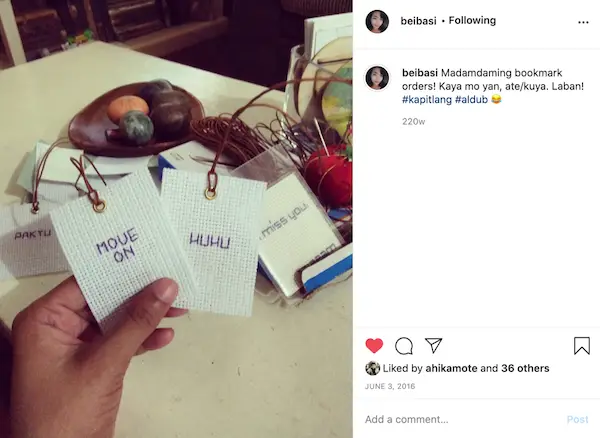 Using Photoshop or other photo enhancing software can also elevate your skills in making these photos stand out without going too far.
According to Bea, one challenging aspect of a craft business is pricing the product. However, she learned from formulas she found online. Cost-based pricing takes into consideration the material, labor, overhead costs to come up with a product's selling price.
Bea also sold her products offline. She partnered with a coffee shop for her crafts to be displayed near their counters. This opened her market to passersby, who might be attracted by her distinctive works.
READ:Mind Your Business: Tips On Registering A New Enterprise
Innovate
The competition is tough because the market is now flooded with sellers marketing their products. Because of this, Bea thought of selling products that can cater to clients who want to make something productive out of their extra time.
Instead of just selling her crafts, Bea presented these products into do-it-yourself (DIY) kits. If you order from her, an embroidery kit containing an embroidery hoop, the pattern drawn on fabric, thread, scissors, and needles will be delivered to your doorstep. It also comes with instructions and tips to create your craft. The designs of these DIY kits are made for different skill levels of Bea's customers. The package indicated if it is for a beginner, intermediate or advanced crafter.

Your creativity is the capital others cannot just take away from you. However, making sure that your business runs smoothly demands more than that. It should be able to address your market's demands. If not, create a demand. Whatever strategy you learn for your venture to take off, it is important to keep your passion for art alive. Otherwise, you will lose track of your purpose in pursuing it in the first place.