Finder is committed to editorial independence. While we receive compensation when you click links to partners, they do not influence our content.
Is COVID-19 leading to a spike in health app usage?
The number of health app reviews spiked by 21% in the weeks following lockdown.
COVID-19 is impacting all facets of our day-to-day lives and is taking a toll on not just our physical health but also our mental health. This is leading many people to take their health into their own hands, quite literally, by downloading apps that track all manner of health-related data points.
And the Philippines has seen one of the largest uptakes in digitally-aided wellbeing, with the number of reviews of health apps increasing by over 21% in the last 9 weeks, according to an analysis of Apple's App Store data by Finder. This means that about 17.5% of all reviews in the App Store for health apps came between 24 March and 19 May 2020.
What are the most reviewed apps?
One of the issues when looking at the popularity of an app in the App Store is that the exact figure for the number of downloads is not available. However, the number of reviews is a good indicator of how many times an app has been downloaded, as some have estimated that as little as 0.8% of people who download an app will review it. So which is the most popular app by reviews and ratings, what are these apps for and what are people saying about them?
Coming out on top of the most reviewed apps is Flo, a period-tracking app. Flo has over 17,200 reviews, which is actually about 10% of all the reviews on health apps in the App Store. Just behind Flo is Workout for Women, which has nearly 16,500 reviews. In third place is the dieting app Zero, with a touch over 7,300 reviews.
Top 10 most reviewed health apps in the Filipino App Store
| App | Number of reviews | Download the app |
| --- | --- | --- |
| Flo Period Tracker & Ovulation | 17,278 | Go to App Store |
| Workout for Women: Fitness App | 16,490 | Go to App Store |
| Zero – Fasting Tracker | 7,366 | Go to App Store |
| Calm – Meditation and Sleep | 6,482 | Go to App Store |
| Nike Training Club | 6,244 | Go to App Store |
| Period Tracker Period Calendar | 6,215 | Go to App Store |
| Clue – Period & Cycle Tracker | 4,878 | Go to App Store |
| Pregnancy & Baby Tracker WTE | 4,592 | Go to App Store |
| MyFitnessPal | 4,510 | Go to App Store |
| Nike Run Club | 4,369 | Go to App Store |
What are people saying about these apps?
To find out what people thought about these apps, we grabbed the most recent 100 comments to get a feel for what people were saying.
The majority of the comments about these apps were relatively positive or neutral. Two out of the top three words used in these reviews were "great" and "love", with the most used term being, predictably, the word "app". Below is a word cloud of the top 50 used words used to describe these apps.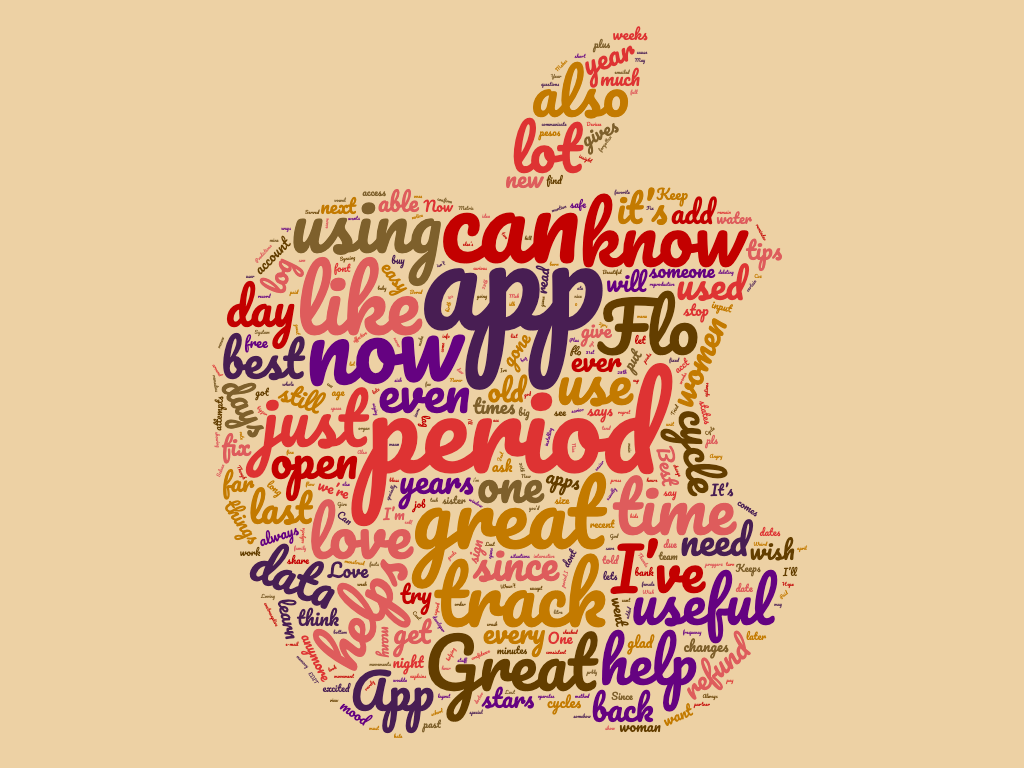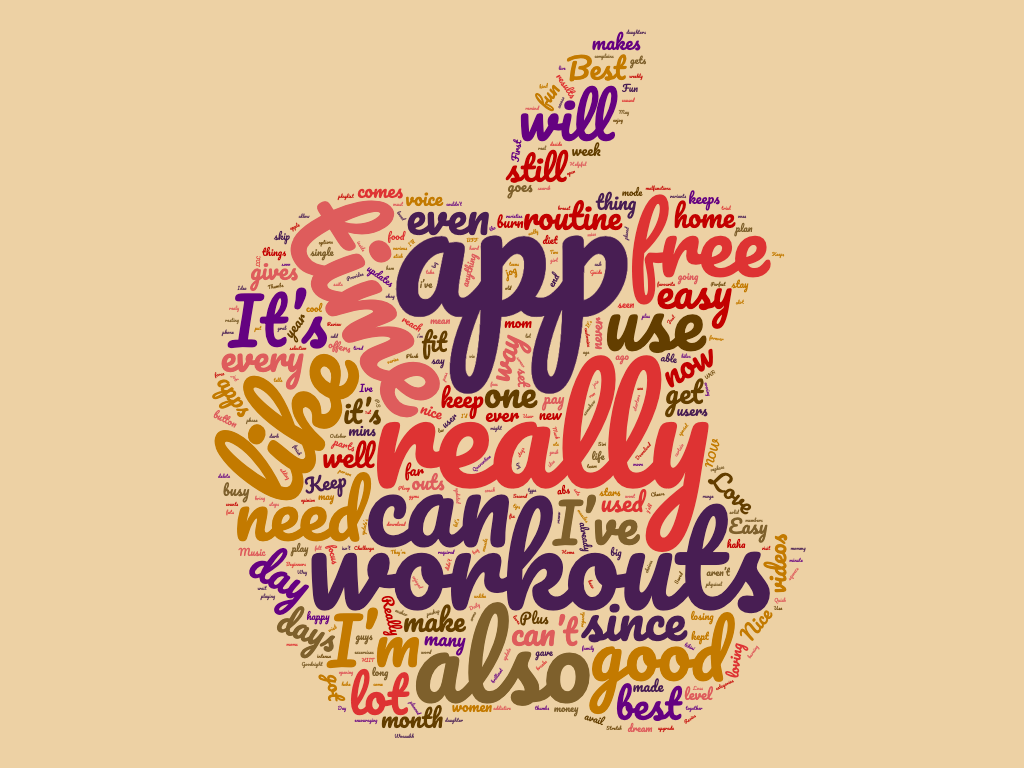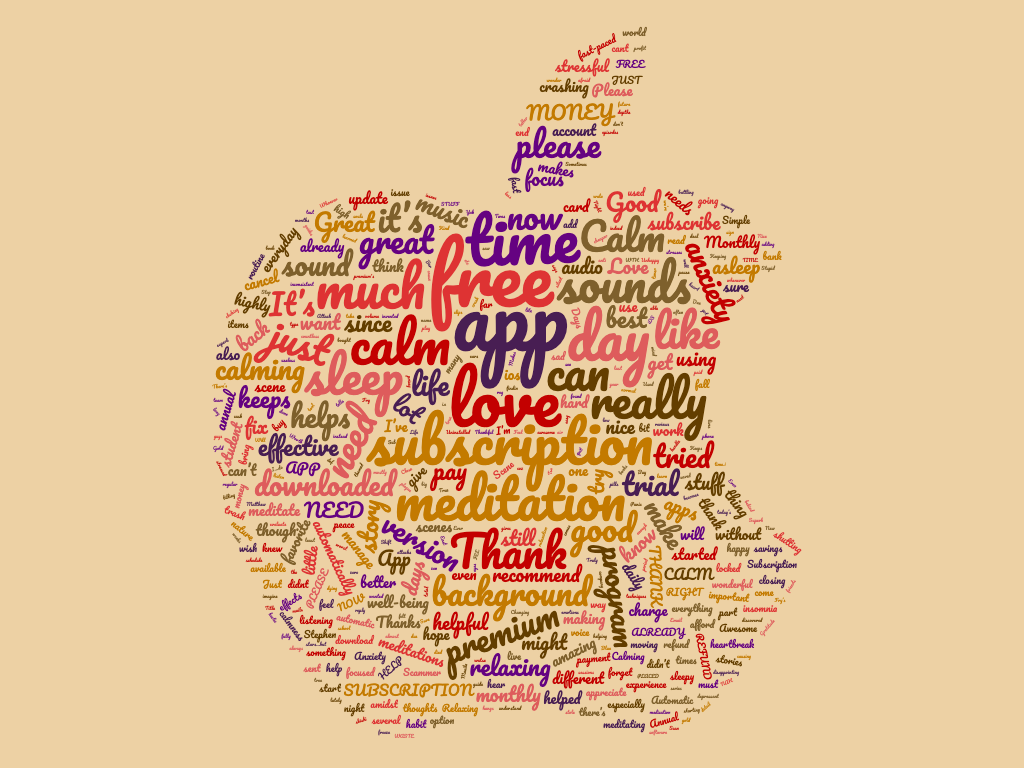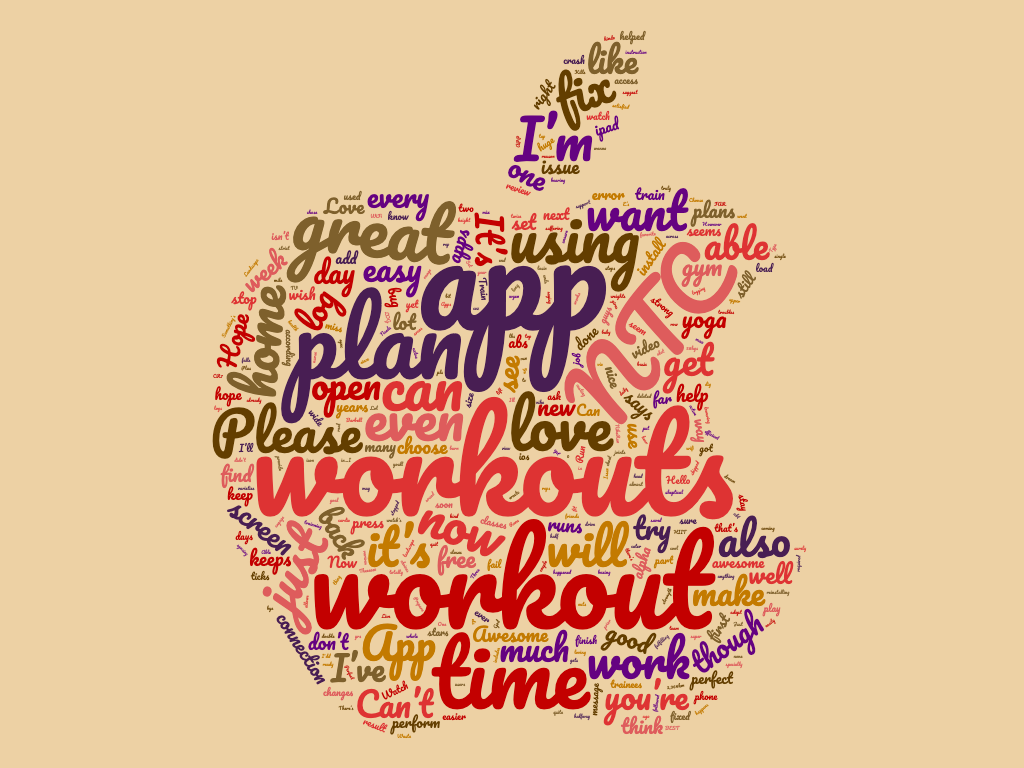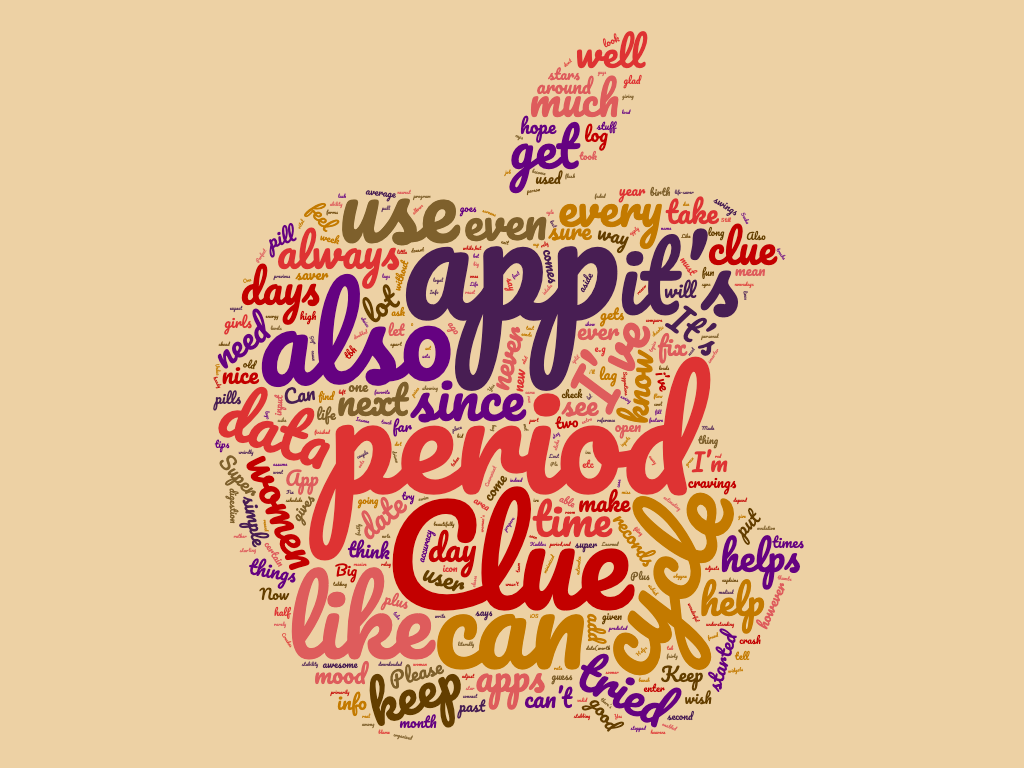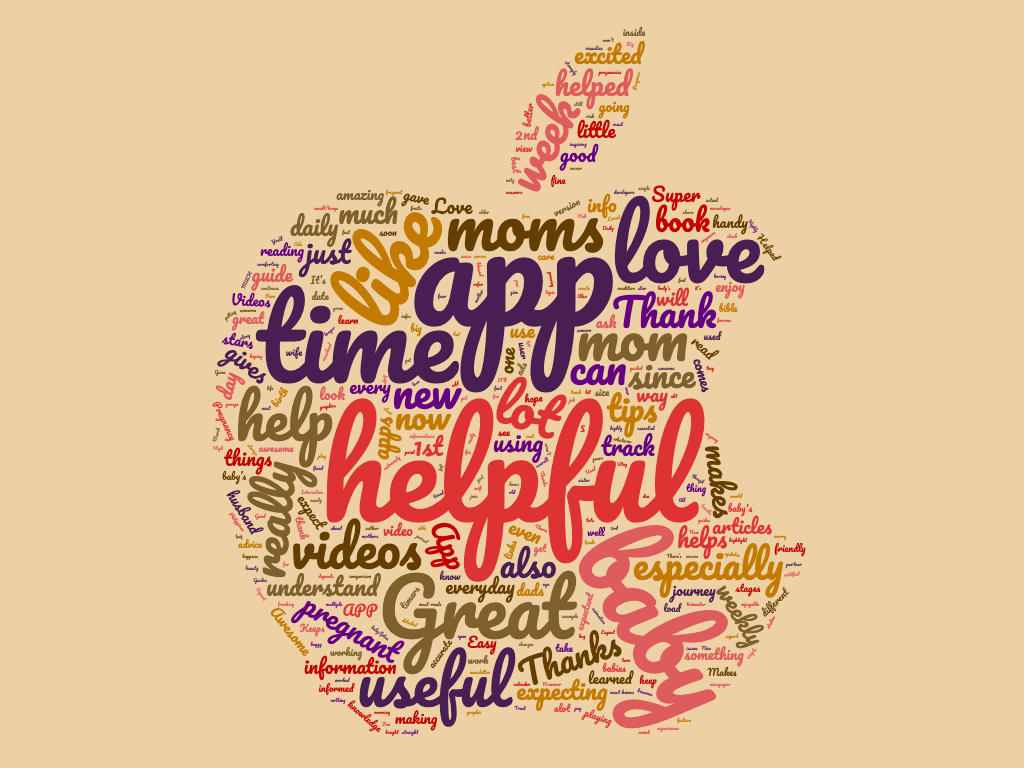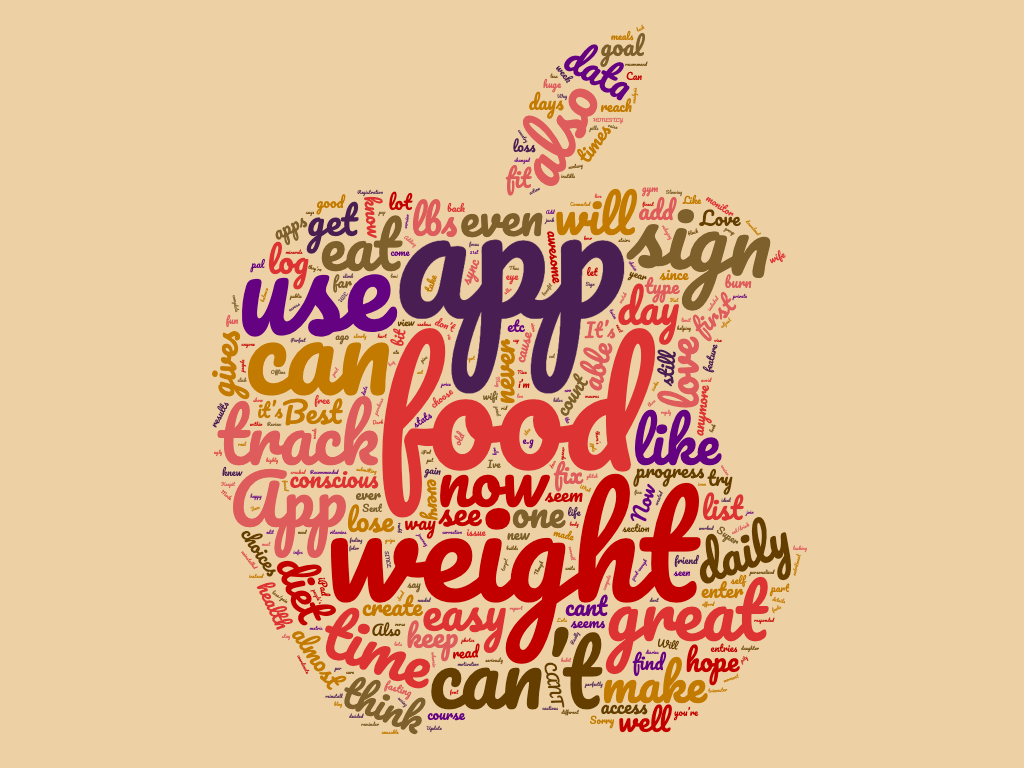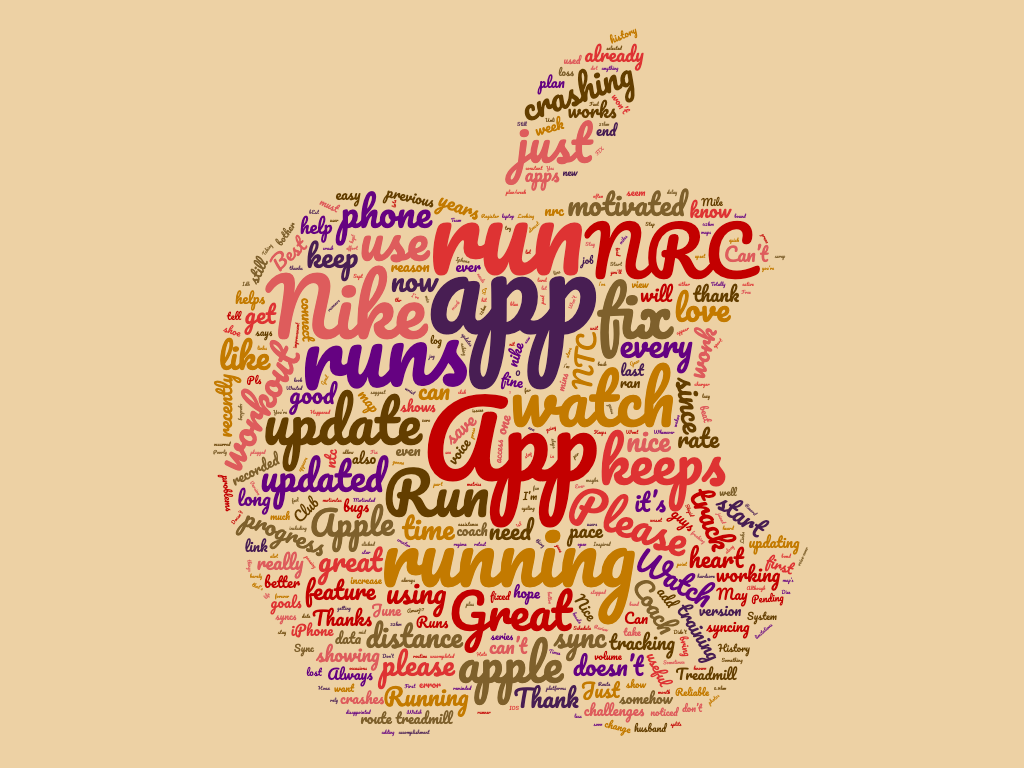 Which apps are the most popular?
As people continue to participate in social distancing, workout and health apps have seen their popularity skyrocket. To get an idea of which are the most popular health apps in the Filipino App Store, we came up with the Finder ranking system.
To get our Finder ranking for each app, we ranked the apps based on the number of reviews they had, the percentage increase in reviews over the last 9 weeks and their average ratings in the App Store. We then averaged each of those rankings, which gave us our list of the most popular health apps in the Philippines.
Top 20 most popular health apps in the Filipino App Store
What are these apps for?
The majority of the apps in the top 20 are for just general fitness, with almost 50% of the apps designed to help people track their running, walking and general fitness goals. Diet tracking apps were the second most popular type of app, with mental health and women's health apps tying in third place.
| App | Finder ranking | Category |
| --- | --- | --- |
| MyFitnessPal | 1 | Diet |
| Weight Loss Running by Verv | 5 | Diet |
| Weight Loss Fitness by Verv | 6 | Diet |
| BetterMe: Track Diet & Workout | 11 | Diet |
| Drink Water ∙ Daily Reminder | 10 | Diet |
| Relive: Run, Ride, Hike & more | 4 | Fitness |
| adidas Running app Runtastic | 7 | Fitness |
| 30 Day Fitness | 8 | Fitness |
| Sweatcoin – It Pays To Walk | 14 | Fitness |
| Yoga | Down Dog | 15 | Fitness |
| Misfit | 16 | Fitness |
| 30 Day Workout Challenge | 17 | Fitness |
| ClassPass: Fitness Workout App | 19 | Fitness |
| Daily Workouts Fitness Trainer | 20 | Fitness |
| Meditation App | 12 | Mental health |
| Simple Habit: Wellness & Sleep | 13 | Mental health |
| Tide: Sleep. Focus. Meditation | 9 | Mental health |
| Pregnancy & Baby Tracker WTE | 2 | Women's health |
| Clue – Period & Cycle Tracker | 3 | Women's health |
| Flo Period Tracker & Ovulation | 18 | Women's health |
Image: Getty