Finder is committed to editorial independence. While we receive compensation when you click links to partners, they do not influence our content.
Where to buy Christmas decorations online in the Philippines
Get into the holiday spirit with these online stores that sell all kinds of Christmas decorations.
The Christmas season is finally here, and what better way to celebrate and spread the festive cheer than by decorating your home with gorgeous decorations?
Whether you're looking for something affordable or you have spare cash to spend, we're here to help. We've rounded up a list of stores that all sell Christmas decorations online. You can also check out our favourite budget-friendly Christmas decoration ideas below.
---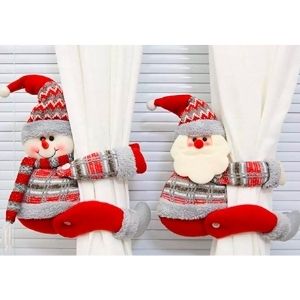 On the hunt for the perfect Christmas tree, stockings or candy canes? Head on to Lazada and check out all the wonderful options available. Expect delays due to the holiday rush, although you can order from local sellers to make sure you receive your items as soon as possible.
Free shipping with select sellers
Make a secure payment with Lazada Wallet, a credit or debit card, GCash or COD
Vouchers up to 90% off
Great deals during the daily flash sales
Go to Lazada
---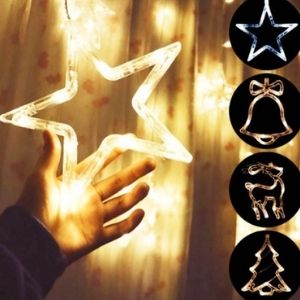 If you're shopping for Christmas decor online, you would be remiss if you don't check out what's available at Shopee. Find great deals on LED Christmas lights, holiday curtains, wooden decor and gift bags from one of the Philippines's top online shopping destinations.
Free shipping with select sellers
Free shipping vouchers when you pay using ShopeePay
Earn Shopee coins for every transaction
Pay via debit card, credit card or COD
Go to Shopee
---
3. The SM Store
The nation's largest department store chain is a fast option to get all your Christmas decorations from one place. Store hours in most areas are still limited due to pandemic restrictions, so make sure to schedule your shopping accordingly.
Shipping and store pick-up options are available
Get all your Christmas decorations fast from one place
Competitive pricing
---
Which of these retailers offer free shipping?
---
Does your company belong in this list?
---
Alternatives to online shopping for Christmas decorations
Now that the government has allowed the gradual re-opening of businesses in all sectors to help the economy recover amid the COVID-19 pandemic, consumers have more buying options than just online shopping. Malls and non-essential businesses have opened up again, albeit with a limited workforce and hours.
Divisoria, the quintessential shopping haven for bargain hunters, has seen a surge of Christmas shoppers in recent weeks as well. If you're looking for massive choices, bulk buys, rock-bottom prices and the ability to haggle for even more discounts from sellers, Divisoria is hard to beat.
However, worrying reports of overcrowding in key streets and malls in the Divisoria area prompted Manila Mayor Isko Moreno Domogoso to issue an appeal to eager Christmas shoppers to observe proper protocols, including social distancing and the proper wearing of protective equipment such as masks and face shields.
The Department of Health echoed the sentiment, likewise warning the public of the high risk of acquiring COVID-19 from crowded areas.
Online shopping vs in-store shopping
Trying to decide how best to shop for your Christmas decorations? Here are the pros and cons of online shopping and in-store shopping.
Online shopping
Pros
Shop from the comfort and safety of your own home.
Quickly compare products from different sellers and platforms.
View seller and product feedback from verified customers.
Cons
No ability to closely examine products.
Items may be damaged during shipping.
Returning damaged or wrong items can be a hassle.
In-store shopping
Pros
See and examine the actual item before buying.
The ability to haggle for discounted prices, if in a tiangge setting.
No need to wait for days before you can enjoy your purchase.
Cons
Risk of overcrowding, especially in popular shopping areas.
Risk of being exposed to COVID-19.
With limited public transportation available, commuting to shopping hotspots can be a challenge.
---
Top 6 budget-friendly Christmas decoration ideas from Pinterest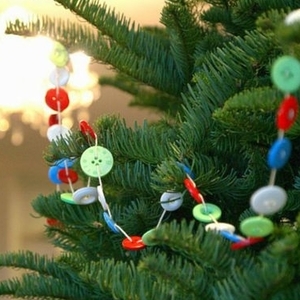 1. Button decorations
It's hard to go wrong with this ultra easy, low-cost decoration idea. Thread buttons together one-by-one to make a long strand of garland, or glue buttons together in a stack to make bobbles for your Christmas tree or windows.
2. Homemade scented candles
Forget paying retail prices for fancy Christmas candles. Use a small paintbrush to glue cinnamon sticks, dried orange slices or scented epsom salts onto the sides of a plain candle. Finish the look off by wrapping the candle with twine, burlap or Christmas-coloured ribbon.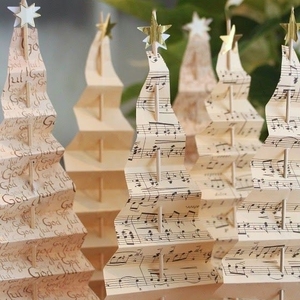 3. Sheet music Christmas trees
Pay homage to your favourite holiday songs with this unexpected visual delight. Cut a sheet of music into a triangle, fold the triangle accordion style and weave a wooden skewer up the centre of the sheet, sticking the bottom of the skewer into a foam or wooden base.
4. Snowmen clothespins
A fun craft for the whole family, clothespins-turned-snowmen are a great way to display photos of past Christmases, fun family traditions or loved ones who live far away. Clothespins can also be pinned to the branches of your tree like ornaments or stuck to the fridge with magnets to display recipes or holiday to-do lists.
5. Mini tubes of Christmas treats
Short on cash but want to give something special to your loved ones? Consider filling test tubes (with lids) or small glass travel bottles with favourite holiday treats like hot cocoa, mini marshmallows, mints or crushed candy canes. Tie tubes together with Christmas ribbon, then attach a name tag with a handwritten holiday greeting.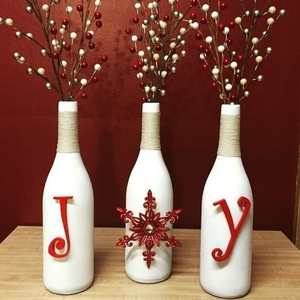 6. Decorated wine bottles
Transform old bottles into vases, centrepieces or candle holders that reflect your unique holiday style. Make bottles glow from the inside by filling them with white or coloured lights. Or turn your bottles into bud vases for greenery, pine cones, berries, glittery decorative wire and branches spray painted to look snowy.