Finder is committed to editorial independence. While we receive compensation when you click links to partners, they do not influence our content.
Best Promos To Avail In The Rainy July Weather
July marks an important milestone in making it past the halfway mark in what is perhaps the craziest year ever. It also welcomes plenty of new beginnings, such as the sharp transition from the humid summer to rainy days ahead, and the start of the first national online learning semester. With so many changes in store for the month – and the rest of the year – you'll undoubtedly want to find some small indulgences to help you get through it all.
Enjoy a dose of stimulation with some well-deserved retail therapy and a whole bunch of promos with your credit card that run exclusively through July and beyond.
Indulge with BDO
Craving for your favorite gourmet spread can be extremely stressful because it often means having to dig deep into your pockets to satisfy stubborn taste buds. With limited restaurant openings and shortened work hours, finding fine food is also a struggle. But BDO has you covered with 50% off takeaway food from Conrad Manila, Makati Shangri-La, Choi Garden BGC and Makati, Gloria Maris Greenhills, and Marco Polo Ortigas Manila.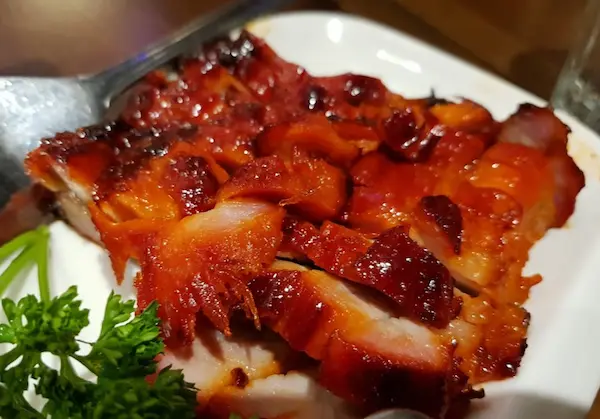 The line-up of posh restaurants serves a wide variety of cuisines that'll keep you gastronomically-satisfied — the best cure for stressful, rainy days and a wonderful post-work binge that you can share with family. The promo runs until July 19, 2020, with a minimum spend of P5,000 with a BDO World Elite MasterCard or Platinum, Titanium, or Gold Mastercard.
But if what you need is a wardrobe upgrade, BDO also has you covered with up to P1,000 off Zalora until December 2020. New users can get 18% off with no minimum spend, and existing users can get P15% off with a minimum purchase of P1,000. Shopping is always more fun when you can save some cash and earn points! Check out BDO's site for more extra-juicy, can't-miss promos to appease any shopper.
Stock up on essentials with UnionBank
The pandemic and puddly weather may ruin any chances of stepping foot outside of the house, but UnionBank's got you covered with discounts for essential shopping to keep your pantry stocked up, your stomach full, and your heart happy.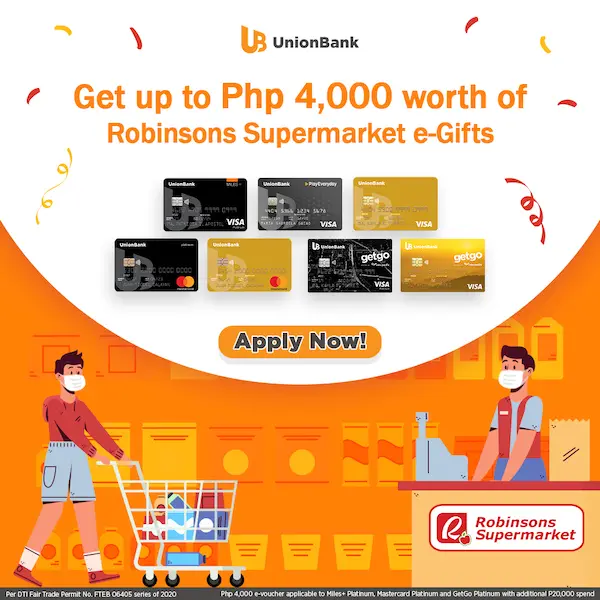 Start cooking your way to a healthy lifestyle with 10% off plus free delivery on The Green Grocer purchases worth P1,500 and above if you pay with any UnionBank debit, credit, or prepaid card. You can enjoy a selection of greens, vegan picks, salad essentials, and other hard-to-find superfoods to help you build a balanced diet. The best part is that the promo runs until May 2021! UnionBank offers a range of other grocery delivery promotions to help you pick up anything, from fresh produce and vegan or keto alternatives to your favorite chocolates at discounted rates.
,
While you're shopping for yourself, don't forget to share the blessing with your furry (or feathery) BFF, who's been keeping you extra-entertained for the past couple of months stuck at home. Surprise them with a toy or treat with 5% off Petshop.ph and 10% off first-time Pet Warehouse customers. Promos run until August and September 2020, respectively, so you've got time to decide which squeak toy to get your pupper!
Have fun with AUB
There's no point in keeping your spirits as down as the impending rainy weather. Make memories and preserve them with the help of AUB's range of discounts and promotions. On days when you're not feeling yourself, consider destressing by going on a video call with great company over your favorite cocktail mixes. AUB is offering 10% off Boozy when you use your credit card to purchase until September 2020, with a minimum spend of P2,000. Whether you're into a custom mojito or enjoy the fresh taste of beer, alcohol tastes so much better at 10% off.

Reminiscing with friends over vodka may have rekindled some fun memories from tips and get-togethers. While you can't go on another adrenaline-filled adventure anytime soon, you can bring your memories to life with a canvas print. AUB is offering 55% off a 16×16" canvas print from Photobook PH when you order through their website — valid until December 31, 2020. The long-lasting wall decor will bring a piece of your favorite day into your home's interior.
Speaking of interior decor, you can amp up your home with some home decor picks from Leflair, an e-commerce site that offers products from almost every shopping category you can imagine. New customers can get P350 off purchases made with an AUB credit card — P3,500 minimum spend required. Existing customers can still get 5% off P3,000 or more four times a month to enjoy major retail therapy anytime.
It's adelicious season with Citibank
You can't deny that one craving will eventually lead to another, and nothing beats a takeaway food trip straight from your dining table. Citibank offers an array of dining promotions, including 25% off juicy dishes from Stoned Steaks for orders worth P3,000-10,000, all through July. From smokey grills to burgers and medium-rare meat, a mouth-watering feast to your heart's content is sure to relieve stress and distract you from the rest of the year.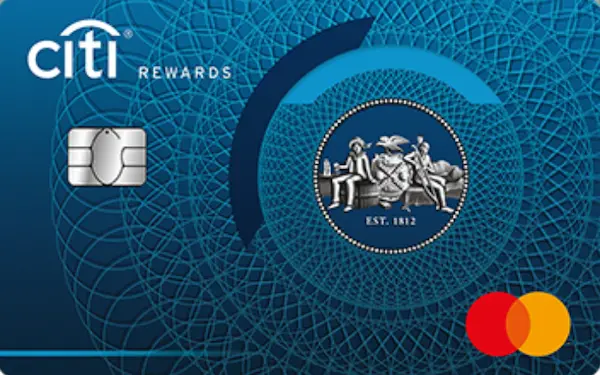 But if what you need is to bring the spirit of a fiesta into your kitchen, you can't miss 10% off Lydia's Lechon, exclusive to Citibank cardholders. You can avail of the discount with a minimum bill of P1,200 or a purchase of a full lechon until October 2020. That's a lot of meat for a household, which means no fights over portion sizes!
On the other hand, if a whole lechon is a bit too hardcode for your appetite, then you can also swipe your Citi card for a BOGO deal from Yellow Cab: two 9-inch pizzas from a select choice of flavors for only P449. Thin crust lovers and Yellow Cab enthusiasts unite, as you have until August 15, 2020 to pick up your favorite pizzas.
There are plenty of discounts and promotions to enjoy at home or socially distant, even amid a stressful July. If you haven't gotten your first credit card yet, now's the time to pick one up to unlock amazing deals and start earning points for spending.