Finder is committed to editorial independence. While we receive compensation when you click links to partners, they do not influence our content.
Best Prepaid Health Cards for Kids
For a parent, nothing tops caring for their children, especially at a young age. Parenting is not limited to providing for their present needs at hand. It extends to preparing for everything else that they might need – bigger clothes, college funds, and even health insurance. Children are both adventurous and fearless, and this may lead to accidents. Getting yourself insured is one thing. But, buying health insurance for your child will let you sleep at night, knowing that you can afford their necessary health care.

Price is a factor in choosing health insurance. Comprehensive health insurance has a broader range of benefits, but it's also much more expensive than prepaid health cards. If you're looking for financial assistance for specific services only like preventive consultations or emergency care, then health cards are the better option. They offer less hassle when it comes to registration and claiming reimbursements. You have to pay a one-time premium for it.
Some cards can even be bought and activated online. Upon use, you have to show the card to the medical personnel, and the benefit will be deducted from your bill. Health cards are valid for a year. You can always purchase a new one when you've maxed out.
Jump right in for the best health cards you can buy for your child!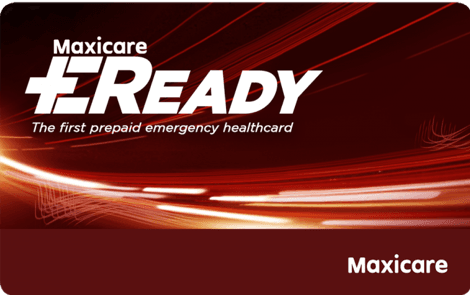 Maxicare EReady Titanium
₱699
 Up to ₱15,000 one-time coverage for emergency room services
 20% discount on unlimited Metro Dental services
 10% discount on unlimited My Health clinic services
 Up to ₱50,000 for accidental death, dismemberment, or disablement
If you're looking for the cheapest possible option in the market, this is it!
EReady covers both preventive and emergency health care with its corresponding consultation discounts. The card is valid for one year and maybe availed via SMS or online registration. It doesn't require any preliminary check-up, despite pre-existing conditions. Anyone from 15 days to 65 years old is eligible for the card, so your child can continue to renew this insurance yearly when they grow older.
You can use this card in more than 1000 Maxicare-affiliated hospital's emergency rooms, excluding major hospitals* in Metro Manila. If any of these hospitals are more convenient for your emergency needs, you can avail of the card's Platinum variant for ₱899.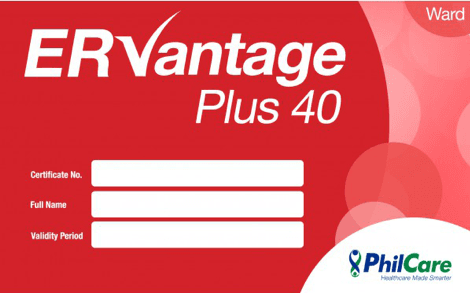 PhilCare ER Vantage Plus 40 for Kids
₱2,950
 Up to ₱40,000 one-time coverage for emergency services and hospitalization (Ward Room)
 Up to ₱50,000 for accidental death and dismemberment
If your child is relatively healthy, and you don't need frequent visits to the doctor, then you might opt for a prepaid health card that's made especially for emergency services.
PhilCare's ER Vantage gives covers your hospitalization needs in addition to emergency care! This includes doctor's fees, laboratory and diagnostic procedures, and other necessary medical procedures. Children from 6 months to 17 years old are eligible for their services for one year.
There are over 500 PhilCare-accredited hospitals where you can use this, excluding major hospitals* in Metro Manila. This card does not cover pre-existing coverage. If you want ₱80,000 coverage on emergency services and private-room hospitalization, you can avail the Plus 40 variant for ₱4,950.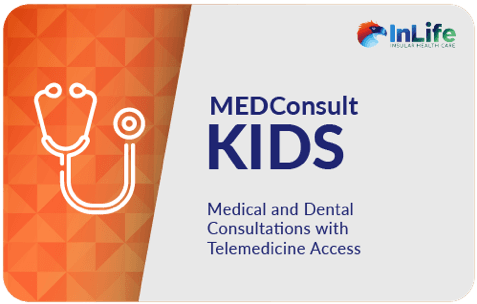 InLife MedConsult Kids
₱3,000
 Up to four (4) face-to-face medical consultations to all Insular Health Care (IHC)-accredited pediatricians
 Unlimited telemedicine access through MyPocketDoctor
 Unlimited dental consultations with IHC's network of dentists
 5% to 30% discount on select dental procedures
If you're a firm believer that prevention is better than cure, or your child requires regular visits to the doctor, then your prepaid health card should mostly focus on consultations and preventive care.
With InLife's MedConsult, you can plan regular quarterly face-to-face consultation to maximize your benefits. These benefits are available for one year for children from 1 to 17 years old. You might think this is lacking compared to other cards that offer unlimited consultations, but its covered consultations are far more extensive than most providers.
With InLife MedConsult, you have full coverage for four visits in Internal medicine, Pediatrics, Cardiology, ENT and 18 more fields, compared to PhilCare unli-consult to Internal Medicine and Pediatrics only. Besides, if you need more consultations, especially for emergencies, you have easy access to a medical professional through MyPocketDoctor.

Orange General LHMO
₱3,999
 Up to ₱15,000 coverage for emergency room care, with ₱5,000 accidental medical reimbursement
 Up to 60 days of hospitalization with ₱150 daily allowance
 Unlimited fully-covered consultations
 One-time dental prophylaxis and preventive physical examination, with chest x-ray, complete blood count (CBC), urinalysis, and fecalysis
 Up to ₱60,000 for accidental death and dismemberment (₱35,000 when due to murder and assault)
 Up to ₱5,000 burial assistance
If you're looking for a prepaid plan comparable to a comprehensive one, you would want something with more extensive benefits. This would mean coverage on emergency and preventive health care, consultations, and death assistance.
Orange General LHMO provides all those services. It comes at a competitive price for various benefits.
The application takes up to 2 weeks. After which, you may claim the card in their Makati office or have it delivered to you via LBC. Preventive care and consultation benefits can be availed in facilities located in select locations** in the country. Emergency care benefits may be claimed in over 500 hospitals nationwide, including the top hospitals* in Metro Manila.
The General Basic plan offers one-year coverage for clients from 5 to 65 years old. Their Preschool Basic plan for children from 15 days to 5 years old comes at the same price with similar benefits. Orange also offers Complete LHMO programs if you want unlimited consultations with other benefits.
Bottom Line:
There's no questioning the benefits of trusty health insurance. Prepaid health cards are affordable ways to ensure your family's health care needs. Choosing which health care to purchase depends on your needs and budget. GoBear allows you to compare multiple options and find the best one for you.
*Major Metro Manila hospitals include: Asian Hospital and Medical Center, Cardinal Santos Medical Center, Makati Medical Center, St. Luke's Medical Center – Bonifacio Global City, St. Luke's Medical Center – Quezon City, The Medical City
** Orange-affiliated facilities located in NCR (Makati CBD, Taguig CBD, Quezon City, Pasig CBD, Alabang CBD), Sta Lucia Cainta Rizal, Imus Cavite, Sta Rosa & Calamba Laguna, Lipa Batangas, Clark Pampanga, and Cebu City
People also read:
Best Health Insurance Plans for Senior Citizens in the Philippines