Finder is committed to editorial independence. While we receive compensation when you click links to partners, they do not influence our content.
Best Credit Cards To Help You Earn Airmiles in 2019
What's a better reward for traveling than photos and souvenirs? MORE TRAVEL!
If you're on your way to see the world, then you might as well save money while doing so. There are credit cards made specifically for frequent flyers. These are part of a loyalty program, sometimes called frequent flyer programs, offered by airlines and affiliated companies. When you use these cards to charge flights and other purchases to these cards, you're rewarded with air miles. You can accrue these air miles in exchange for free or upgraded flights, hotel accommodation, travel expenses, and even shopping rewards. An efficient credit card is defined by more air miles for a lower price, as well as other rewards for which you can use these air miles.
It's important to pick one credit card for travel. Focusing on earning points through one card maximizes your rewards. This way, it's easier to redeem your points in bulk. Given that, we've created a list of credit cards with the best travel-spending rewards. Jump right in for their amazing offers!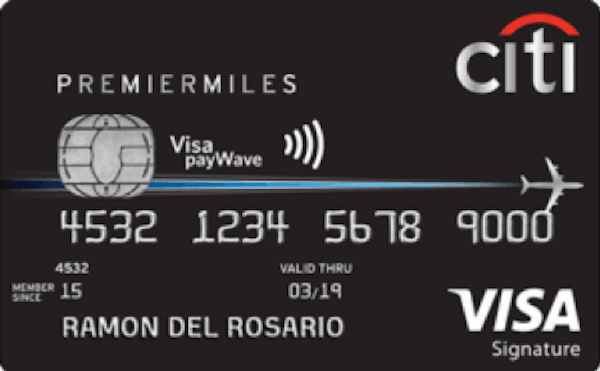 ₱30 local or overseas spend = 1 PremierMile
Flexible PremierMiles
(1 PremierMile = 1 air mile or 1 hotel point in selected airlines and hotels)
No expiration on PremierMiles
VIP airport lounge access and FREE DragonPass membership with 2 complimentary lounge passes at select airport lounges
Up to ₱1,000,000 travel insurance coverage
A minimum annual income of ₱360,000
₱5,000 annual fee (waived for the first year)
3.5% interest rate
With Citibank's PremierMiles Visa Card, your rewards are not limited to air miles. Citibank goes the extra mile to help you save on hotel accommodation as well! The card is recognized in over 60 airlines and 29 million establishments in over 150 countries! PremierMiles can also be accumulated for a long time if you're looking to spend them on a big vacation. Expiration dates will only apply for when you redeem them, depending on the airline or hotel you choose.
This card is great for travelers looking to save on an entire future vacation.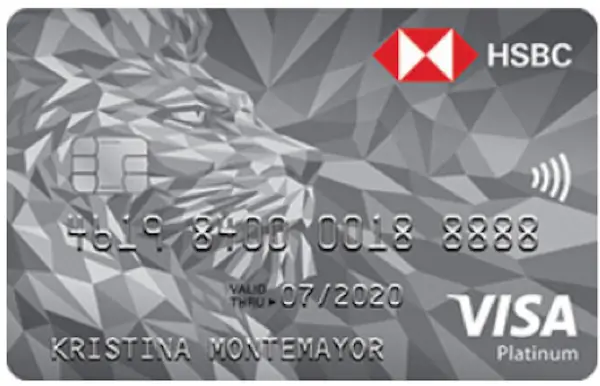 ₱25 flight cost = 1 Cathay Pacific or Singapore Krisflyer air mile
₱20 on all overseas purchases and online shopping = 4 bonus points
₱20 on local shopping and dining = 3 bonus points
₱20 on other local expenses = 1 bonus point
FREE travel accident insurance (up to ₱10 million) and travel inconvenience coverage
Minimum annual income of ₱500,000
₱5,000 annual fee (waived for the first year)
3.5% interest rate
HSBC rewards almost everything you charge on your card. You can then exchange these points according to the HSBC's reward catalogue. For instance, you can get 1 air mile from Cathay Pacific or Singapore Krisflyer for 5 bonus points, and 1 Philippine Airline (PAL) Mabuhay Miles for 6 bonus points. HSBC bonus points are valid for two years. Cathay Pacific and Singapore Krisflyer miles are redeemable for 3 years, while PAL Mabuhay miles do not expire for active members. You can even pay for your annual fee and donate for charity with these points.
This is perfect for big local spenders (₱60,000 or more) looking to score free overseas flights.
HSBC offers another travel credit card, Premier Mastercard, which has similar features as the Platinum Visa, but without the annual fee. It also gives you access to 850 airport lounges around the world for $27. More rewards come with more eligibility requirements for the credit card.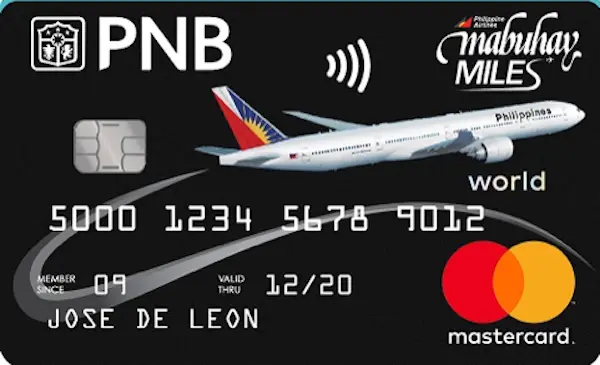 PNB-PAL Mabuhay Miles World MasterCard
₱33 spend = 1 point = 1 PAL Mabuhay Mile

2,000 PAL Mabuhay Miles upon card activation
10,000 PAL Mabuhay Miles for ₱100,000 PAL transactions within 1 year of activation
5% discount on all PAL international flights when booked via www.philippineairlines.com
FREE travel insurance until ₱10M, travel inconvenience and purchase protection coverage
Priority check-in at PAL Business Class counters in NAIA Terminal 2
24/7 world-class concierge service
No expiry date on PNB points and PAL Mabuhay Miles for active accounts
A minimum annual income of ₱480,000
₱6,000 annual fee
2.7% interest rate
This offers amazing rewards for PAL flights. Compared to the previous credit cards, it has a higher annual fee, but also a lower interest rate. The Platinum variant of this card comes at a cheaper annual fee (₱3,000) and an interest rate (3.25%). It only checks the top 4 items on the list above, plus a lower travel insurance coverage of up to ₱3 million. This card is made for travelers loyal to PAL and wants to enjoy exclusive travel rewards here.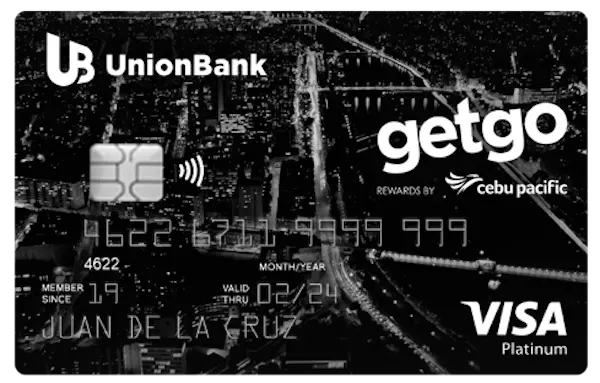 ₱30 spend = 1 Cebu Pacific GetGo point
Priority check-in and free 5kg baggage allowance on Cebu Pacific flights
Free airport lounge access
Up to ₱10 million travel insurance coverage
A minimum annual income of ₱1,200,000
₱5,000 annual fee
3.5% interest rate
GetGo is Cebu Pacific's loyalty program. When used with Cebu Pacific's GetGo program, UnionBank GetGo points are automatically transferred to the account. You're also notified early of Cebu Pacific seat sales! If you're looking for a card with a lower annual fee (₱3,000) and required income (₱600,000) for fewer rewards, then you might opt for the card's Gold variant, instead. This is the best credit card for those who frequently fly through Cebu Pacific.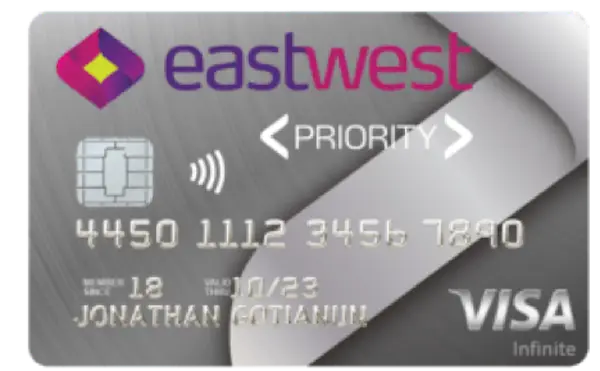 EastWest Priority Visa Infinite
₱40 spend = 4 infinite rewards points, or 1 air mile from Cathay Pacific, Singapore Krisflyer, or PAL
Flexible infinite rewards points
No expiration on infinite rewards points
FREE travel accident insurance (up to ₱20 million) and travel inconvenience coverage
VIP airport lounge access, plus 2 complimentary Sky View lounge access to more than 1,200 airport lounges in 140 countries
Special upgrades and VIP privileges in over 900 luxury hotels worldwide
24/7 Visa Infinite concierge service
NO ANNUAL FEE
1.99% interest rate
The Visa Infinite credit card belongs in our list with no annual fees and minimal interest rates! For as low as a 10-peso spend, you get 1 infinite rewards point. These points can be accrued and redeemed as air miles, hotel fees and upgrades, and even shopping purchases! This credit card also offers one of the highest travel insurance of up to ₱20 million. This credit card is for travelers who are planning to save on travel without much commitment because of non-expiring 10-peso points and no annual fee.
Bottom line:
Air miles are amazing returns for your credit card spends. Other reward systems exist for different credit cards. Whether you want discounts, cash back, or air miles depends on your needs, and GoBear makes it easy to find just the perfect card for you.