Finder is committed to editorial independence. While we receive compensation when you click links to partners, they do not influence our content.
Best Credit Cards for Women in 2020
Women today wear many hats – mother, manager, professional, traveler, boss, you name it. It's hard being a superwoman! You deserve a credit card that matches your current lifestyle and the diverse roles you play. At GoBear, we make it easy for you to compare credit cards so you can focus your time and energy on what's important to you. Our furry paws did the dirty work to help you find the best credit cards for your lifestyle. Comparing them side by side will allow you to see if they are as good as the banks advertise them.
We analyzed women's spending patterns in these areas: online shopping, shopping, dining, groceries, and general purchases.
Credit card for shopping
Citibank Rewards
Women love to shop online for convenience! Online shopping feels like exploring a treasure trove full of hard-to-find pieces and novelty items. It's no wonder that women love the all-digital shopping experience — it's a convenient way of looking through curated catalogs and making purchases with just a few clicks! But online shopping requires you to own a credit card to make digital transactions seamless and hassle-free. In that case, look toward the Citi Rewards credit card, which is one of the best credit cards for online shoppers. Whether you purchase something for yourself, your online shop, or a special someone, every successful check-out will earn you rewards and make your shopping experience all the more fulfilling.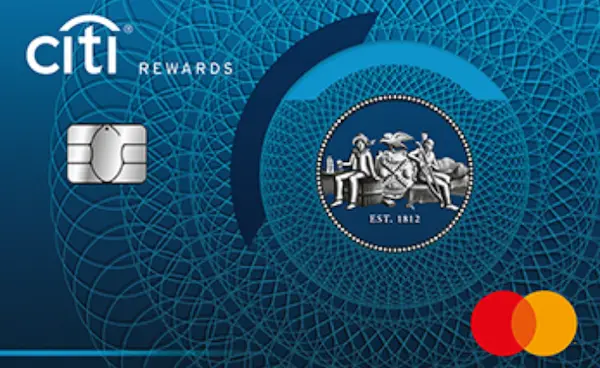 What we love about it: Citibank Rewardsis one of the credit cards that reward its user with both reward points and cashback. It grants 3x reward points for all shopping purchases. Additionally, this credit card for shopping also gives 3x reward points for CebuPac ticket purchases, making it perfect for those who buy their tickets online. Not only that, but it also offers 3x reward points for dining purchases. Citibank Rewardsallows you to earn up to ₱1,799 per year on cashback by earning 1 point for every₱30 spend. You can even apply for this card even if you don't have an existing credit card. You just need to have a minimum monthly income of₱ 20,000.
What you might not like about it: It may take a while before you can really accumulate the required number of points before getting you much-coveted merchandise. For example, a Knomo Clifford Backpack is on sale for 144,700 points.
BPI Ayala Malls Amore
There are many credit cards for women who love to shop. The BPI Ayala Malls Amore is one of the best credit cards for shopping because it covers everything from groceries to dining. It also allows you to earn up to ₱15,000 per year when shopping, dining, and buying groceries at BPI-affiliated stores in Ayala Malls.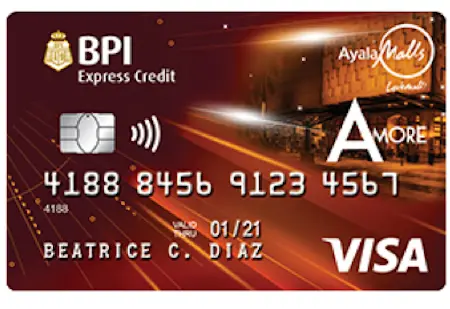 What we love about it: The best thing about the BPI Ayala Malls Amore is that you can earn 1% to 3% cashback when shopping at BPI-affiliated merchants at Ayala Malls. You can earn 1% cashback on groceries and 4% cashback on restaurants. The BPI Ayala Malls Amore is also one of the credit cards that constantly have promos each month. You can keep your eyes peeled for these treats at GoBear.
What you may not like about it: The cashback benefits of the BPI Ayala Malls Amore credit card is exclusive for shopping at Ayala Malls, so if you do not frequent these venues, then this card may not be for you. It also requires a minimum of ₱15,000 monthly income for you to apply which can be a little higher compared to other credit cards.
BDO Forever 21
Always on the lookout for the latest trends and affordable fashion pieces? BDO Forever 21 is one of the best credit cards for fashionable women as it provides rebates and credit card points for shopping at Forever 21.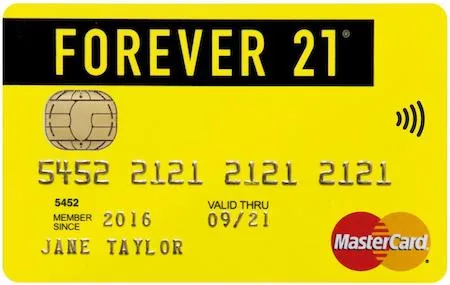 What we love about it: Earning points is easy with the BDO Forever 21 credit card. The card offers 21% rebate every 21st of the month and a 10% rebate on all other days. You can also get 21x credit card points during Forever 21 SM 3-day sale. Another thing that we love about the BDO Forever 21 card is that it only requires a minimum monthly salary of ₱5,000 to acquire the card; unlike other credit cards that require you to have at least a monthly income of ₱15,000. This card for shopping also helps you become entitled to certain promos such as free time wear or other fashionable pieces.
What you may not like about it: Similar to the BPI Ayala Amore, you can only acquire reward points if you use this card to its exclusive store. So if you are after reward points and rebates from other shops, this card may not be for you. It also has a high annual fee of ₱2,400 which is higher than other credit cards and might discourage you if you do not constantly use the credit card for shopping at Forever 21.
Security Bank Complete Cashback
Moms do a lot of things – they do groceries, shop for supplies at home, and even treat their families to restaurants. Be rewarded by doing all these things with Security Bank Complete Cashback, one of the best cashback credit cards!
What we love about it: Security Bank Cashback is one of the credit cards that offer the highest cashback rewards without minimum spending required. It can grant women up to ₱12,000 in cashback rewards for a minimum spending of ₱5,000 with the highest conversion of cashback for groceries at 5%. Meaning, you get 5% off of your groceries every time you visit the supermarket. It also gives 1% cashback on shopping and 2% cashback on dining as well. You can also enjoy a 5% rebate when you gas up at any participating SeaOil branches nationwide.
What you may not like about it:Security Bank Complete Cashback has a higher annual fee than most credit cards. It also has a higher minimum salary of ₱30,000 compared to your usual credit card for groceries and shopping.
Metrobank Femme Visa
Metrobank sees to it that your spending on shopping, beauty, and wellness are well-catered with the Metrobank Femme Visa and Metrobank femme Signature Visa.
What we love about it:With your card, you can get to enjoy numerous discounts from Metrobank's partner merchants. You can get 50% off on warts removal fees at Bioessence and 50% off your joining fee at Curves. You are also entitled to sit back, relax and save up to 44% on charges at Hotel Fleuris and Savoy Hotel Manila.
What you might not like about it:Self-employed individuals may find it difficult to apply as 2 years of business stint is required.
Credit card for traveling
HSBC Platinum
You love to travel and explore! Want to enjoy free airmiles and other travel perks? The HSBC Platinum is one of the best credit cards for the wanderlust. You can also check out other credit cards with high airmiles rewards here in GoBear.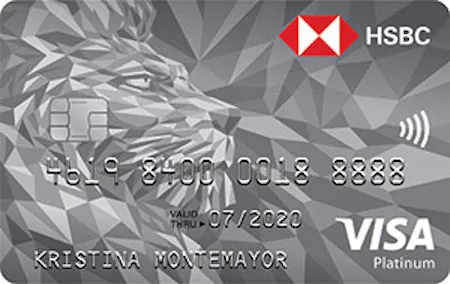 What we love about it: The HSBC Platinum has the highest airmiles reward among other credit cards for travel. It helps you earn up to 14,400 miles per year. Each ₱20 spend = one (1) bonus point. Additional perks of this credit card: 3x more bonus points when you shop, 4x more bonus points on all international purchases, and 3x more bonus points when you dine locally. If you are a constant traveler, you will also appreciate the ₱20M travel insurance coverage for its cardholder.
What you might not like about it: Compared to the credit cards mentioned in this list, the HSBC Platinum has the highest annual fee of ₱5,000. It also requires a minimum salary of ₱45,000 upon application.
Whether you are looking for the best credit card for shopping, groceries or dining, you can find one that fits your interest and spending pattern at GoBear. Compare credit cards at GoBear Philippines to find the best card for deals, travel miles, and cashback rewards.