Finder is committed to editorial independence. While we receive compensation when you click links to partners, they do not influence our content.
Best Cars in the Philippines For Small Families
Are you having a hard time looking for the perfect family car? Today, there exists the most comprehensive set of options ever to fit whatever you want and need. But what exactly defines a family vehicle? Price? Safety? Size and space? Then there are more to consider for fuel capacity and efficiency, transmission, and connectivity! You'd waste precious time wandering around showrooms if you have no idea what you want by then.
We've narrowed down the most important things to consider when picking and buying a family car in the Philippines.
What's your budget?
You'd be thrilled to know that there are many cars to choose from with a tight budget. This article is perfect if you're looking for transportation to and from your kids' school or the grocery. You wouldn't need expensive technology and safety extras when driving around a safe neighbourhood.
Toyota Wigo
starts at ₱557,000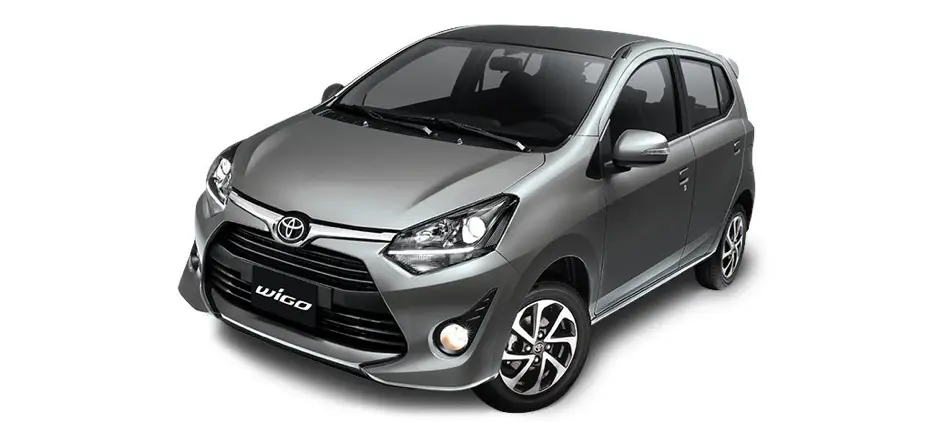 This mini hatchback is our best pick among the cheapest cars in the Philippines. While there are more affordable options like Hyundai EON or Suzuki Alto, the Wigo wins our vote for a family car. Wigo stands out with a high four out of five stars for both Adult and Child Occupant Protection tests by ASEAN New Car Assessment Program (NCAP) in 2015.
It comes with dual SRS airbags for the driver and front passenger, four standard seatbelts and one lap belt for mid-rear passenger, anti-lock brake system (ABS), immobilizer, security alarm, and electronic door locks for safety assurance on a small price. You can comfortably fit your family of four to five, with small but sufficient trunk storage for short trips.
The compact size of the Wigo allows you to park easily, which comes handy if you live in a condominium or apartment with a standard parking space. Inside, the entertainment system features a 7-inch touchscreen display that can also function for navigation. The steering wheel is bu with the audio panel, so you don't risk accidents by simply switching songs. With a 33L fuel capacity and a compact, sporty design, the Wigo is perfect for a smooth drive on a typical terrain like city streets.
Perfect for: Families on a budget who won't compromise on standard safety
Mitsubishi Mirage GLX MT
starts at ₱699,000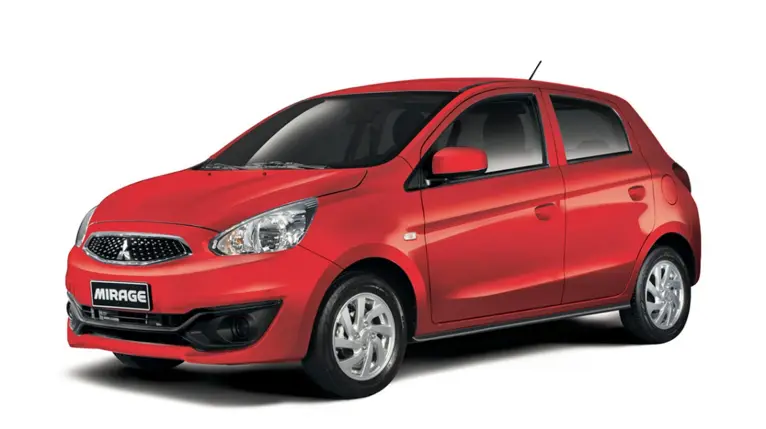 In general, hatchbacks are cheaper than other models because of its compact design. However, you'd be surprised at how generous the Mirage is with interior space for your family! So if you're willing to up your budget a little for a new star in safety rating, this is a great buy!
This car won the ASEAN New Car Assessment Program's (NCAP) Adult Occupancy Protection (Mini Car Category) in 2013. Why? The Mirage GLX is armed with dual SRS airbags for the driver and front passenger, ABS with electronic brake-force distribution (EBD), and seatbelts for five occupants. It also comes with ISOFIX child seat latches, and Mitsubishi's patented Reinforced Impact Safety Evolution (RISE) for crash safety in the entire vehicle. These features for its price are tough to beat!

Are you for maximum safety?
More airbags, more effortless gear shifting, over-all safety rating? If you're willing to spend more cash for safety assurance, whether in case of a crash or only accident prevention technology, here are the top picks for you.
Toyota Camry
starts at ₱2,007,000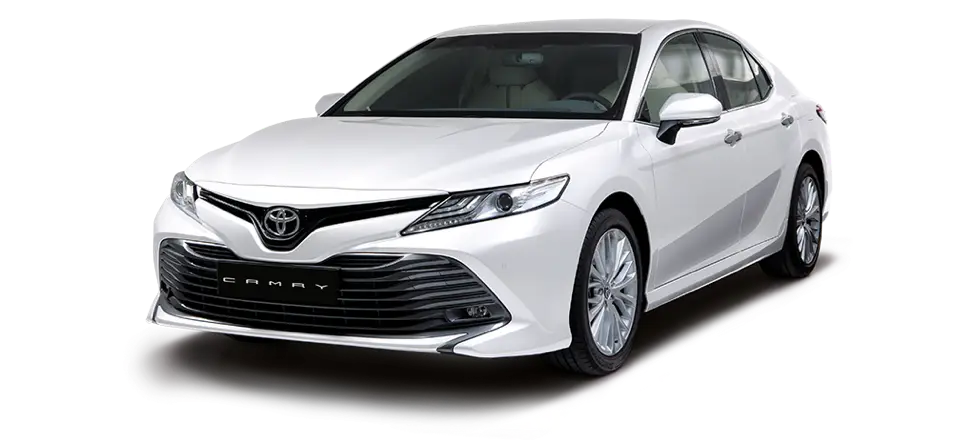 We know it's a hefty price tag for another Toyota, but we can't miss the Camry. Toyota Camry has exceptional safety ratings from both the ASEAN NCAP and the U.S. National Highway Traffic Safety Administration (NHTSA). Whopping five out of five stars mark this five-seater sedan's all-around occupant protection. Whether you're in the front or rear seats, there are head and side airbags and standard seatbelts that cushions you in a crash. It's also equipped with 4-wheel ABS and disc brakes, brake assist, electronic stability control, daytime running lights, child safety locks, traction control, lane departure warning, lane-keeping assist. The Camry doesn't take your preventive safety and driving convenience lightly.
The entertainment system and the overall luxurious and sports car feel of the Camry is also a massive plus for younger parents and kids. The added comfort features like the sunroof and reclining rear seats are great for long, exhausting trips.
Perfect for:Families who are willing to spend on high-end safety and convenience
Honda Civic
starts at ₱1,115,000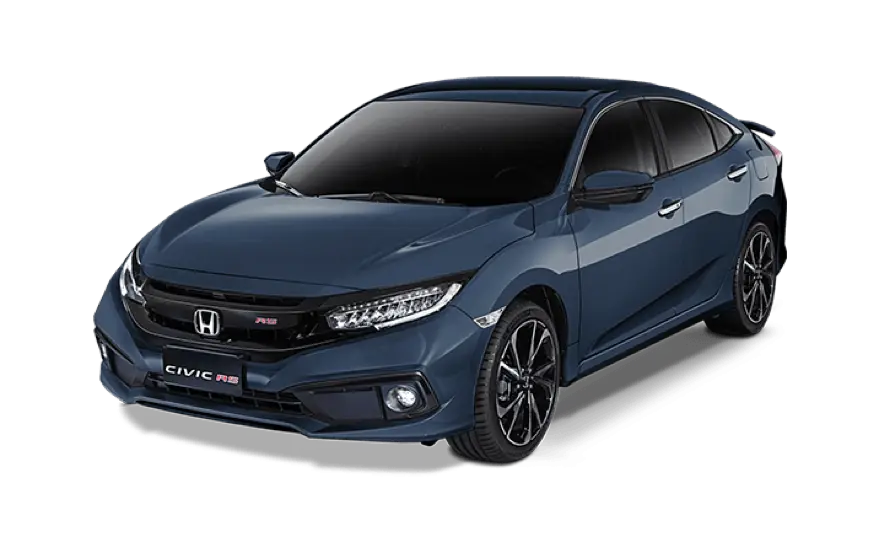 If you can settle for a little less than what the Camry offers, Honda has a comparable alternative at a lower price. The Civic also has installed front airbags for front passengers, and side airbags for all occupants. This sedan is also equipped with ABS with EBD, seatbelt reminder, child safety lock, ISOFIX child seat anchor. For security, you get an immobilizer, security alarm, and keyless entry. Convenient driving is made possible by hill start assist (HSA) for slopes and a quick emergency stop signal (ESS). Pretty neat features for a lower price, right?
Do you want more storage?
So far, we've seen hatchbacks and sedans. Both are fantastic options for a family of five. But for a growing family, you'd want something more like a minivan or an SUV. For a regularly-traveling group, a crossover would be great for rougher terrain and plenty of storage.
Honda CR-V
starts at ₱1,668,000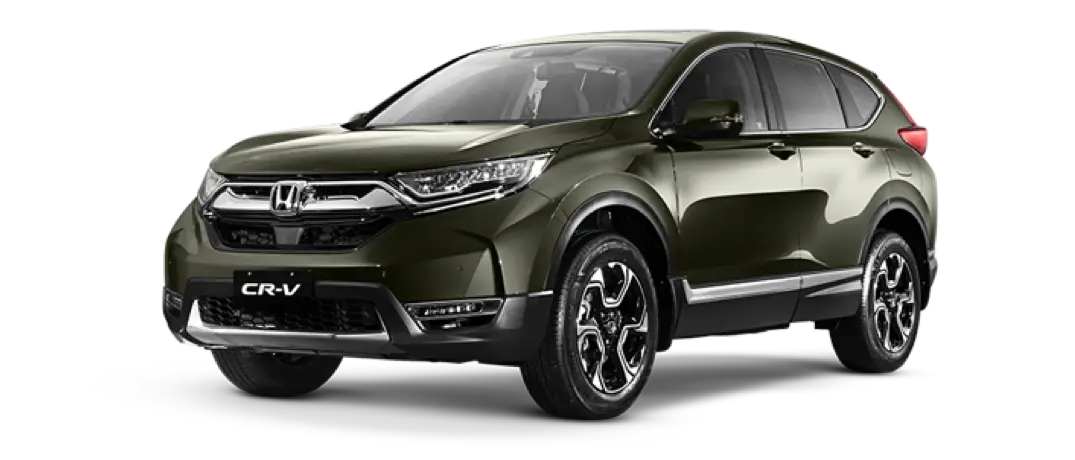 If this is the car you'd bring to a long trip to the countryside, then it needs the best safety rating for your family. The CR-V's evaluation is pretty much comparable with the Honda Civic, with an addition of a rear camera for more security and driving or parking assistance, fit for the larger car. The higher cost is justified by the addition of two more seats that are collapsible to the massive trunk! This gives the best bang for your buck.
On fuel efficiency and engine options:
When looking at different cars, you'd want longer miles per gallon (mpg). The average rate is 26 mpg. Honda Civic is high up on the list of fuel-efficient vehicles with 35 mpg!
Hatchbacks and sedans are great models for your money. They have a cheaper upfront cost because of a smaller engine, hence better fuel efficiency than larger cars. Smaller cars generally run on gasoline. The engine is more economical, but the fuel is more expensive than diesel. This produces less carbon footprint and requires long service intervals.
Meanwhile, larger cars are run by the more significant diesel engines. The cheaper fuel allows better efficiency for taxing drives as it produces more torque and power to move your vehicle. However, regular maintenance is required for this type of engine. Topping up diesel emissions might damage the engine whose parts are hard to find and expensive to replace.
Bottom line:
You always want the best options for your family, including which car you travel with. When visiting the nearest showroom, make sure you have a budget and car features in mind. Rank your priorities when shopping for a big purchase. Then, make the smart decision to protect your investment with reliable car insurance.
Compare car insurance options with GoBear today!