Finder is committed to editorial independence. While we receive compensation when you click links to partners, they do not influence our content.
Actual Credit Card Scams Faced By Filipino Cardholders
Did you ever experience receiving a call from supposed credit card agents using an unregistered number? Did the caller promise you of waived annual fee, increased credit limit and even an expensive gift from your credit card provider?
Each day, more and more credit card holders in the Philippines lose money from their cards because they have fallen prey to scammers who make that one call with too-good-to-be-true promises.
Here are accounts of real people who were lured by scammers to share their CVV numbers and one-time passwords (OTPs) only to realize in the end that they were actually used to make an online purchase.
The Gift Tactic
Scammers make that super-friendly call congratulating you for maintaining a good standing on your current credit card. In return, you will be rewarded with an increased credit limit and an expensive gift item from online shops like Shopee and Lazada. The scammer will then conduct the usual verification process.
At this point, you'll get caught in between excitement and doubt although you will eventually give in to the bait by providing your credit card details. The scammer will then give you further instructions on how to claim your "gift". You will be given the luxury to choose the color and style of the "gift" item you prefer. All you need to do is mention to them the one-time pin sent to your registered mobile number. Once you provided the OTP, you may expect charges from the online stores already appearing in your credit card statement online. You will never ever receive that "gift" you paid for.

What to keep in mind?
Your credit card providers will NEVER ask for your OTP. Aside from that, gifts are generally awarded to first-time credit card users who qualified for the promo. Some banks need you to make a minimum spend of Php20,000 or more within the promo period in order to qualify for the gift. Instructions on claiming the gift are rarely done on the phone because banks have dedicated pages for rewards conditions and claims.
The more, the scarier
Everybody wants to have a platinum card or a cashback credit card or a rewards card. From your not-so-rewarding credit card, the caller entices you with an offer of another credit card that lets you earn points and discounts. Who are we to resist?
In the case of this credit card holder, the bribe didn't work.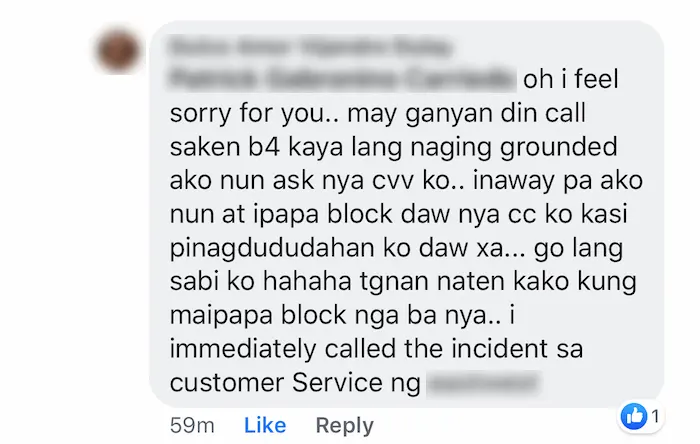 What to keep in mind?
Legit bank agents will not waste their time talking. They are usually trained to speak their purpose directly without the use of extravagant words to earn your trust. They wouldn't ask for any information from your credit card especially the three crucial numbers at the back of it called CVV.
Additional cards, in most cases, are already approved and will be sent to your registered mailing address even without you applying for it. Some banks notify you about your added card and would ask for your consent for it to be sent to your home or office address.
Waived annual fee style
Patrick Gabronino Carriedo learned his lesson the hard way and would want others to take caution when dealing with posers. According to Patrick, he received a call informing him about his waived annual fee for all his cards. He provided all his existing credit card details and even his OTP five times. In five minutes, his details were used to purchase from Grab and other online shops. Refer to the screenshot below for more details of Patrick's experience.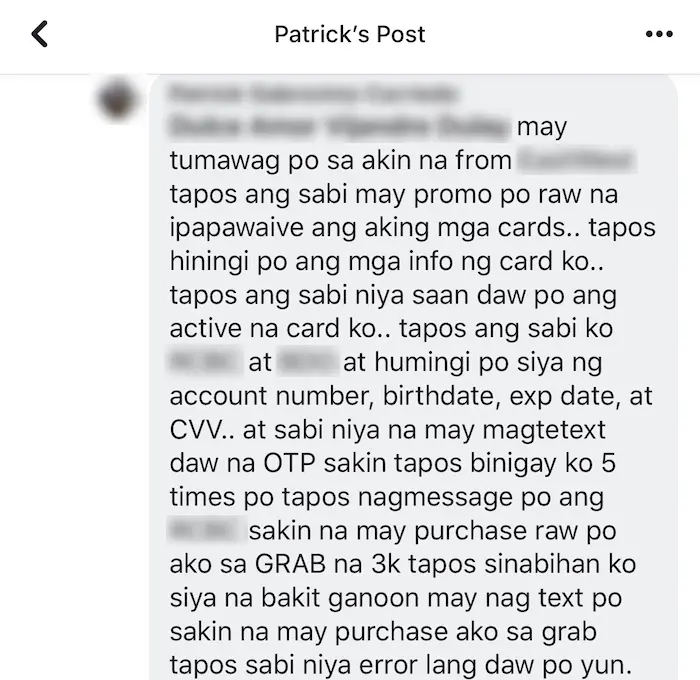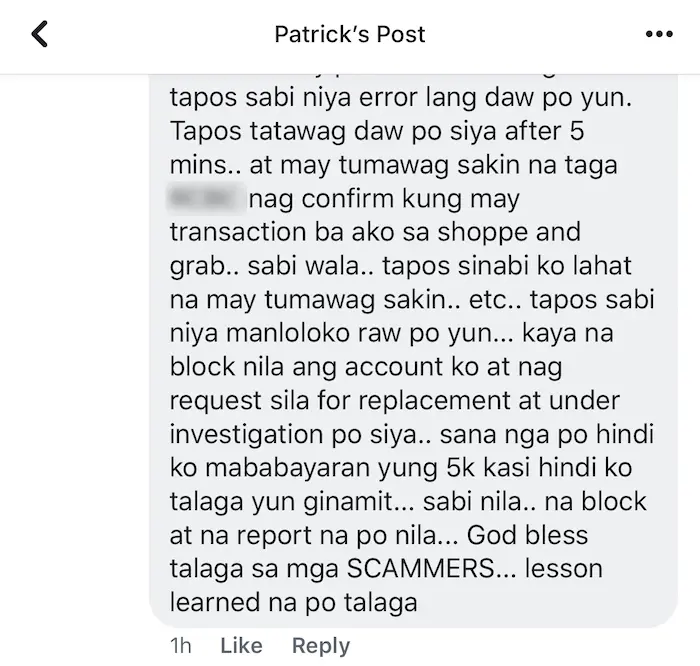 What to keep in mind?
Annual fees are usually waived during the first year of your credit card and are charged in the succeeding years of usage. You can ask for the waived annual fee if you have a good credit standing, you swiped your cards 12 times in a year, or you made a purchase equivalent to your credit limit. Some banks also let you use your earned points to pay off the annual fee.
Much is given, much is required
From Php50,000, your credit limit will be doubled instantly according to your scammer caller. In some cases, you will be given an unbelievable amount as credit limit which will then lead you to reveal your information unconsciously.
Take the case of Welbert Cornejo. He received a call and was asked if the card is already active. He said he didn't receive it yet, so the caller tried to generate information about his other active existing cards from other banks. The caller also asked for credit limits for each of his card. At this point, Welbert sensed the danger and declined to continue with the call.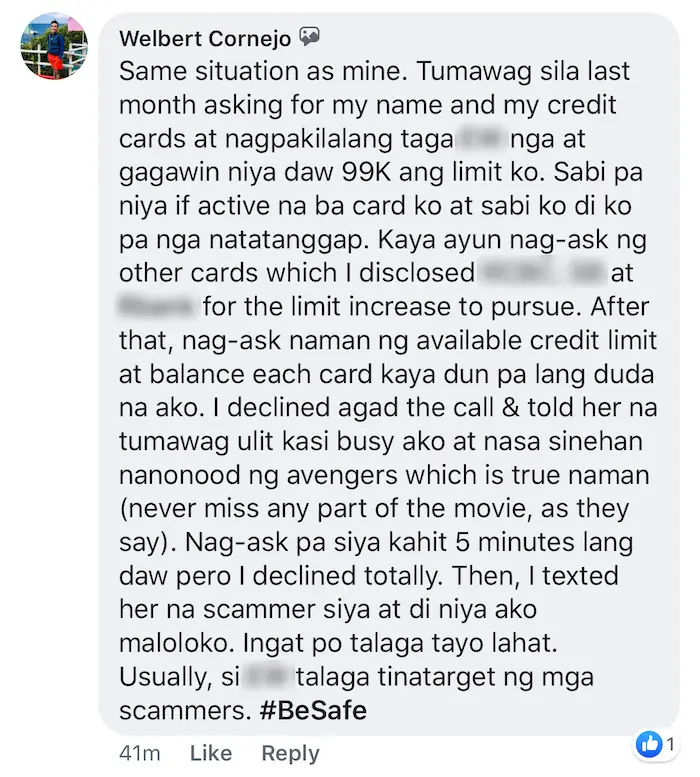 What to keep in mind?
Increasing your credit limit is done automatically by banks without calling you. This privilege will be based on your current balances and payment history. Other credit card providers will require you to make a request by filling out a form duly supported by your ITR or salary certificate. It may take days or weeks before the bank delivers its feedback.
Bottom line:
Scammers will always find a way to steal your personal information and use these to make purchases at your expense. These everyday people have shared their experiences to warn others about these tactics so that they won't suffer the same. The key is to be vigilant on hints of fraud which are usually in the form of bribe, gifts, discounts, and offers that are hard to resist. When in doubt, verify the promos and processes online or call the provider's hotline numbers for confirmation.
If ever you've already provided the details and charges have been made, you can call the hotline again to block the card and ask for a replacement. Lesson learned. Life goes on. Be very careful next time.
Know how credit cards work and what you need to qualify