Finder is committed to editorial independence. While we receive compensation when you click links to partners, they do not influence our content.
5 Powerful Midrange Phones Under 20k
Christmas season is officially here as we welcome the BER months. You deserve to reward yourself for following community quarantine protocols by staying at home as much as possible. This quarantine has made us thankful for the technology that we have today because we can work, educate, and entertain ourselves through the varieties of screens available.
READ:3 Ways To Fund Your Kid's Online Learning Gadgets
Upgrading your phone to maximize your usageand viewing experience is a valid reason as it is already considered an investment today. A smartphone is already seen as a necessity for communication especially for those who are working from home, those who are engaged in online selling, and those who are enrolled in online classes. A smartphone can also perform other interesting functions like viewing of spreadsheets or documents and input of simple data. Owning a powerful midrange device today is a must especially if you are regularly engaged in the activities mentioned.
Aside from its versatility, it is also delightful to own a prime smartphone as you can capture clear images and videos of your family bonding moments.
You probably held off purchasing a new one for as long as you can because of the extra expenses for the past few months. The start of the BER months also means the start of a series of promotions, sales, and discounts.
1. SAMSUNG A51
2. HUAWEI NOVA 7 SE 5G
3. OPPO RENO 4
4. REALME 6 PRO
5. VIVO V19 Neo

SAMSUNG A51
Our first contender is from the Top 1 smartphone manufacturer for 2019. Samsung A51 brags of its big screen for an affordable price. This unit looks a lot like Samsung S20 only it does not have the curved screen. This unit has a 6.5 inches Full HD Super AMOLED Display which means optimized viewing experience.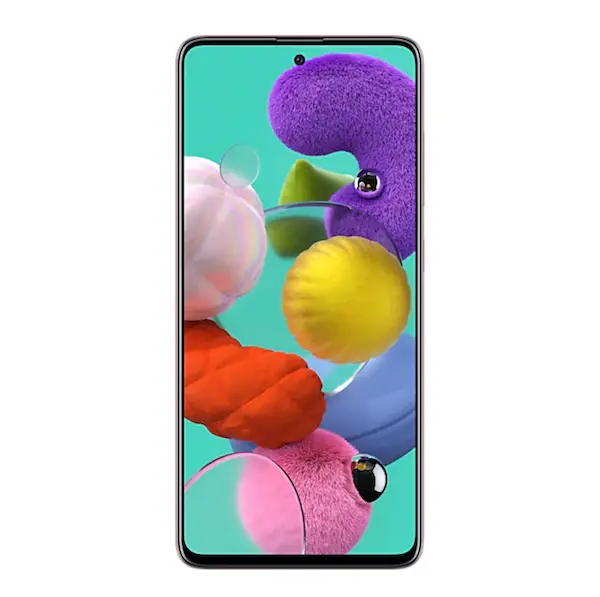 Samsung follows the trend of putting four cameras at the back and A51 has 48 megapixels main camera, 12 megapixels ultra-wide camera which covers 123 degrees angle, 5 megapixels depth sensor for the bokeh effects, and 5 megapixels macro camera. Aside from its impressive hardware, an in-display fingerprint is installed in this unit for enhanced security.
This smartphone retails for 17,990.00 pesos at selected Samsung stores and authorized resellers. If you can't wait to get your hands on this phone but is keen on staying at home, you can have it delivered at your doorstep. Stocks are available from Samsung online store and other online merchant apps likeLazada app.Both cash andlpayments are accepted. This is an excellent deal for smartphones within this price range because of its Super AMOLED display.

HUAWEI NOVA 7 SE 5G
Huawei Nova 7 SE 5G is one of the Nova 7s released by the Chinese multinational technology company this 2020. This variant comes in three stunning colors Space Silver, Crush Green, and Midsummer Purple.
This smartphone boasts of 8GB of RAM and 128GB storage, a promising supercharge which charges the 4000 mAh battery up to 70% in half an hour. Its four-lens camera is also surprising as it comes with 64 megapixels main camera, 8 megapixels ultra wide-angle camera, 2 megapixels macro camera, and 2 megapixels depth sensor or bokeh camera. Its AI boasts of sharp, clear, and refined photos and videos to make the details on each frame pop.
A remarkable 90.3% screen-to-body ration is delivered with its 6.5 inches screen display. This is perfect for students, working class, and online business owners as the viewing experience as the unit only has a punch hole for the selfie camera.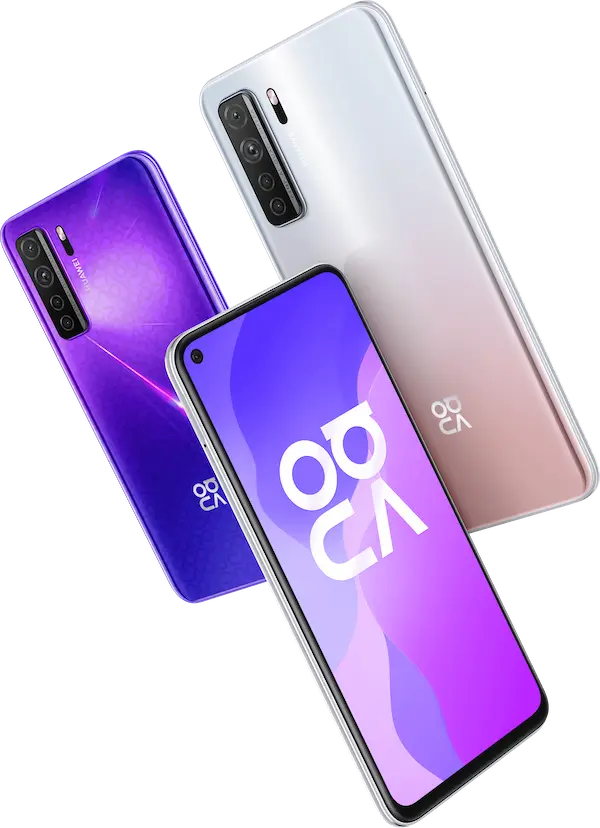 Huawei devices are available onLazada App, Abenson, MemoXpress.com, Aerophone, Globe, and physical Huawei stores. Online platforms, likeLazada app,offer special discounts and coupons for those who will avail the unit from their platform. Payment options are cash on delivery, and installment up to 36 months via selectcredit cardsare also available. This unit retails for only 17,999.00 pesos.
OPPO RENO 4
Freshly released from the market during the third quarter of 2020 is the OPPO Reno 4. The noticeable change to this unit from the Reno series is that it has deviated from the usual pop-up front camera of its predecessors. Oppo opted for a dual punch-hole front camera for this unit making it look a lot like the Samsung S10+. Oppo Reno 4 comes in 8gb RAM and 128gb storage capacity.
READ:How To Use Your Credit Cards During The Pandemic?
People can't help but notice that the cameras at the back look like the cameras of the iPhone 11 series. Well, the truth lies in its hardware specifications. This smartphone displays four cameras at the back just like the other smartphones. The camera set-up's main selling point is the SONY IMX sensor of its 48-megapixel main shooter. This phone is ideal for young content creators like the online businesspeople who take photos of their merchandise frequently.
Aside from its impressive specifications, Oppo Reno 4 is also Netflix HD streaming certified which means you can watch your favorite shows in high definition and full display. This handset is available in two colors: Galactic Blue and Space Black.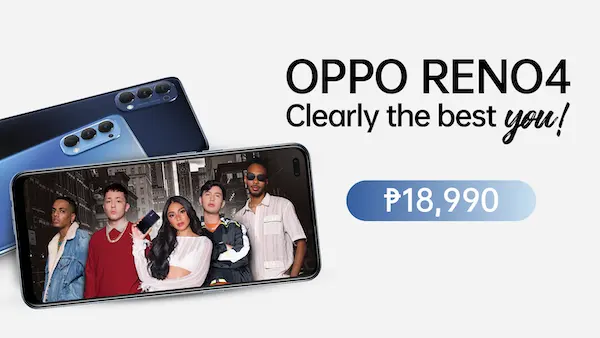 Oppo Reno 4 is available on your online merchant Lazada App
and Oppo physical stores nationwide. It retails for 18,990.00 pesos.
REALME 6 PRO
Realme may be a new player in the smartphone market but they already captured the hearts of the masses because of the affordable products that they introduce to the market. The units look and feel premium without the hefty tag price.
This unit was released during the second quarter of the 2020 and remains to be a favorite in the midrange smartphone category. Realme 6 Pro features a big Full HD display at 6.6 inches and a big battery at 4300 mAh which is ideal for heavy smartphone users. Realme 6 Pro is also capable of flash charge promising a full charge within an hour. It has 6 cameras in total, 2 at the front and 4 at the back.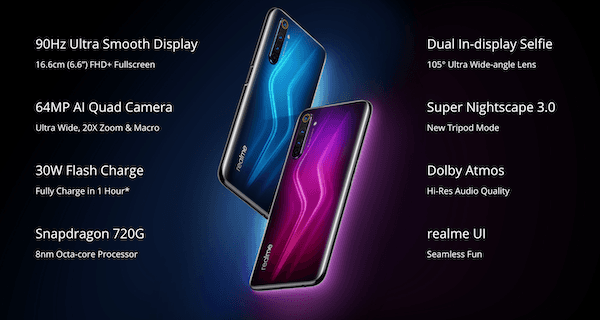 The front cameras consist of a 16-megapixel primary camera and 105 degrees ultrawide camera. For the rear cameras, the user has the option to shoot in 64-megapixel mode. Realme 6 Pro's main selling point is the 90-hertz screen refresh rate which appeals to the mobile gaming community. As for security, Realme opted for a side-mounted fingerprint sensor for this unit. This retails for only 16, 790.00 pesos. If you are keen on trying something new and saving a few thousand pesos without sacrificing the quality of performance then this is the perfect smartphone for you.

VIVO V19 Neo
Vivo V19 Neo has the biggest battery out of the devices mentioned above. This unit has a 4500 mAh battery to keep your phone running all day and fast recharge thanks to its dual-engine fast charging.
Its display is a little bit on the narrower side at 6.44 inches. If you are looking to own this phone, it is still a win because the display is already Super AMOLED and is almost bezel-less with only a punch-hole camera in front. Vivo V19 Neo is also highly competitive with is 91.3 percent screen to body ratio, rear quad camera set-up with super night mode, and super wide-angle camera 120 degree. Vivo is also known for its beautifying apps and it has this AI installed for this device.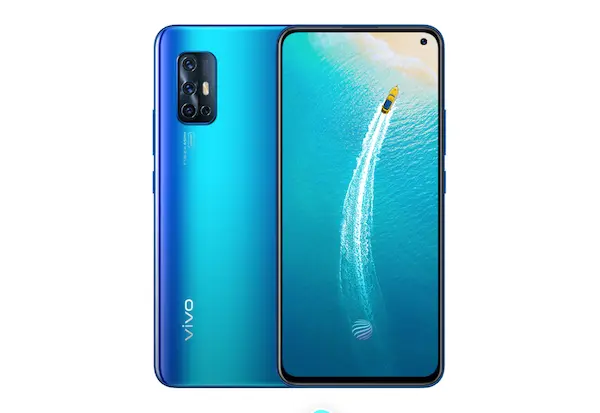 Aside from big battery and great 8gb RAM, gamers will also surely like the voice changer option which enables players to choose from a variety of voices during gameplay as this adds a layer of privacy on the part of the user. Software, hardware, and aesthetics are all intact in this gadget and all for only 17,999.00 pesos.
GO BEAR TIP:
Smartphone companies release units with better specifications at several times of the year. You may not be able to get the perfect specification combo that you like but you may be able to score several discounts, promos, and sales and all you have to do is wait for their announcements. These items are available on your Lazada app which holds monthly sale and offers coupons during the BER months. It is also best to purchase gadgets, appliances, and furniture using your credit card during the BER months because several banks offer additional rebates and discounts for a certain amount of purchase plus zero interest for straight payments and installments to cardholders.