Finder is committed to editorial independence. While we receive compensation when you click links to partners, they do not influence our content.
[EXPIRED] 2K, Okay! 3 Reasons To Enjoy Php2,000 Voucher From Citi Via GoBear
This offer expired December 31, 2020, at 11:59 PM.
Credit cards are a big advantage during the pandemic. Aside from the ease of purchasing without leaving your homes, the use of plastics saves you from handling cash, which might aid in contracting the virus.
Choosing the right credit card will let you maximize the benefits at their full potential. For years now, Citibank is a credit card of choice by thousands of cardholders in the Philippines. Its credit cards are among the Best Credit Cards To Own This 2020 by Gobear.
Citi offers a vast array of credit cards with different perks and privileges that suit your lifestyle. If you're still hesitant about applying for any of those Citi credit cards, then read on to know the five important reasons why you should own one now.
1. Citi credit cards are full of perks
Talk about 10% rebate on interest charges, no annual fee for life, and no interest fees. Citi made it seamless with the Citi Simplicity credit card. The Citi Rewards card is teeming with surprises including 3x points when you dine, shop, or book tickets with Cebu Pacific. You can use your points to pay for purchases or redeem hotel stays, flights, and merchandise.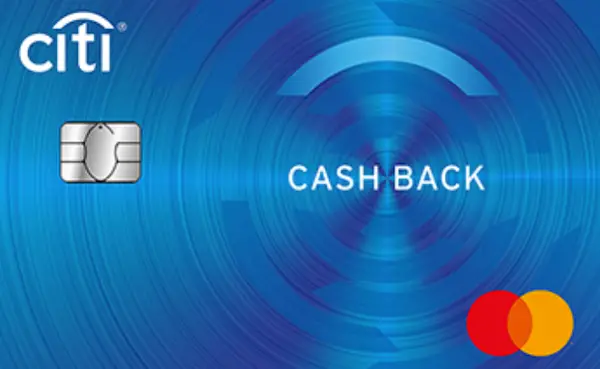 The Citi Cashback Mastercard is best for supermarket purchases where you can grab 6% rebates. Use your Citi Cash Back Mastercard on paying your Meralco bills to get a 2% rebate, too. With the Citi Cash Back Mastercard, you can save as much as Php12,000 per year.
2. Citi offers unparalleled account security
Citi lets you stay on top of your account activities through email, SMS, and push notifications. Citi's unparalleled security measures rarely let unauthorized transactions push through. You'll get a notification every time your card is being used in unfamiliar transactions in unusual locations.
You can also enjoy secure biometrics on Citi's. The voice biometrics is a measure to verify the identity of the caller via his or her voiceprint. It promotes security to access your account with your voice. It also allows for convenience and speed because it no longer requires a personal identification number to be authenticated.
3. Citi will give you Php2,000 vouchers!
You read it right. Php2,000 awaits you when you apply for a Citi credit card via GoBear. Here are the promo mechanics:
Mechanics:
1. Promo is valid from August 1, 2020, to December 31, 2020.
2. For every approved Citibank Credit Card application, the approved applicant will receive 1,000 pesos worth of Netflix Philippines voucher AND 1,000 pesos worth of Grab Food Delivery voucher.
3. All Citibank Credit Card (Simplicity+, Rewards, Cash Back, Mercury Drug, Premier Miles, Shell, Prestige) applications are included in the promo.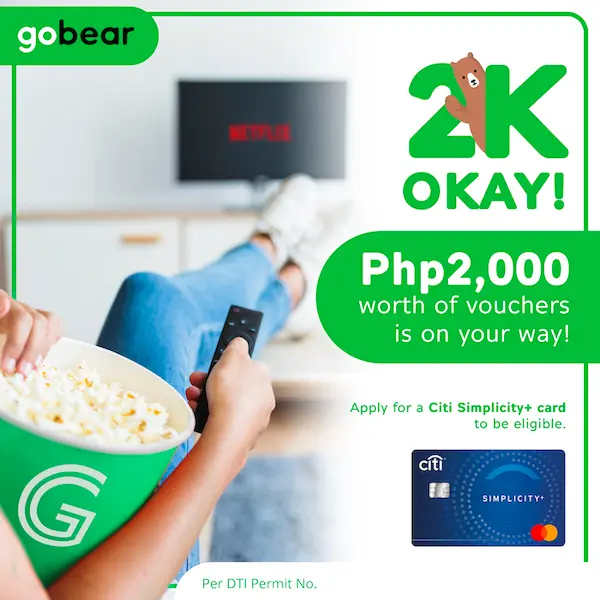 4. This promo is valid for ALL Citibank credit card applications submitted through Gobear (Philippines) Website from August 1, 2020, at 12:00 AM to December 31, 2020, at 11:59 PM.
5. The approved applicant will be contacted through e-mail and SMS at least 7 business days after his/her application is approved by Citibank.
6. The approved applicant will receive his/her Netflix and Grab Food code via e-mail
and SMS at least 7 business days after his/her application is approved by Citibank.
7. The approved applicant must have sent his/her Application Reference Number (ARN) to Gobear PH's email (bearinmanila@gobear.com) within 7 days after his/her application was submitted. Approved applicants who did not send their ARN to Gobear DO NOT qualify for the promo.
8. If the approved applicant's location is NOT serviceable by Grab Philippines, he/she will receive 2,000 pesos worth of Netflix vouchers. Grab the Philippines is available in Bacolod, Cagayan De Oro, Iloilo, Pampanga, Baguio, Cebu, Manila, Bataan, Davao City, and Naga.
Disclaimer:
The credit card offers that appear on the website are from credit card companies from which www.gobear.com/ph receives compensation. This compensation may impact how and where products appear on this site (including, for example, the order in which they appear). This site does not include all credit card companies or all available credit card offers. Please view our advertising policy page for more information.
Editorial Note: Opinions expressed here are the author's alone, not those of any bank, credit card issuer, airlines, or hotel chain, and have not been reviewed, approved, or otherwise endorsed by any of these entities.
What you can do with the vouchers?
The Php1,000 voucher can be used on Netflix. This will allow you to access all streaming movies for two months. You can add a little more from the remaining amount and you'll get 30 days more from your subscription. C'mon, who would even resist the comfort of binge-watching this pandemic?
On the other hand, the Php1,000 is for exclusive use on your Grab food delivery. Oh yes, it sounds like a wonderful weekend with food delivered right to your doorsteps.