Finder is committed to editorial independence. While we receive compensation when you click links to partners, they do not influence our content.
10 Things To Consider When Buying Your First Motorcycle
If you came across this article looking for a sign on whether or not you should get a motorcycle, then yes, this is your sign.
While you're here, you may as well stick around and get ready for the world you're about to enter. The rumors are true, motorcycling can be a very exhilarating and enjoyable experience – which is likely why you're considering getting one – but only if you know exactly what you're getting into.
READ:Two Wheel Temptation: Guide For Your Alternative Ride
Reasons for getting a motorcycle will differ from person to person. Some might need it to better manage city traffic. It might be due to budget constraints as opposed to getting a car. It could also be for sheer recreational purposes or as an alternate transportation option. Whatever the reason, every new motorcyclist needs to get ready for the lifestyle, and that means seriously considering several important things:
1. Know how to ride one
A mistake made by a surprising many: getting on a motorcycle thinking all they need to know is that the right grip is the throttle, the right lever is the brake, and the handlebars steer (as it likely shows with many motorcyclists). Managing a motorcycle is a lot more nuanced than that. How to balance, turning at low speeds, turning at high speeds, clutch, and gear work, proper banking, and many other factors need to be taken into consideration.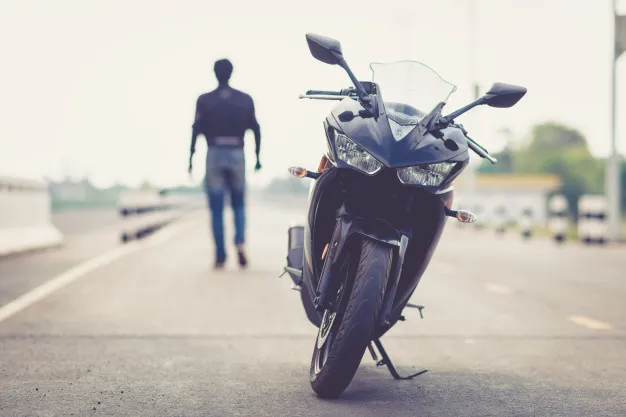 And that's just how to control a motorcycle; actual road rules for motorcycles are a whole different story. It's important to learn the essentials of controlling a two-wheeled vehicle before straddling any motorcycle, and that starts with learning how to ride a bicycle. Once you have that down pat, learn the basics of motorcycle control from an experienced rider – either a formal instructor or an experienced friend. Then and only then should you consider getting your own.
2. Motorcycle weight and size
Once you know how to ride a motorcycle, the next thing you need to consider is what kind of motorcycle is right for you, and that means first studying the size and weight that's right for you. Yes, larger, heavier motorcycles are awesome. But if this is your first time to own a motorbike, it's generally safer to start with lighter units.
When slowing down or parked, bigger motorcycles are harder to control, which can take newbies off guard. Starting small and light allows a new rider to get used to controlling a motorcycle before graduating to bigger bikes. Also, larger, more powerful bikes tend to go faster, which might be dangerous for a new rider who has not disciplined themselves enough.
READ:'Tis The Season To Be Riding
If for any reason you need to go big quickly (perhaps a professional requirement), it's not an impossibility. However, be very mindful of the power of big bikes. Respect that power and be very mindful of its handling as you accelerate, and you'll be fine. Big or small, you might still want to invest in crash bars on your first motorcycle, as you are most certainly going to drop your motorcycle in slow, difficult terrain at least a few times. It's okay, happens to everyone.
3. Rider body measurements
Just because a motorcycle is big, doesn't mean it's high. And just because a motorcycle is small, doesn't mean it's short. Adventure and off-road motorcycles, for example, tend to have high ground clearance, which also means high seats. So even an adventure motorcycle with the smallest engine may still require a rider to be tall.

Always choose a motorcycle that allows you to put both feet firmly on the ground when the bike is stopped, as there is no other way to keep your balance when a two-wheeled vehicle isn't moving. Don't even settle for a motorcycle that you can still keep upright with just one foot on the ground; this won't help you much in situations where you'll need to find your balance quickly. If you can't sit with both feet flat on the pavement, then that machine is too high for you.
Also, see if the seat itself is comfortable for you, and check if you're comfortable with how your legs bend when on the footpegs. Also, check if your index and middle fingers can reach the brake and clutch levers while the rest of your hand is gripping the handle.
Some motorcycles allow the handles and pegs to be adjusted, while some dealerships can provide sizing/positioning options. If you can't sit or stand comfortably, manipulate the levers properly, or rest on the footpegs adequately, then look at another motorcycle option.
4. Riding style
The different kinds of motorcycles on the market aren't just for looks. Every style has a purpose, and that purpose depends on the riding situation you expect to find yourself in. Sport for going fast, a cruiser for relaxed riding, an adventure for off-road, scooters and standards for city riding, etc.
All these motorcycle types put you in different riding positions to suit your riding purpose. Plus, many modern bikes are also styled for looks in addition to purpose, so you may find a new cruiser that's styled as it came from the 1930s, or a sportbike made to look like a standard. First and foremost, be sure to pick the right style for your purpose, then choose the aesthetics available as a secondary consideration.
READ:New Rides in the New Normal: Should You Consider Getting A New Car?
5. Brand reliability
Around 71% of vehicles on Philippine roads are motorcycles. Needless to say, the demand for motorcycles is being met by ample supply. But is the supply of good quality? There are many trusted motorcycle brands for the everyday motorcyclist and recreational riders, such as Yamaha, Honda, Kawasaki, Suzuki, and KTM.
Newer players like Rusi and Keeway are also slowly making a name for themselves. You also can't go wrong with big bike brands like Harley-Davidson, BMW, and Ducati. When considering any other brand, however, it's perhaps best to go online and read reviews first. Professional reviews can give you more details about a motorcycle's function and performance, while reviews from actual riders can give you the best opinions about a motorcycle's quality. Generally, if it's too cheap and from an unknown brand, steer away from it.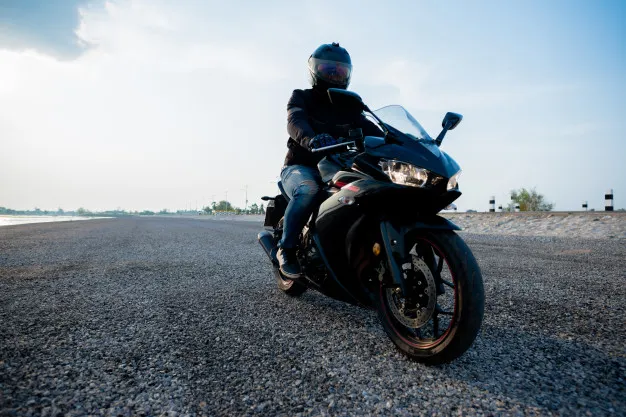 6. Budget considerations
Whether you're in the market for an uber-iconic motorcycle or a budget meal bike, there's always a motorcycle to fit everyone's wallet. To give a general idea of how much you'll need to spend, here's a tip: In broad strokes, as of 2020, the price of a new motorcycle from a reliable brand is proportional to its engine displacement, which is around P100,000 per 100cc. You can therefore expect scooters and underbones of around 100 to 150ccs to be upwards of P100,000.
A 650cc adventure bike would be around the P600,000 to P700,000 price range, while motorcycles with 1,000cc or above engines can go for around P1 million and more. Naturally, brand and features will play heavily into the exact price. The stripped-down appeal of a 1,000cc Suzuki Katana, for example, may go as low as P817,000. On the other hand, a Ducati Pinagale V4, with its finely tuned 1,100cc engine and performance features, sells for a whopping P3.2 million – you have to pay a premium to own one of the fastest motorcycles in existence.
Brands such as BMW and Harley-Davidson are also known for their relatively high price tags, but you also get some of the best quality and service money can buy. If you know your budget, you, therefore, know what engine size you'll be getting.

7. Safety
If you're in the market for a motorcycle, then you should also be in the market for safety gear. It should be the first thing you buy before you visit a motorcycle showroom. After all, you can't legally leave the showroom with your new motorcycle if you don't have at least a helmet (though some dealerships do throw in a helmet with every motorcycle purchase).
Basic, good quality helmets can go for around P2,000, while it's not unusual for helmets with the best safety and comfort features to go for as high as P50,000 or more. Helmets are offered at different price ranges to ensure that they are within reach of any rider. However, expensive helmets aren't just expensive because of brand recognition.
The more expensive a helmet is, the more feature-packed it's going to be, which means better chances of keeping you alive in an accident. As a general rule, get the most expensive helmet you can afford, which should pass DOT or ECE safety standards (indicated by a print or sticker on the back of the helmet).
READ:Best Sedan Cars For First-Time Drivers
While helmets are the absolute minimum safety gear required by law, it's always a good idea to also invest in gear for there rest of your body. After all, while a helmet can save your life, body gear can save your livelihood. Try working on anything with broken hands because you didn't wear motorcycle gloves during a crash. CE-rated jackets, pants, gloves, and boots are always recommended when on any motorcycle.
8. The right attitude
A good part of the appeal of motorcycles is that all your senses are engaged. This sensory experience can be fairly intoxicating, and many riders will want more. If you're not careful, this desire for more can compromise your riding mentality, which can lead to a lack of judgment.
Starting with – and keeping – the right riding attitude is therefore essential in entering the world of motorcycling. Always follow traffic laws, even if you think you can get away with a small violation. When you start violating small road rules, it's only a matter of time before you consider those small rules to be nothing, and what used to be big rules become the small rules.
Then those become nothing as well, and you'll end up with a mentality of breaking rules left and right, which will always end in accidents. Once you start riding, promise yourself and especially the loved ones that you'll ride safely, andkeep that promise. Remember that there's always someone waiting for you to come back home.

9. You're unofficially joining a club
The moment you start riding a motorcycle, you've joined a community united by the love of motorcycling. This is not an exaggeration or metaphor. Once you become a rider, you are expected to practice a degree of rider etiquette centered on looking out for each other. Because motorcycling is inherently more hazardous than driving cars and don't have room for the same safety features (motorcycles don't have spare tires, for example), it's customary for a rider to help another rider who looks like they're in need. While this isn't as emphasized in city riding where most riders in trouble can often get help from passers-by, in the highways and open roads, motorcyclists often only have each other to rely on.
Therefore if you see a rider parked by the roadside, it's good rider etiquette to check on them. They could just be resting, or they might genuinely need help (the universal rider signal for help is placing their helmet on the road). Extend that help if you can, such as offering to give a back ride to where the other rider needs to be or where he can get better assistance, such as a mechanic or vulcanizing shop. Or you can find the appropriate assistance yourself and bring it back to the rider in need. You can expect other riders to do the same for you, too.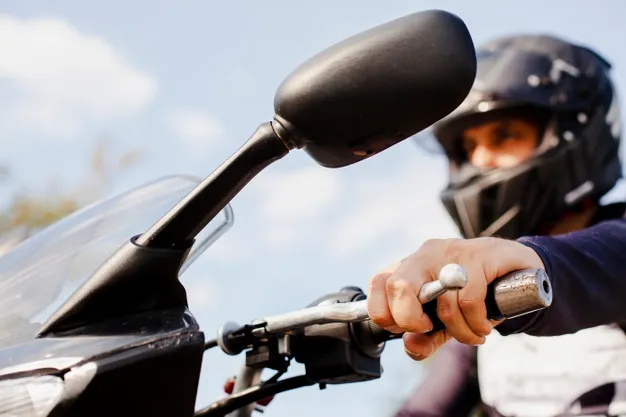 10. Learn the "rider wave"
While helping each other is the core of rider etiquette, acknowledging each other is also customary. You may find that once you bring your motorcycle out into the highways, other riders will stick their left arm out toward you and give you a sideways "peace" sign. This is called the "rider wave" or "motorcycle wave", and is the way one rider acknowledges the presence of another without saying a word. Whether or not you're on a cruiser meeting a sport rider, or an underbone rider crossing paths with an adventure biker, when you see another rider come toward you from the opposite direction doing this sign, try to acknowledge and signal back! Note though that if you can't signal back, nobody will think less of you.
READ:Important Things to Remember After an Accident
Other riders know that your left hand could be in the middle of engaging the clutch when you pass each other by, so don't feel bad if you can't counter-wave, and don't force yourself to do so if your left hand is preoccupied. As a new rider, you may not feel comfortable letting your left hand off the grip at first, so don't feel too bad if you can't do it immediately; it does take practice. Alternately, you can do two quick beeps with your horn in place of the rider wave.
And now that you're a rider, you don't have to wait for others to signal before you signal back. You can do it first, too! Other riders will appreciate it and remember you for it.
Welcome to the world of motorcycling, fellow rider!