Pfizer, other vaccine stocks have been falling. Are they buys now?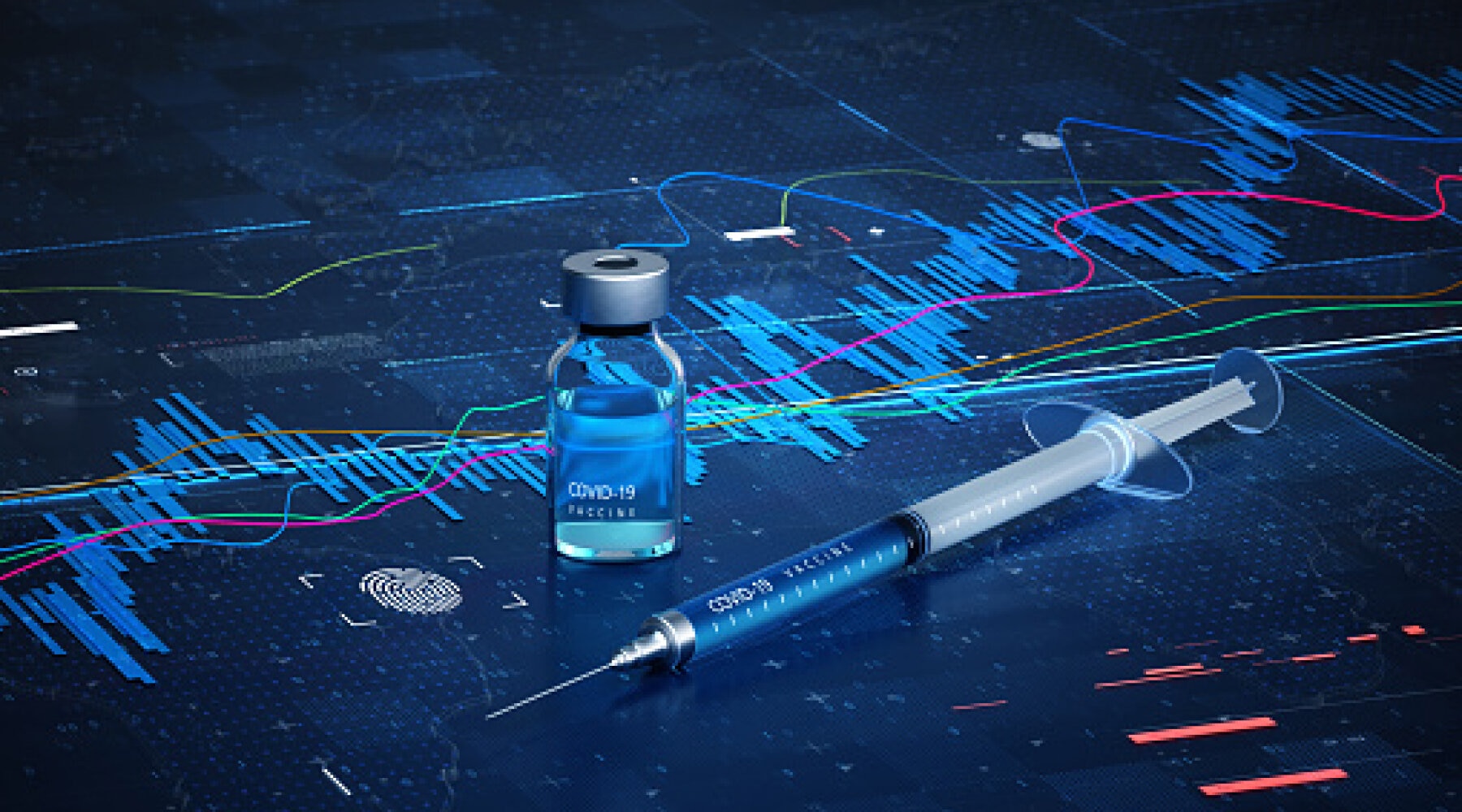 These stocks have given up many of the gains made during the pandemic but might still be solid long-term plays, even as new COVID cases appear to slow.
COVID-19 vaccine stocks have been falling lately and in fact over the last several months, as Omicron cases across the world ebb.
Shares of BioNTech (BNTX), Moderna (MRNA) and Novavax (NVAX) were up Tuesday at the time of this writing, but these stocks saw a considerable drop Monday and are way down for the year and from their 2021 highs. Pfizer (PFE) stock was down slightly Tuesday at the time of this writing, extending a deep Monday drop and a larger decline that started in December.
These stocks, which rose as they developed and released vaccines during the pandemic, seem to be losing that COVID premium. But they might be solid long-term plays at these lower levels.
Pandemic fades; so do pandemic stocks
New COVID cases have been rapidly dropping across the world over the last month. Last week, White House chief medical advisor Dr. Anthony Fauci told The Financial Times that the US is exiting the "full-blown pandemic phase of Covid-19."
That's good for the world, but it's hurt the portfolios of investors in a wide range of stocks that rose during the pandemic. Many of the so-called stay-at-home stocks have fallen significantly from their highs last year, as their main growth driver has started to wind down.
That's been true of vaccine makers as well.
COVID-19 vaccine makers may also be trading lower after the FDA postponed a Vaccines and Related Biological Products Advisory Committee meeting originally scheduled for February 15. Pfizer reportedly has new data regarding its Comirnaty vaccine for use in children aged 6 months to 4 years old, and the FDA wants time to consider the additional data.
Here's what you need to know as an investor going forward.
Is the drop a signal to buy?
Shares of BioNtech, Moderna and Novavax saw enormous gains in 2020 and 2021 but have since retreated. For all three companies, their COVID vaccines were their first commercialized products.
All three have lost well more than half their value since hitting 2021 highs. BioNTech is down 66.7% from its August high of $464, while Moderna is down 71.36% from its August high of $497.49. Novavax hit $331.68 in February 2021 but has since dropped 75.85%.
Pfizer, a pharma giant and not a biotech with a single product on the market like BioNTech, Moderna and Novavax, didn't see the same type of explosive gains in 2020 and 2021. It also hasn't seen the same degree of pullback in its share price over the last several months. That said, Pfizer is currently down nearly 20% from its December high of $61.71.
Are these stocks trading at a discount?
What forecasts are saying
With shares prices of several of these stocks trading well below their previous highs, let's take a look at some forecasts.
Pfizer
Pfizer brought in $36.78 billion in 2021 from sales of its COVID-19 vaccine Comirnaty and expects sales of $32 billion in 2022, which is a 13% year-over-year decline. Pfizer and its partner BioNTech split Comirnaty revenue 50/50.
According to data analytics company GlobalData, Pfizer and BioNTech are expected to hold 59.1% of the COVID-19 vaccine market in 2022. But their market share is forecasted to drop to 6.2% by 2026.
While Comirnaty is Pfizer's largest revenue producer, it's not its only source. Pfizer also makes money from its oncology, internal medicine, hospital, inflammation and immunology and rare disease segments. For the full year 2021, Pfizer's vaccines segment brought in $42.63 billion, while the rest of its segments combined generated $36.93 billion. The company expects between $98 and $102 billion in total revenue for 2022.
From a valuation standpoint, Pfizer's forward price-to-earnings (P/E) ratio sits at 8.72, which is less than the pharmaceutical industry's average of 24.29. This could mean either this stock is undervalued by the market or the market is pessimistic about its future earnings. Keep in mind that the P/E ratio is just one metric and is by no means the only indicator of whether a stock will perform well over time.
Of the 22 analysts covering Pfizer stock, 12 rate it a either a Strong Buy or Buy, compared to nine Holds and one Sell. The average stock price target is $60.21, which is 22.01% higher than its current price.
BioNTech
BioNTech is expecting to bring in between $18.18 billion and $19.32 billion in 2021 from sales of Comirnaty. The company is scheduled to release its fourth quarter and full year 2021 financials on March 30, at which point we may get the company's forecast for 2022. Analysts estimate BioNTech will bring in revenue of $19.41 billion in 2022, which is a 2.02% drop from the $19.81 billion they expect for 2021.
While Comirnaty is BioNTech's only commercialized product, it has several drugs in its pipeline. Its portfolio of product candidates focus on the treatment of cancer, infectious and rare diseases. Five of its oncology drugs are in Phase 2 trials, and its mRNA influenza vaccine is currently in Phase 1 trials.
BioNTech's forward P/E is 5.09, much lower than the biotechnology industry's average of 146.61. Again, this could mean the stock is undervalued by the market.
Analysts see shares of BioNTech climbing back to $306.01 over the next 12 months. This represents an 88.85% premium. Six of the 16 analysts covering the stock rate it a Strong Buy or Buy, while nine give it a Hold and one analyst gives it an Underperform.
Moderna
Moderna reported third-quarter 2021 financials in November, saying it expects 2021 sales of its COVID-19 vaccine Spikevax to be between $15 billion and $18 billion. This is compared to analyst estimates of between $16.74 billion and $18.81 billion for the year.
The company projects 2022 sales to be in the range of $17 billion to $22 billion, which is lower than analyst estimates of between $16.45 and $29.45 billion. Moderna is set to release its fourth quarter and full year 2021 results on February 24, at which point we'll get updated numbers.
GlobalData projects Moderna to capture 30.8% of the COVID-19 vaccine market in 2022. By 2026, this is expected to drop to 27.3%. Moderna currently has a forward P/E of 5.05.
Likewise, Moderna's SpikeVax is its only commercialized product so far. But the company has a broad portfolio of clinical programs currently in development. These include Flu vaccines, a respiratory syncytial virus (RSV) vaccine and an HIV vaccine.
20 analysts currently cover Moderna stocks, 10 of which give it either a Strong Buy or Buy. Six rate it a Hold, while four put it at Underperform. The 12-month average price target for Moderna stock is $266.83, a 79.43% premium over its current price.
Novavax
Novavax has only recently begun shipping and administering its COVID-19 vaccine Nuvaxovid around the world. The company is expecting to produce in excess of 2 billion annual doses in 2022. It's expected to release its fourth quarter and full 2021 financials in early March, and we might see some sales forecasts for 2022.
Wall Street estimates Novavax will generate between $1 billion and $2.12 billion in revenue for 2021 and between $777.35 million and $7.95 billion in 2022. GlobalData expects Novavax to capture only 10% of the COVID-19 vaccine market in 2022. But the company is expected to catch up with Pfizer/BioNTech and Moderna over the next several years, contributing to 39% of total COVID vaccines sold in 2024. By 2026, Novavax is expected to hold 66.5% of the market share.
Aside from Nuvaxovid, Novavax has a seasonal influenza vaccine, NanoFlu, that recently met its primary endpoints in a clinical trial. Novavax is working to advance NanoFlu to regulatory licensure. It's also developing a COVID-19- NanoFlu combination vaccine. Novavax is also working to bring an RSV vaccine to market.
Of the seven analysts covering Novavax stock, two give it a Strong Buy, compared to five Holds. The stock has an average 12-month price target of $232, which is 171.28% higher than its current price.
Novavax has a forward P/E of just 1.79, significantly lower than the biotechnology industry's average of 146.61. This could mean that Novavax stock is undervalued at its current price.
Beyond the pandemic
While new COVID cases appear to be falling, experts suggest the pandemic is not yet over. According to recent guidance from the World Health Organization (WHO), the COVID-19 pandemic continues to constitute a public health emergency of international concern (PHEIC).
Revenue from COVID-19 vaccines will likely wane over time, though, so the key is already to look past the pandemic. The analysts certainly seem positive, and companies all have several drugs in their pipeline that will contribute to further revenue growth if they are eventually brought to market.
You'll have to evaluate those pipelines and see if you agree with the analysts.
At the time of publication, Matt Miczulski owned shares of BNTX, MRNA and NVAX.
Paid non-client promotion. Finder does not invest money with providers on this page. If a brand is a referral partner, we're paid when you click or tap through to, open an account with or provide your contact information to the provider. Partnerships are not a recommendation for you to invest with any one company. Learn more about how we make money.
Finder is not an adviser or brokerage service. Information on this page is for educational purposes only and not a recommendation to invest with any one company, trade specific stocks or fund specific investments. All editorial opinions are our own.