Finder is committed to editorial independence. While we receive compensation when you click links to partners, they do not influence our opinions or reviews. Learn how we make money.
How to spot and treat heatstroke in dogs
Prevention is the best medicine, but pet insurance can help your dog get treatment if needed.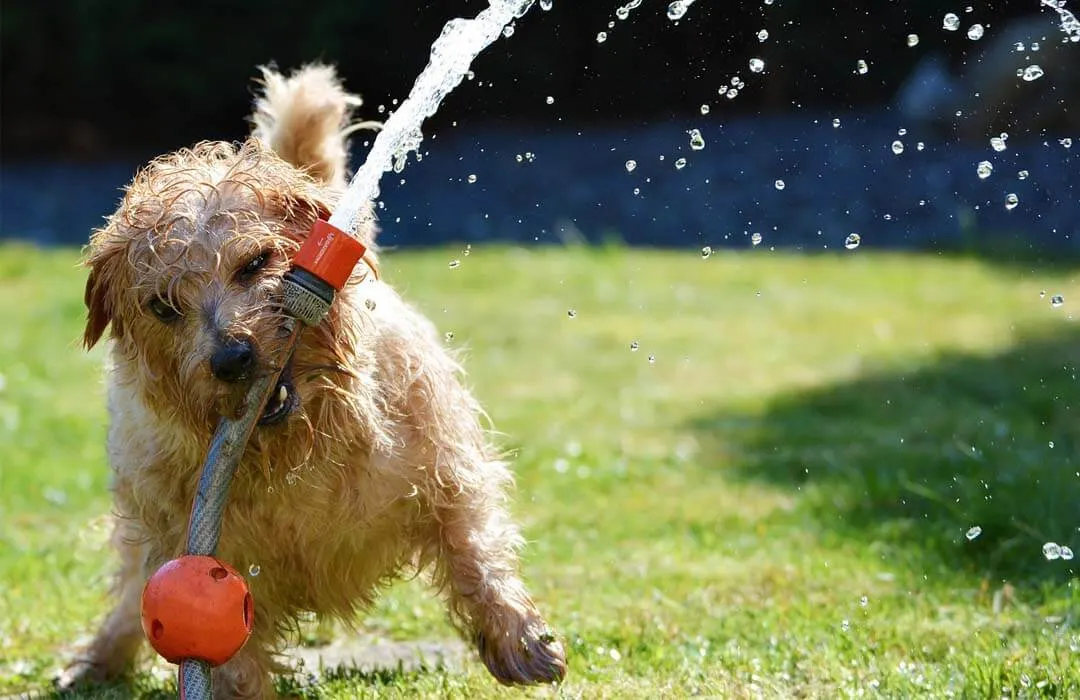 Heatstroke is a serious health risk that many dogs get exposed to through a hot environment and health factors like the dog's breed, age or weight. Because the condition can lead to organ damage or even death, owners need to cool their dogs quickly if the dog is showing concerning symptoms. The best prevention comes from keeping them in a mild environment with plenty of shade and water.
What is heatstroke?
Heatstroke is a life-threatening condition that happens when a dog's body temperature rises above the normal range, which stands between 99.5 and 102.5 degrees Fahrenheit. Heatstroke can also be called heat stress, heat exhaustion or hyperthermia.
Dogs and cats can't sweat to lower their temperature except through their paw pads. They rely on evaporative cooling like panting or licking their fur to beat the heat. These pets can easily overheat in high temperatures, such as the car or backyard on hot summer days.
What causes heatstroke?
Dogs can suffer from heatstroke because of factors involving their breed, weight or environment. Several key factors involved with pets getting heatstroke:
Hot, humid environment without ventilation
Inadequate shade
Dehydration
Excessive exercise during hot days
Brachycephalic breeds like French bulldogs or pugs
Brachycephalic breeds, including Pugs, Bulldogs and Boston Terriers, have flat noses and smaller nasal passages. Because it's difficult for them to get enough air to cool themselves down, even mildly high temperatures can lead to heatstroke in these breeds.
Signs of heatstroke in dogs and cats
You may need to act quickly to cool your pet down if you notice these symptoms:
Body temperature at 103 degrees Fahrenheit or higher
Excessive panting
Excessive drooling or thick saliva
Lethargy
Disorientation, dizziness or confusion
Vomiting or diarrhea
Distress
How do I know if my dog is dehydrated?
Signs of dehydration in dogs can include urinating less than usual, lost skin elasticity, dry nose or gums, lost appetite, vomiting or diarrhea. You can pinch your dog's skin to test its elasticity. If the skin takes time to bounce back, your dog may be dehydrated.
Why is heatstroke so serious?
Just as with humans, heatstroke in dogs doesn't just mean they need to cool down from overheating. Heatstroke can turn into a life-threatening condition when not treated quickly. It can damage vital organs, leading to seizures, collapse, coma and even death. However, many dogs can recover quickly if owners treat it during the early stages.
How to treat heatstroke
If your pup is showing signs of heatstroke, they likely need urgent treatment. You can take immediate action to:
Remove them from the heat. Get your dog out of the hot environment and in a shaded area. If possible, take them to an air-conditioned room to cool them down more efficiently.
Spray your pet down. Put your dog in a cool or lukewarm bath or spray them with cool water. Please note that you should not use icy cold water or ice since these could constrict blood flow, slowing down the cooling process.

Give them a drink. If your dog will accept water, give them a chance to drink from a large bowl.
Maintain airflow. Use a fan or air conditioner to keep air circulating around your dog as much as possible.
Call your vet. Get instructions on the next steps from your vet since your dog may need monitoring to ensure a full recovery. You may want to keep wet towels in the car to continue cooling your pet down on the way to the vet.
What does treatment involve?
The medical treatment your vet provides will differ based on the severity of each case and your dog's ability to recover. After assessing your dog's health, the vet may decide on the best treatment that may include:
Putting your dog on an IV to cool and hydrate the body
Performing blood tests to check organ function
Providing plasma transfusions for dogs that take longer for blood to clot
Providing medication to kill bacteria or support proper digestion or heart function
How to prevent heatstroke
Keep these simple tips in mind to protect your dog from developing this serious health problem in the first place:
Never leave your dog in the car. Even if the windows are open and the outdoor temperatures mild, leaving your dog in the car can quickly lead to overheating. In fact, it can reach up to 20 degrees higher than the outside temperature in as little as 10 minutes.
Avoid vigorous exercise on hot days. Consider changing your walk or run to early morning or evening to avoid getting too hot from exercise.
Provide plenty of water. Make sure you check your dog's water bowl several times per day or provide multiple bowls, especially during summer months. If you do brave an outdoor adventure with your canine friend, remember to take plenty of water for both of you to keep cool.
Provide shade for outdoor dogs. If your furry friend lives outside, make sure they have shelter to escape the heat.
Protect at-risk breeds. If you own a breed that's predisposed to heatstroke like a short-nosed pug, take extra care to keep your dog out of the heat.
Does pet insurance cover heatstroke?
Yes, pet insurance can cover heatstroke. Depending on your policy and reimbursement chosen, you may still pay your vet's exam fee and a portion of the bill. For example, if your pet policy covers 80% of the bill, you would cover the other 20% for your dog's treatment.
However, if you have an accident-only policy, you can review your policy terms to see whether your insurance company treats heatstroke as an accident or illness. Many companies impose a waiting period of 30 days for illnesses on new policies.
Compare pet policies that cover heatstroke
Bottom line
Your dog may thank you for keeping them safe during hot weather, offering plenty of shade, water and a mild environment whenever possible. But a pet insurance policy can help you stay prepared if you start noticing heatstroke symptoms like excessive panting or lethargy in your dog.
Frequently asked questions about heatstroke in dogs
Read more on this topic