Finder is committed to editorial independence. While we receive compensation when you click links to partners, they do not influence our opinions or reviews. Learn how we make money.
Compare personal loans vs. home equity loans
Two methods for borrowers to choose. What are the differences?
If you're a homeowner and need to borrow money for a renovation or other large expense, you may be considering getting a loan. Personal loans and home equity loans vary in a few ways. Read this guide to learn more about how they differ and how you can compare your options to make the best choice for your financial situation.
So, what is a home equity loan?
Home equity loans let you capitalize on the equity you have in your existing home. They enable you to utilize the capital gains of your house without needing to sell it. Your home equity is essentially the current value of your property minus the mortgage you owe.
For instance, consider that you own a house with a current market value of $500,000 and still owe $150,000. By using the formula given above, you'll have about $350,000 in equity. Lenders usually offer around 80% of the value of the property as a home equity loan, so your total borrowing power may be closer to $280,000.
What you need to know about personal loans
There are a number of different types of personal loans, such as car loans for purchasing vehicles, unsecured loans for a wedding, and so on. Here are a few points about different personal loans you can take out:
Fixed rate personal loans have interest rates that don't change throughout the loan term.
Variable rate personal loans usually offer lower interest rates than their fixed counterparts. There is, of course, the catch that these rates could rise in the future.
Unsecured personal loans give you access to funds even if you don't have any assets to guarantee the debt.
Secured personal loans require you to list a valuable asset as collateral as a guarantee.
Since most personal loans, both unsecured and secured, only go up to $100,000, you'll have much more available with a home equity loan if you need to tackle a large amount of debt.
However, even with an equivalent interest rate, a personal loan may still cost you less. Large monthly payments combined with a loan term of five or seven years means that the interest you'll be paying on a personal loan will be less than the interest you'll pay on a home equity loan.
Compare personal loan options
Main differences between personal loans and home equity loans
| | Personal loan | Home equity loan |
| --- | --- | --- |
| Collateral required | None, if unsecured | Your home |
| Interest rate | Generally 2.19%-36.00% | Generally 3.74%-7.50% |
| Repayment period | Usually 1-7 years | Usually 20-30 years |
| Maximum loan amount | Can be up to $100,000 | Typically up to 80% of your home value |
Which is better for you — a personal loan or home equity loan?
Both home equity loans and personal loans offer specific benefits. In particular, the former is useful when you have aggregated equity in your house, while the latter is useful especially if you don't have any assets to guarantee the loan.
Home equity loans can also offer considerably lower interest rates than personal loans. This means that your monthly payment for any additional amount you withdraw on the home loan can be lower than if you took out a personal loan.

Keep in mind, however, that this interest is spread over a much longer term – 25 or 30 years compared to a common maximum of seven years for a personal loan. Because of this, you may end up paying more in the long run with a home equity loan.
For both personal loans and drawing on home equity, you may need to pay associated fees depending on the requirements of the lender. If you stay with your current mortgage lender, you may be able to avoid refinancing fees depending on the flexibility of your loan, but again, it depends on the lender and on the loan in question. Refinancing with a separate lender almost always carries additional fees and charges, so this will need to be taken into account.
4 questions to ask when choosing a loan
Making a decision can be tough when you have a lot of options and no guidance. You can use these questions to jumpstart your decision-making process so your final choice reflects your financial needs.
Why do you need the loan?
The purpose of the loan should weigh heavily in your decision to take out a home equity loan or a personal loan. If your debt is currently unsecured — usually as credit card debt or other, smaller loans — you may want to take out a personal loan rather than risk using your house as security. Conversely, home renovation projects that invest more value back into your home may be a worthwhile use of a home equity loan since you may save money on interest.
How much do you need to borrow?
Since the equity in your home is the amount your property is worth minus the amount you currently owe, you may not have enough equity built up to cover a large loan. If you don't have enough equity to cover what you need to borrow, then you may want to invest in a personal loan.
Do you have the time to take out a second mortgage?
Personal loans are fast, especially when you opt for a nontraditional lender. Home equity loans take much more time and are essentially a second mortgage against your home, meaning you have to fill out more paperwork and wait for a bank to process it.
Are you okay with using your home as collateral?
Using your home as collateral is risky business. If you're unable to pay, your lender has every right to foreclose on your home, leaving you with debt and no place to go. A home equity loan should only be borrowed if you know you'll have the money to pay back what you owe. Otherwise, an unsecured personal loan may be the better decision.
Monthly payment vs. repayment period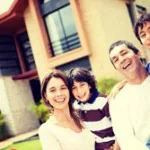 Consider that you're five years into your 30-year mortgage and you need a loan of $20,000.
A secured personal loan has an interest rate of 8.90% while a home equity loan has a rate of 6.39%. Your monthly mortgage payments will increase by $150 if you take on the home equity loan, which is less expensive than the $321 payment for the personal loan.
However, over the life of your mortgage, you'll pay more in interest on the home equity loan than you would on the personal loan. Even though the interest rate is higher on the personal loan, it will still be cheaper over the long run.
The decision rests in whether you want lower monthly payments or a less expensive loan.
Consider the interest when comparing personal loans and home equity loans
It's worth noting that the longer you carry your debt, the more you pay in interest. That's why choosing a loan with the shortest repayment term you can afford usually saves you money in the long run.
Borrowing against your home's equity too frequently could be costly. Carefully examine the terms to see if a personal loan with a shorter repayment period might work better for you.
Compare personal loans to even more borrowing options
| | |
| --- | --- |
| Personal loan vs. Line of credit | |
| Personal loan vs. Mortgage | |
| Personal loan vs. 401(k) loan | |
| Personal loan vs. Business loan | |
| Personal loan vs. Student loan | |
| Personal Loan vs. Home equity line of credit | |
Frequently asked questions