Finder is committed to editorial independence. While we receive compensation when you click links to partners, they do not influence our opinions or reviews. Learn how we make money.
Am I eligible for a personal loan?
Here are the five main factors lenders consider and what you'll need to qualify.
Applying for a personal loan is taking a big financial step. Whether it's secured or unsecured, fixed rate or variable, for $3,000 or $30,000, you'll likely need to meet some general eligibility criteria to qualify.
Our guide discusses the general requirements set by most lenders when they determine if you're eligible for a loan. While every lender is different and there's no guarantee you'll be approved, making your application as flawless as possible is a good start to finding a loan that works for you.
What are the five factors I should focus on?
Every loan application is different, but many lenders want to make sure these five areas are strong before they approve your loan request.
Income
Nearly every lender will require that you earn a steady income. This is to ensure you have the ability to make the minimum monthly payments set by your loan contract. While some will take any income amount, larger loans may require that you make a minimum income before you can apply.
Employment
This differs among lenders. If they have an employment requirement, you may need to work full-time in order to be considered. If you're employed part-time or are self-employed, you'll still have loan options, though they may be fewer than those offered to people with traditional forms of employment.
If you're unemployed, many lenders accept applicants who receive government benefits as a form of income, but you'll still need to demonstrate you can afford to repay the loan while on those benefits.
Your job title might be more important than you think
In addition to making sure that you're employed, some lenders might ask about your job title. They do this for a couple reasons. For example, some lenders cross-reference your job title with your salary to as a protection against fraud.
But lenders also might use your job title to predict how likely you are to default and this can affect your interest rate. For example, an engineer with the same application as a lawyer might qualify for a lower rate because engineers have a higher rate of on-time loan repayments.
Credit history
A good or excellent credit score with a solid history–one that has no major dings for missed payments or loan defaults–is the easiest way for lenders to know that you're a trustworthy applicant, especially if you're applying at a bank. If your credit score isn't the best, there are bad credit loan options for you.
Loan security
There is a major difference between secured and unsecured loans. When you apply for a secured loan, like an auto loan or a mortgage, you're providing collateral in the event that you default. When you apply for an unsecured loan, one that has no collateral attached, your credit score becomes the main deciding factor.
Assets, debts and expenses
You'll be asked to list your assets, debts and expenses on your application. Lenders use your debt and income to calculate your debt-to-income ratio (DTI). More income may boost your application whereas debts, such as credit cards, store cards or other loans, can hinder your application. Expenses are always estimated, but lenders generally have a good idea when you're under- or overestimating based on the data of other customers.
Think you'll qualify? Here are the top online lenders to compare today
Quick tips to get your personal loan approved
If you're unsure about your eligibility, consider these tips to help give your personal loan application a boost:
Open a checking account with the lender you're applying with. If you're applying with a bank or credit union and don't need a loan right away, establishing a history with the lender can help get your future loan applications get approved.
Lower your debt-to-income ratio. Lenders generally want to see a DTI of less than 40%. You can lower yours by bringing in more money each month and paying down your outstanding balances.
Have a steady source of income. Lenders may not want to take the chance of giving you a loan during your probational 90-day period at work or if you don't make the same amount each month. No matter how secure you think your role is, you may seem more risky if you've been employed for less than three months at your current job.
Seven tips to increase your chances of approval
How to increase your chances of getting a low rate
From applying with a creditworthy coapplicant to joining a credit union, here are a few ways to up your odds of getting approved for the lowest rate possible.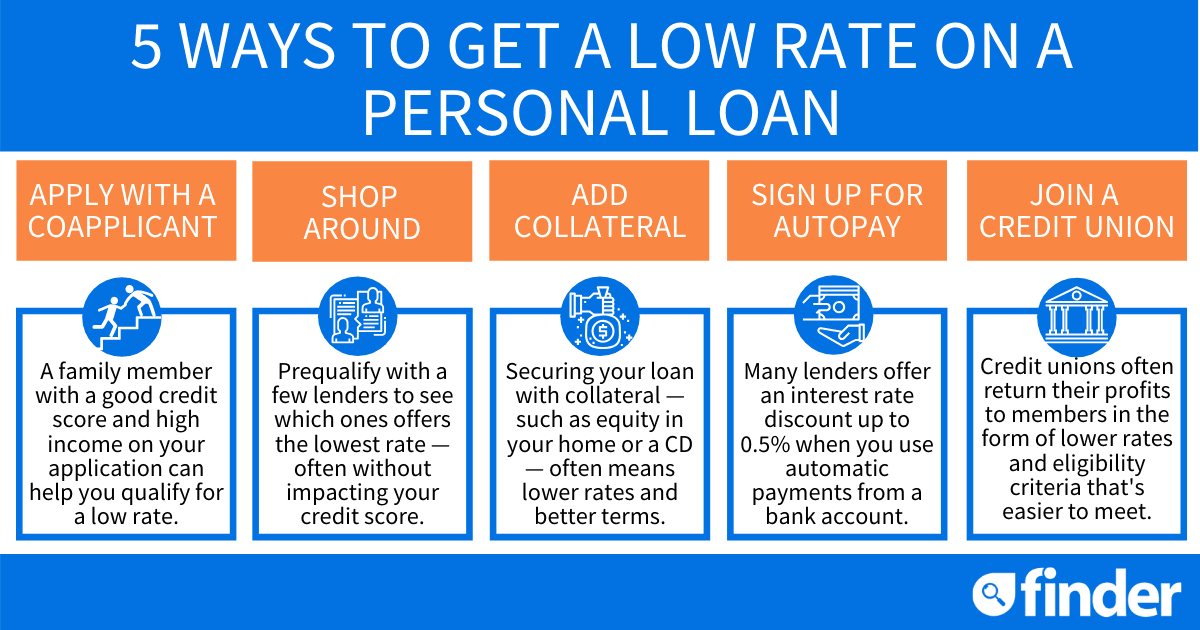 Bottom line
Remember that no personal loan application is guaranteed, so use the guide above to ensure you're giving yourself the best chance of approval you can. You can also compare your options to find the right lender that fits your needs.
Frequently asked questions