Paysend review
Speedy money transfers to 70+ countries but pay attention to the offered exchange rates.
Paysend is a money transfer company operating out of the UK. It's not a bank, rather it offers transfers to multiple countries around the world — and is continually adding more. But because Paysend works only online, you can't pay in cash or have cash delivered when sending money, regardless of location.
Why should I consider Paysend?
Straightforward fee structure. When sending from the US the fee will always be $2.
Speed. Paysend estimates delivery within minutes for most transfers.
24/7/365 support. Contact Paysend anytime through chat or email when you need help.
What to watch out for
Account verification can take a while. Creating your account is fast, but verifying your account to raise your limits can take up to a business week or more.
Exchange rate markups. Paysend makes money by offering less-than-ideal exchange rates on transfers.
Restricted sending options. You can't pay in cash or have cash delivered for pickup.
Paysend exchange rates and fees
Paysend's fees and exchange rates are fairly straightforward when sending money from the US, no matter how you pay for your transfer.
Paysend fees
Paysend fees are always a flat rate that depends on what country you're sending from:
Paysend exchange rates
Paysend doesn't offer the mid-market exchange rate, which is the best possible rate for your exchange. Instead, Paysend adds a margin onto the exchange rate to make money. To help read the table below, the higher the margin, the less money your receiver will get.
When we checked on November 2, 2020, Paysend's exchange rates were as follows:
Note: Paysend updates its rates daily, so these numbers are just an indication.
| Transfer | Paysend rate | Mid-market rate | Margin |
| --- | --- | --- | --- |
| USD to MXN | 21.1547 | 21.4898 | 1.56% |
| USD to BDT | 83.5562 | 84.8296 | 1.50% |
| USD to PHP | 47.4278 | 48.4342 | 2.08% |
| USD to CNY | 6.5577 | 6.6906 | 1.99% |
| USD to JPY | 102.7203 | 104.799 | 1.98% |
How long does a Paysend money transfer take?
According to Paysend, most transfers happen in a few minutes or less. However, there are some factors that may influence the time it takes for your money to arrive:
Bank accounts: instant or up to five business days. Paying by or sending to a bank account may delay your transfer by a few business days depending on the bank's processing times.
Debit and credit cards: typically instant. Card transfers through Paysend typically process and are delivered within a few minutes at most.
What currencies can I send with Paysend?
Paysend offers transfers to more than 35 currencies, including:
Bangladesh: Bangladesh taka (BDT)
China: Chinese yuan (CNY)
Costa Rica: Costa rican colon (CRC)
Europe: Euro (EUR)
India: Indian rupee (INR)
Japan: Japanese yen (JPY)
Mexico: Mexican peso (MXN)
New Zealand: New Zealand dollar (NZD)
Philippines: Philippine peso (PHP)
Russia: Russian ruble (RUB)
Paysend reviews
Overall, Paysend reviews are positive, with a Trustpilot score of 4.7 out of 5 stars when we checked on November 2, 2020. Paysend has more than 14,000 Trustpilot reviews, with 89% of those rated Excellent.
Also, Paysend has manually invited more than 6,000 people to leave a review on Trustpilot, which may encourage higher reviews. Paysend has responded to 95% of the negative reviews on Trustpilot, and typically do so within two days.
Is Paysend safe?
Paysend complies with all US-based KYC (know your customer) and AML (anti-money laundering) protocols. In addition to this, Paysend is a licensed money transfer company in the UK, and is registered with the FCA (Financial Conduct Authority). To keep your money safe, Paysend uses:
Bank-level security: All money transferred through Paysend uses the same security as your bank.
24/7 customer service: If you ever have a problem you can contact Paysend at any time.
2FA: Two-factor authentication helps keep your account even safer by preventing logins without access to your phone number.
What payment methods does Paysend accept?
Paysend allows you to pay in a few ways:
Credit card
Debit card — Mastercard or Visa
Bank account
There are no additional fees from Paysend depending on how you pay. Double check with your bank or credit card company, though, as fees may apply on their end.
What are the ways I can send money with Paysend?
Transfer methods through Paysend are a bit limited:
Delivery to bank account
Delivery to bank debit card
The availability of these methods varies depending on what country you're sending to.
What do I need to send money online through Paysend?
To send your first payment through Paysend you'll need to provide:
Phone number
Address
Legal name
Email
Payment method
Paysend sending limits
Paysend limits your account until you verify, here are the limits:
Basic: Send up to a total of $999 or five transfers
Advanced: Send up to $5,000 per month
Ultimate: Send up to $10,000 per month
Upgrading your account requires verifying your identity, which may include submitting proof of identification, your Social Security number and details on your income.
How to make my first transfer with Paysend
Signing up with Paysend can be done online or through the mobile app:
Provide your phone number
Enter your name and date of birth
Enter your home address, including apartment or suite numbers
Provide an email
Agree to Terms and Conditions
Verify your email and phone number
Start sending money

My experience with signing up
I signed up for Paysend in about three minutes. At first I tried to sign up using my Google Voice number, but Paysend doesn't allow VoIP, so I had to use my real phone number instead.
Creating an account was mostly painless, with the largest chunk of time spent waiting for the verification email to send. (Hint, my verification email went to my "Promotions" inbox, so be sure to look around if it isn't arriving right away).
Did I have to interact with customer service? Nope, everything was automated.
How long did it take? About three minutes, but it could have been quicker if I'd found my confirmation email sooner.
What was unexpected? VoIP numbers aren't accepted, so Google Voice users may have difficulty signing up if they don't have alternative numbers to use.
How to track a Paysend transfer
To track your Paysend transfer, you'll either need to log in to the website or open the mobile app. After that, you'll:
Navigate to the History section
Look at the symbol next to your transfer

Green circle = successful transfer
Black clock = in transit
Red "X" = failed transfer

If your transfer is in transit, allow up to three business days for it to complete before contacting customer service.
Is there a Paysend app?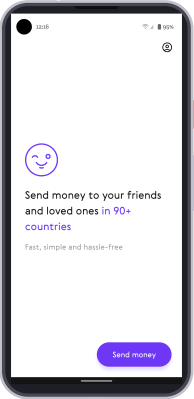 Yes, Paysend has an app on both Google Play and the App Store. The app makes it possible to:
Log in using biometrics. Both face and fingerprint recognition can be used to log in.
Check exchange rates on the go. Up-to-date currency exchange rates and fees can be found in the app.
Track transfer.See what stage your transfer is in and contact customer support with any questions.
| Ratings collected on November 2, 2020 | |
| --- | --- |
| Google Play Store | 4.7 out of 5, based on 23,799 customer reviews |
| Apple App Store | 4.8 out of 5, based on 361 customer reviews |
More on the best money transfer apps
How does Paysend compare to other services?
Our table lets you compare the services you can use to send money abroad. Compare services on transfer speeds and fees, then click Go to site when you're ready to send.
Bottom line
Overall, Paysend is a fairly straightforward way to send money internationally. With flat fees, competitive exchange rates and typically quick transfer speeds you can send money with ease. However, Paysend doesn't send everywhere in the world and could have better rates, so be sure to compare money transfer companies before settling down with one.
Frequently asked questions
Is Paysend's app safe?
Paysend's mobile app uses the same security for transfers as the website does. In addition to this, features like 2FA and biometric login can further protect your Paysend app when enabled.
Can you refund a Paysend transaction?
It is possible to cancel and refund a Paysend transaction as long as it hasn't been delivered. To do so, contact customer support and tell them your request. You can check if your transfer has been delivered in the app or online in your account history.