Payment processing
The best way to accept payments depends on how much you sell.
We compare the following brands
What is payment processing?
Payment processing is the system used for customers to pay merchants for goods and services. These transactions use third-party payment processing companies that manage purchases made with credit and debit cards. From buying groceries to online shopping, these providers handle banking information exchanges for both customers and merchants.
How does card processing work?
Processing transactions takes place in seconds — but behind the scenes, a complicated series of interactions take place.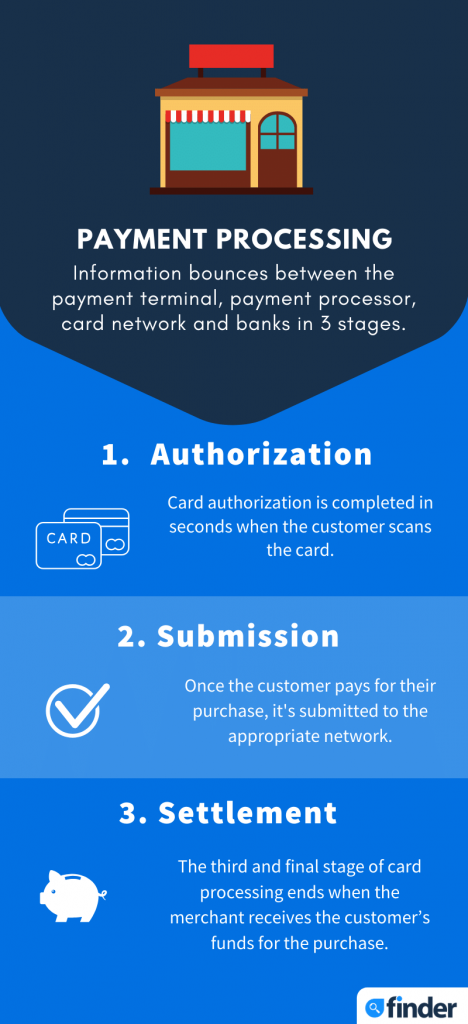 What do I need to accept payments in my store?
Merchants must have both the payment processing hardware and software to facilitate customer transactions. Whether it's a debit card, credit card or ACH payment, there are several things a merchant needs to accept the payment:
Credit card processing company. A credit card processing company directs a customer's banking information through the appropriate channels, confirms available funds for the purchase and approves the transaction — all in a matter of seconds.
Credit card processing hardware. If you plan to accept payment by debit or credit card, processing hardware makes it happen. Hardware options range from traditional terminals with PIN pads to integrated machine systems that include cash drawers, receipt printers and handheld scanners.
Merchant account. Merchant accounts — offered by acquiring banks — allow businesses to accept electronic payments into a business checking account. These accounts act as the electronic highway for processing transactions, but don't accumulate balances as deposit accounts.
Business checking account. An essential for any business, large or small, is a business checking account, offering the opportunity for businesses to manage cash flow, track earnings and withdraw and deposit funds.
Will I need 4 separate providers?
Some card processing services offer merchant accounts, while others bundle processing hardware into the mix. But you're unlikely to find a single provider that can offer everything you need to process customer payments.
Be prepared to compare providers for merchant accounts, processing services, hardware and business checking accounts. While there are opportunities to bundle, you likely need more than one provider to facilitate customer payments.
What are wholesale and markup fees?
There are two types of fees associated with credit card processing: wholesale and markup fees.
Wholesale fees are fixed and non-negotiable. They're charged by credit card associations, such as Visa and Mastercard, and issuing banks, like Wells Fargo. Wholesale fees remain the same, no matter which payment processor you use.
Markup fees, on the other hand, vary between providers and are negotiable. Markup fees are charged by your processing provider and other third-party providers to cover service costs.
Some payment processors blend wholesale and markup fees into a single fee for each transaction, while others keep the fees separate. If your provider opts to blend wholesale and markup fees, keep an eye on monthly charges — some providers use this fee structure to keep merchants in the dark about what's charged and why.
How does pricing work?
You'll need to pay to process payments through your merchant account, but not all providers charge fees the same way:
Tiered pricing
Best for: Merchants who prefer blended fees.
Choose something else if: You prefer an itemized breakdown of costs.
Tiered pricing bundles wholesale and markup fees into a single cost per transaction. These pricing models typically assign transactions a qualified, midqualified or nonqualified rate, with qualified transactions receiving the most competitive fees. Some providers use this pricing model making it difficult for merchants to differentiate which tier they're charged.
Flat-rate pricing
Best for: Merchants with low volume sales who prefer a single flat rate for all transactions.
Choose something else if: Your business processes a high volume of transactions.
Like tiered pricing, flat-rate pricing blends wholesale and markup fees. However, instead of tiered rates, it charges a single fixed fee for each transaction. So it's easy to track how much merchants pay per transaction, but costs are higher for high-volume of transactions.
Interchange-plus pricing
Best for: Merchants who prize provider transparency and want fees broken down by transaction.
Choose something else if: You prefer to bundle your wholesale and markup fees and don't want to sift through your monthly statements.
This pricing model separates and itemizes wholesale and markup fees on your monthly statements to see exactly how much you pay per transaction. Markups for interchange-plus pricing typically include a blended percentage and per-transaction fee for each transaction.
Membership pricing
Best for: Big businesses that want to save on a high volume of transactions with a flat-rate monthly markup fee.
Choose something else if: You have a small business and prefer to pay markup fees per-transaction.
Like interchange-plus pricing, membership pricing separates wholesale and markup fees. But instead of paying a percentage markup, merchants pay a flat rate for each transaction on top of a monthly subscription fee. This model is good for large businesses that process many transactions as it offers the opportunity to save on markup fees.
What types of payments can I accept?
While most providers process almost any type of transaction, there are exceptions. For example, Stripe no longer accepts cryptocurrency.
Other providers offer additional payment services for a fee — like Helcim's ACH processing available to merchants who agree to pay an additional $25 a month and $0.25 per transaction.
Credit card processing
To accept credit cards, you'll need a credit card machine or terminal that connects to the Internet and transmits cardholder data.
Traditional terminals use an ethernet or telephone line to access the Internet and connect to cash registers. Restaurants typically use portable machines and connect wirelessly to the Internet through Wi-Fi or Bluetooth. Smart terminals, like the Square Terminal and the Clover Flex, typically feature a touchpad display and feature a mobile wireless connection.
Credit cards cost more to process than debit cards, with interchange fees that range between 1% to 5% of the total cost of the transaction.
Debit card processing
All debit cards are processed using a credit card terminal. But if your business processes many debit transactions you need a machine with a PIN pad. Merchants can charge debit card transactions in two ways: the debit method or the credit method.
The credit method processes cards the same way as with credit cards — but with a higher fee. The debit method requires customers to enter a PIN to authorize, and merchants pay a lower fee.
Interchange fees on debit card payments are limited to $0.21 plus 0.05% of the total cost of the transaction.
ACH processing
ACH and echeck payments can be processed by merchant account providers, business bank account providers or dedicated ACH processors. Make sure your provider offers ACH processing.
Unlike credit and debit cards, ACH and echeck payments don't require a card network, so fees are typically lower. Flat rates range between $0.20 to $1.50 a transaction, and percentage fees typically range from 0.5% to 1.5%.
But while ACH transaction fees are cheaper than credit and debit card payments, be on the lookout for setup, batching and chargeback fees.
Check processing
While less ubiquitous than they once were, some customers may still want to pay using a traditional paper check. Your business needs a business checking account and a check scanner. Check scanners turn paper checks into ACH transactions, saving you an additional trip to the bank.
There may be a one-time or ongoing equipment fee for using a check scanner. Additional check processing fees depend on your checking account provider. The National Automated Clearing House Association estimates that the average cost to process a paper check is $1.22, while Bank of America suggests the costs is higher — between $4 to $20 per check.
How do I choose the right payment processor?
Knowing how to compare your options can help you select the right payment processor for your business. Here's how to assess a potential provider:
Pricing. Select from providers that offer pricing models best suited to the size of your business and the volume of transactions you expect to process. Interchange-plus pricing is best for most businesses, but depending on your transaction volume, you may benefit from flat-rate or membership pricing.
Hardware. How do your customers prefer to pay? Smart terminals offer sophisticated mobility, while integrated systems come with registers, receipt printers and handheld scanners.
Accepted payment methods. Ensure that your potential provider can process the payment methods that matter most for your business and the way you plan to accept payments.
Reputation. Explore your provider's online reputation and merchant feedback on platforms like the Better Business Bureau and Trustpilot.
Customer service. If you do the bulk of your business on weekends, opt for a provider with service reps available to answer queries outside weekdays.
Frequently asked questions
What is a payment gateway?
Payment gateways are a form of technology used by payment processors to facilitate transactions. They include both the point-of-sale terminals customers use to swipe cards and the checkout portals customers use to enter credit card credentials when making a purchase online.
Who deducts payment processing fees?
Payment processing fees are deducted by your payment processing provider. It automatically deducts wholesale fees owed to card networks while simultaneously taking a cut to cover its services — also known as markup fees.
Are payment processing fees tax-deductible?
Yes, businesses can deduct wholesale fees charged by card networks from their business taxes.