How to get full PPP loan forgiveness
Prioritize payroll, rehire laid-off staff and don't cut wages to get the most out of this program.
Some businesses can now apply directly through the SBA
The Small Business Administration (SBA) has set up a streamlined PPP loan forgiveness portal for some small businesses. The portal application was designed to be less time-consuming and have a faster turnaround than applying through a lender.
Apply for forgiveness through the SBA website if you meet the following criteria:
Your business received $150,000 or less in PPP funding.
Your lender has opted in as a participant in the direct forgiveness program.
The portal opened to applications on August 4, 2021. Reach out to your lender to find out if your business is eligible before you apply.
The main draw of the SBA's Paycheck Protection Program (PPP) is that you can get up to 100% of the loan forgiven. But how much you actually qualify for depends on what you spend the money on during those first 24 weeks after your loan is disbursed. And if you lay off staff or reduce salaries, you won't get full forgiveness — no matter what costs you cover.
How do I qualify for full PPP forgiveness?
Qualify for full forgiveness if you meet these four criteria:
Spend all of the funds on eligible expenses eight weeks after you receive the loan — eligible expenses include spending 60% of the loan on payroll and 40% on operating costs
Rehire all laid-off staff
Avoid other layoffs
Keep all full-time staff at their full salary — or close to it
When does the covered period start?
The SBA gives you two options for when those 24 weeks covered by forgiveness begin:
Covered period. The standard covered period is 24 weeks after the day your business receives the funds — or the first round of funds if your lender disburses them in installments.
Alternative payroll covered period. Businesses that pay employees every two weeks or more frequently can begin the covered period on the first day of the first pay period after your business gets the loan.
What counts as an eligible expense?
There are two main types of eligible expenses: payroll costs and operating costs. Payroll is generally the most important — the federal government recommends spending no more than 40% on operating costs to get full forgiveness.
Eligible payroll expenses
You must have spent at least 60% of your loan on the following types of payroll expenses to qualify for full forgiveness :
Employee salaries, commissions, wages and tips
Paid family, parental, medical or sick leave
Paid vacation leave
Allowances for separation or dismissal, like severance
Retirement benefits
State and local taxes based on employee compensation
Group healthcare premiums and costs
Eligible operating expenses
Count the following types of expenses your business paid over the 24-week period — as long as the contract began before February 15, 2020:
Rent. This doesn't include any portion you're subletting or leases signed on or after February 15, 2020.
Mortgage interest. This excludes any property you're leasing out and doesn't apply to mortgages signed on or after February 15, 2020.
Utilities. Also limited to contracts already in place on February 15, 2020, the portion of utility payments eligible for forgiveness are split if you share them with other businesses.
Supplier costs. Payments toward suppliers essential to your business's operations and part of a contract or purchase order that was in effect before you received the loan. This includes perishable goods with purchase orders and contracts made before and during the covered period.
Interest payments. Interest debts you took out before February 15, 2020 also qualify for forgiveness.
EIDL loan balance. If you refinanced an EIDL loan taken out before the PPP launched on April 3, 2020, that balance is eligible for forgiveness.
Business software. Any software you use for bookkeeping and supply tracking or cloud computing services that are necessary for business operations also count toward PPP forgiveness.
Property damage. Repairs on property damage relating to public disturbances in 2020 counts toward forgiveness if it wasn't covered by insurance and you didn't receive other compensation.
Worker protection costs.

Any expenses related to following health and safety guidelines for COVID-19 generally qualify for PPP forgiveness. This includes expenses like personal protective equipment, air filtration systems, sneeze guards, renovations to expand outdoor spaces and more.
What expenses don't qualify for forgiveness?
There are a few situations when otherwise eligible costs might not qualify:
Annual salaries over $100,000. The PPP caps forgiveness on salaries, commissions, wages and tips at $100,000 per year — per employee.
Tax credits. If you plan to use the paid sick leave refundable credit on your 2020 taxes, you can't count paid sick leave or family leave toward PPP forgiveness.
COBRA insurance payments. Health insurance payments aren't eligible for forgiveness because they're tax-deductible.
Independent contractor pay. Companies that rely on work from contractors can't count their compensation toward PPP forgiveness, since they're eligible to apply for the PPP themselves.
Employees abroad. Salaries and other compensation for employees who primarily live outside of the US do not count toward forgiveness.
New operating costs. Leases, mortgages and utility contracts made after February 15, 2020 are ineligible for PPP forgiveness.
Previously, EIDL grants were deducted from the amount of forgiveness your business could qualify for. But with the passing of the second stimulus bill, businesses are no longer required to deduct any past or current EIDL grants from their PPP loan forgiveness application.
Sole proprietor and independent contractor requirements
To qualify for forgiveness as an independent contractor or sole proprietor, you must spend your full loan on compensation, such as wages, income, commissions or net earnings. This is capped at $100,000 per employee.
You can count rent, mortgage interest and utility payments toward forgiveness as well. But they must be for spaces that are solely for business use — in other words, only what can be claimed as deductible on your taxes.
How do employee salaries and layoffs affect forgiveness?
If your business laid off full-time employees or reduced salaries after February 15, 2020 and before April 26, 2020, you may not qualify for full forgiveness.
However, the SBA has a Salary Hourly Wage Reduction Safe Harbor, which means you can still qualify for full forgiveness if you restore salaries and rehire employees by June 30, 2020.
But you also must meet the Full-Time Equivalency (FTE) Reduction Safe Harbor, which means full-time employees must on average earn close to the same pay and same hours as they did on February 15, 2020.
Full-time employee reduction exemptions
Reducing staff won't have an affect on your eligibility for full forgiveness if you have written proof that you made a good-faith offer to rehire a full-time employee and they rejected the offer.
Full-time employees who are no longer on payroll for reasons unrelated to the coronavirus outbreak also won't affect your eligibility for forgiveness. This includes employees who were fired for a specific reason, quit or asked for reduced hours.
How much forgiveness can I get if my business reduced wages?
If you reduce your employees' wages or salaries over 25%, you'll lose that amount in loan forgiveness as well. This does not include salaries over $100,000 per employee.
New regulations for PPP loans under $50,000
On October 8, 2020 the SBA released updated guidelines for businesses that borrowed less than $50,000. Most notably, SBA Form 3508S does not require business owners to reduce the amount forgiven if they needed to do one of the following:
Reduce full-time equivalent (FTE) employees
Reduce salaries or wages
This provides added flexibility — and lessens the amount of paperwork — for business owners who may have been unable to rehire employees or reestablish wages by the original date set by the SBA.
You will need to submit the SBA Form 3508S to your lender. The SBA has provided instructions on how to fill out Form 3508S, but your lender may have additional instructions when you're ready to submit an application for PPP loan forgiveness. Business owners are also no longer required to provide the calculations used to determine the eligible amount of PPP funding to be forgiven. However, the SBA may still request this information on a case-by-case basis.
Can Second Draw PPP loans be forgiven?
Yes, Second Draw PPP loans are eligible for forgiveness. The second round of funding is subject to the same forgiveness rules as first draw loans. The main differences between First and Second Draw PPP loans are in eligibility requirements and application process — not forgiveness.
How do I apply for PPP forgiveness?
Apply for forgiveness by filling out the PPP forgiveness application and submitting it to your lender. You can do so by following these steps:
Step 1: Get the application from your lender.
While you can find a copy of the PPP forgiveness application on the SBA website, reach out to your lender first. All require the same information, but how you apply might differ. Some lenders might ask you to fill out the SBA's application directly, while others might ask you to fill out an online form on their website.
Step 2: Calculate your forgiveness amount with the PPP Schedule A Worksheet.
While you don't have to submit the Schedule A worksheet, you're still required to have this it on record.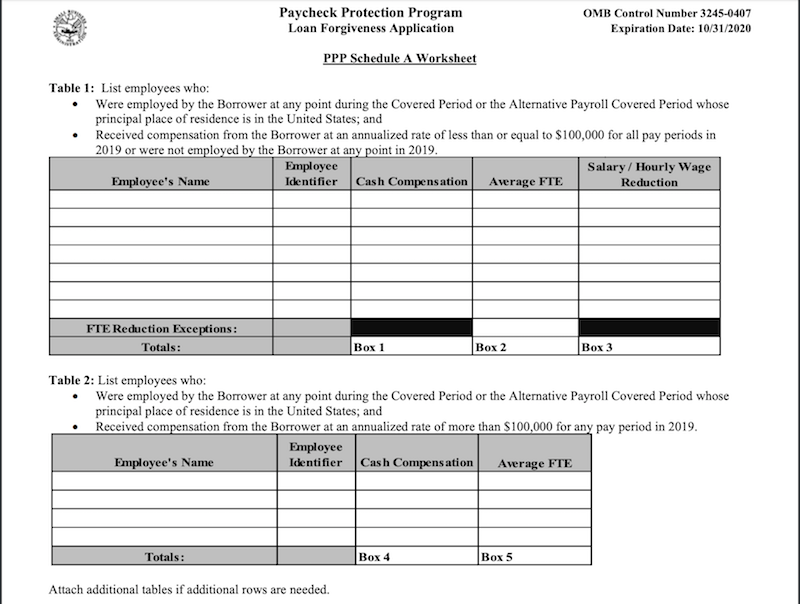 How to complete Table 1
Enter the following information for all full-time employees who were employed during the forgiveness period and either made up to $100,000 in 2019 — or weren't employed in 2019.
Employee name. Write the employee's first and last name.
Employee identifier. Write the last four digits of the employee's Social Security number.
Cash compensation. Enter the total eligible payroll cost of that specific employee — including paid leave and allowances for dismissal.
Average full-time equivalency (FTE). Write the average number of hours the employee was paid per week, divided by 40 and rounded to the nearest tenth. The maximum you can include here is 1.0.
Salary/hourly wage reductions. Follow the steps below to figure out which number to enter here.
Once you fill out these rows, add up the totals for each column. Under Average FTE, also add up the total amount employee pay has been reduced that qualify for a full-time employee reduction exemption.
How to calculate salary/hourly wage reductions
If your employee salaries or hours were reduced between February 15, 2020 and April 26, 2020 — and were restored by June 30, 2020 — follow these steps to calculate the salary/hourly wage reduction. If your employee earns an annual salary, use that when calculating pay. Otherwise, use the hourly wage.
Find out if pay was reduced by more than 25%. Divide the average pay during the forgiveness period by the average pay between January 1, 2020 and March 31, 2020. If it's 0.75 or more, enter 0 in the Salary/Hourly Wage Reduction column for that employee. If you have a a seasonal business, ask your lender if you use the average pay during the same period in 2019.
Find out if you meet the Salary/Hourly Wage Reduction Safe Harbor. Enter 0 in the Salary/Hourly Wage Reduction column if the employee made the same average pay or more between February 15, 2020 and April 26, 2020 than it did on February 15, 2020. If they made the same pay on June 30, 2020 as they did on February 15, 2020, then you can also enter 0 in that column — you've met the safe harbor.
Calculate how much wages or hours were reduced. Multiply the employee's average pay between January 1, 2020 and March 31, 2020 by 0.75. Then subtract the result from their average salary during the forgiveness period.
For hourly workers: Multiply the average number of hours worked per week between January 1, 2020 and March 31, 2020 by the result in step 3. Then multiply your new result by 8. Enter that number in the Salary/Hourly Wage Reduction column.
For salaried workers: Multiply the number you calculated for step 3 by 8. Then divide your new result by 52. Enter this number in the Salary/Hourly Wage Reduction column.
How to complete Table 2
For employees who earned more than $100,000 in 2019 and were employed during the covered period, follow the same steps to complete this table as you did for the first table — without the Salary/Hourly Wage Reduction column.
How to calculate the FTE Reduction Safe Harbor

Calculate the total Average FTE for all employees between February 15, 2020 and April 26, 2020.
Calculate the total FTE for all employees during the pay period that included the date February 15, 2020. For example, use the pay period of February 14, 2020 to February 28, 2020 if your employees get paid biweekly.
Calculate the total FTE as of June 30, 2020.
If step 1 or step 3 gives you a number that's greater than or equal to step 2, you qualify for the FTE Reduction Safe Harbor and should enter the number 1.0 in line 13 when filling out PPP Schedule A.
Otherwise, fill out that line by dividing the number you enter in line 12 by the number you entered in line 11.
Step 3: Complete PPP Schedule A.
Use the information from your worksheet to complete the PPP Schedule A. You'll need this information to calculate how much forgiveness your business can qualify for.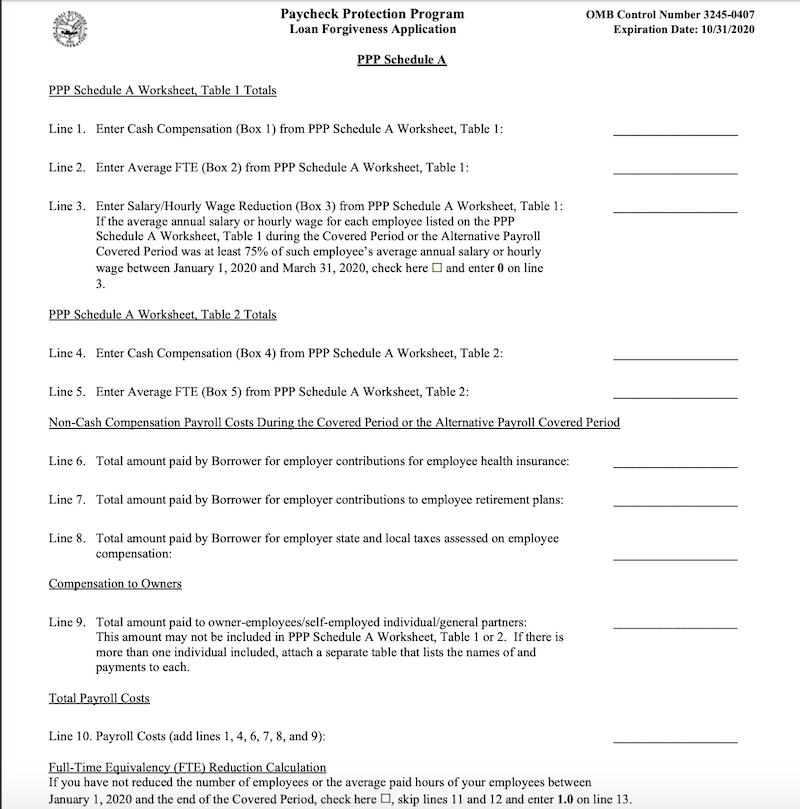 Step 4: Fill out the Loan Forgiveness Calculation Form.
Follow the directions to fill out the PPP Loan Forgiveness Calculation Form. Use the information from your PPP application and PPP Schedule A, when applicable.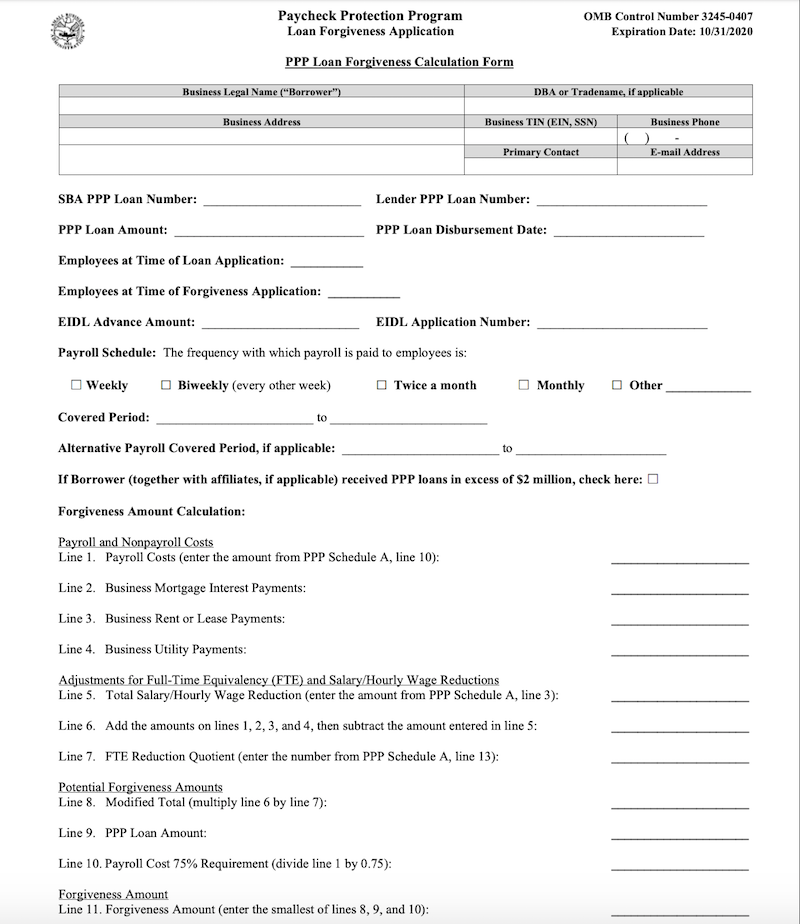 Step 5: Fill out the PPP Borrower Demographic Information Form.
You have the option to fill out a form identifying your business ownership demographics by veteran status, gender, race or ethnicity. But you aren't required to complete this section.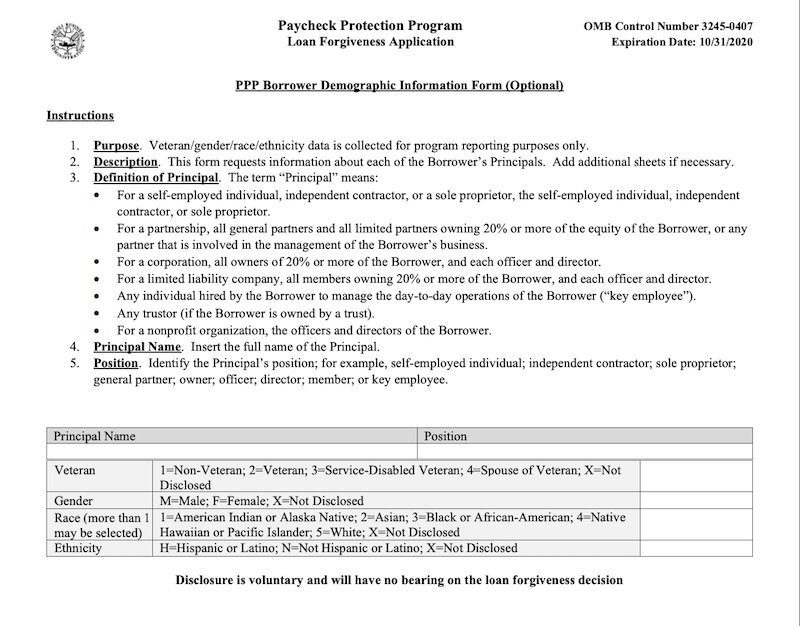 Step 6: Read and sign the certifications.
Have an authorized representative of your business read and initial next to each certification. Then, the representative must sign and date the certifications, and print their name and title.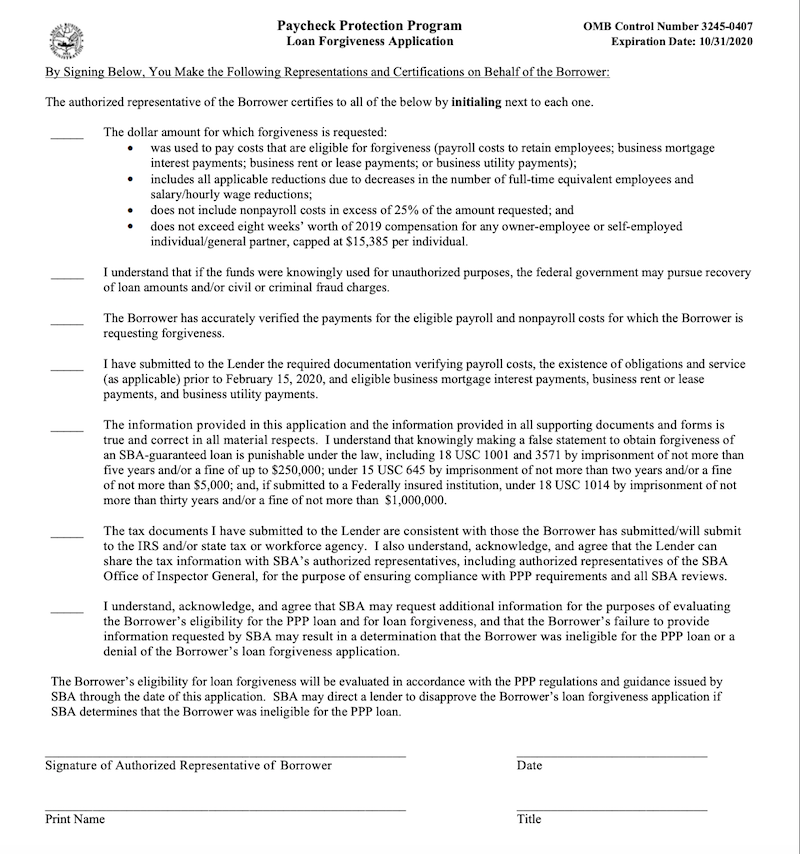 What documents do I need to submit?
Along with your forgiveness application, you'll be asked to provide the following documents for the 24-week period that forgiveness covers:
Payroll documents. This includes payroll tax filings that you submit to the IRS and state filings for income, unemployment insurance and payroll. It can also include bank account statements or reports from a third-party payroll service provider.
Tax forms. Payroll tax filings that you submitted or plan to submit for either the covered period or the alternative covered period — usually Form 941. Or, submit documentation that a third-party payroll service provider would submit.
Employer contribution documentation. Provider receipts or other documentation for any contributions your business made toward employee health insurance policies or retirement plans during the covered period.
Full-time employee documentation. You also must submit documentation verifying the number of full-time employees in your company and their salaries — if it's not already covered by the tax forms and payroll documents.
Verification of costs eligible for forgiveness. This can include mortgage statements, rent receipts, utility payments and canceled checks — among other relevant documents.
Your lender may also require additional documentation, depending on the circumstance.
How long does it take to get forgiveness?
Your lender is required to give you a decision within 60 days of receiving your application. If you qualify, your loan is forgiven. Otherwise, you're required to repay the loan over a two-year term at a 1% interest rate.
What happens if I still owe money after forgiveness?
Any remaining balance after forgiveness turns into a loan with a two-year term. You still don't have to make payments for the remainder of your six-month deferment period, but start as soon as you can. Interest accrues during deferment on these loans, so you'll have higher monthly repayments if you defer your loan for the full six months.
In fact, consider paying it off early if you have the means to. Since there are no prepayment penalties, paying it off early can help you save on interest.
5 tips to get full forgiveness
Maximize your chances of qualifying for full forgiveness with these pointers:
Document your expenses. Be extra careful to keep detailed, organized records. If an expense isn't documented, it doesn't qualify for forgiveness.
Rehire staff. You won't be able to qualify for 100% forgiveness unless you rehire staff you laid off after February 15, 2020.
Don't cut jobs or salaries. You'll have to pay back a larger portion of the loan if you cut employees or their wages.
Give tipped workers extra pay. The SBA counts this toward your payroll expenses, which means it can help you qualify for a higher forgiveness amount.
Ask about your lender's own guidelines. Ultimately, it's up to your lender to decide how much forgiveness your business can qualify for. Ask if they have any additional guidelines that you need to follow — ideally before you take out the loan.
Should I apply ASAP or hold off on my forgiveness application?
Currently there's no deadline to apply for forgiveness, so when you apply for forgiveness is up to you. Some small business owners are waiting to see see what a new stimulus package might bring — some proposals would make it easier to qualify for more forgiveness or simplify the application.
But you might not want to wait too long. Your loan repayments kick in 10 months after your PPP loan covered period ends. Make sure you get your forgiveness application in before then.
Need additional funding? Apply for a business loan today
Bottom line
Documenting your eligible expenses, rehiring staff and avoiding additional layoffs or cut wages can help ensure all of your Paycheck Protection Loan is forgiven. And if you need additional funding to help keep your business afloat as the economy slowly reopens, check out our guide to COVID-19 business loans for more options available.
Finder.com received a PPP loan in May 2020.