Panic selling hits all corners of the stock market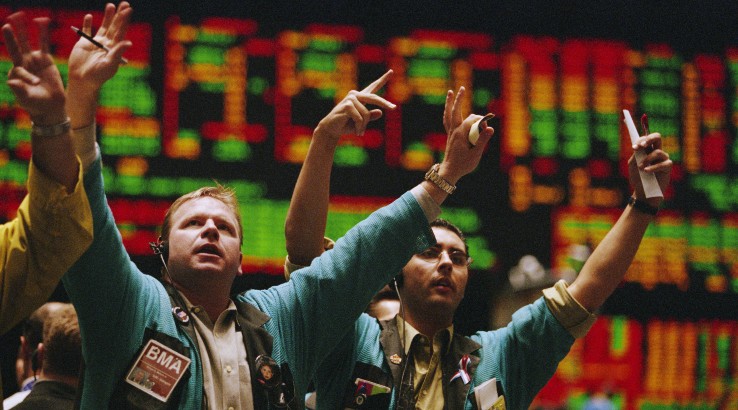 Dramatic crash takes down good stocks along with the bad.
A third forced stoppage to stock market trading in the opening minute on Monday — and further glitches for traders on the popular Robinhood app — has marked a financial crash that is now closing in on 29% in the Dow Jones Industrial Average and 27% in the S&P 500.
Besides an abundance of bad news related to the coronavirus pandemic and growing fear of its implications worldwide, widespread selling as a result of margin calls has been acknowledged by analysts in The Wall Street Journal and other publications.
What that means to investors is that some market participants have been forced to sell good companies along with bad companies in order to pay back money they borrowed to invest — which is never a good idea.
As with the world of consumer spending, debt has been a key component of Wall Street trading, and when losses mount — like they have over the past month — brokerages come calling with a demand that traders pay back money that was borrowed on margin to invest in the stock market. At that point, those traders often have little choice but to sell anything they can in order to come up with the cash. That means good investments are being sold with the bad.
It's difficult to know when the selling will end, but the fact that there's been forced selling to meet margin calls means some stocks will be oversold and due for a significant rebound. The challenge and opportunity for investors is to find those good stocks amidst the bad. Here's an overview of how the selling pressure has affected certain sectors of stocks and some of the reasons why the selling is or isn't justified.
How the news is affecting stocks
Much of the barrage of bad news has stemmed from the accelerating severity of the coronavirus pandemic and its resulting travel bans and precautionary cancellations, though the global market is very complex and many other factors have also influenced the selling, including the new oil price war between Saudi Arabia and Russia.
Financials: -35%
With all-time record consumer debt on their books and a bank-to-bank repo liquidity crisis continuing since last September, bank stocks are down 35% from their February 12th high, according to the Financial Select Sector SPDR Fund (XLF). Some individual stocks, like Citigroup (C), have seen drops that have eclipsed 50%.
Utilities: -27%
Utilities stocks have remained on par with the overall market, according to the Utilities Select Sector SPDR Fund (XLU), and may perform better in the coming weeks and months if lower oil and gas prices plus higher home heating demand outweigh the slowdown in commercial and industrial demand.
Consumer discretionary: -31%
With consumers pulling back from travel, events and now even gathering places like restaurants, that loss of revenue has hit this sector harder than the broader market, according to the Consumer Discretionary Select Sector SPDR Fund (XLY), and the disparity could easily grow further to the downside as America braces for a near-lockdown for the remainder of the month.
Consumer staples: -20%
The obvious bright side for spending activity has been the run on supermarkets and wholesale stores as people stock up on essentials — particularly toilet paper. The boost has spared this sector of the market from nearly 10% of downside, according to the Consumer Staples Select Sector SPDR Fund (XLP).
Energy: -55%
Hit with the double whammy of the coronavirus pandemic and the outbreak of an oil price war in the Middle East, the energy sector is down about twice as much as the overall market, according to the Energy Select Sector SPDR Fund (XLE). As long as Saudi Arabia and Russia continue to pump surplus oil in an attempt to put their competitors out of business, energy stock prices could remain suppressed.
Healthcare: -21%
The sell-everything market crash hasn't spared the healthcare industry either, though it's the second-best performer of the group according to the Health Care Select Sector SPDR Fund (XLV). And if COVID-19 infects as many people as some experts anticipate, doctor visits and future vaccine sales could help the sector rebound in the months to come.
Industrials: -34%
As long as the oil price war presses on, the transportation portion of this sector will see some relief from lower gas prices, but the question remains whether that's enough to offset a drop in demand as consumers stop spending and manufacturers slow down their production. Industrial stocks have slid deeper than the broad market, according to the Industrial Select Sector SPDR Fund (XLI).
Technology: -30%
Despite being last to begin their descent from recent highs, technology companies have been abandoned by investors at a similar pace as the rest of the market, according to the Technology Select Sector SPDR Fund (XLK). Part of the catch-up fall has been the quicker onset of worry out of China, where the coronavirus originated, about disruption in the supply chain of technology parts made overseas that are needed for high-tech gadgets.
Telecom: -30%
There's no lack of demand for cable and Internet, especially as employees are increasingly asked to work from home and schools are shut down for the next two weeks, but the recurring theme here is that the stock market selling has been indiscriminate to a degree, bringing the telecoms down about as much as the overall market, according to the Vanguard Telecom ETF (VOX).
Materials: -47%
Gold, as one of the most-watched materials, fared much better than the rest of the market throughout February and early March. Per the Market Vectors TR Gold Miners ETF (GDX), it peaked on February 24th and was down just 8% until last week. If the selling pressure in gold and materials was indeed driven heavily by margin calls — and it retains its place as a safe haven amid the prospect of prolonged uncertainty and further economic decline — then this sector could rebound more strongly than others.
Real estate: -28%
Another mixed bag exists in the real estate sector, which has seen an average drawdown according to the Vanguard REIT ETF (VNQ). With interest rates at record lows, there's plenty of demand for housing, but the supply is constrained and the specter of hard times could hike projections of loss attributed to foreclosures or companies going out of business.
How to invest in the market or individual market sectors
To take advantage of a potential rebound in certain parts of the stock market, investors can watch ETFs like those above or do further research into individual stocks within the sector they're interested in.
Because ETFs are themselves diversified across a number of individual stocks, they've become a popular choice for investors over the last two decades. You can buy or sell them simply using their ticker symbol, just like any individual stock, on whichever stock trading platform you prefer. Since last fall, most stock trading platforms now offer zero commissions on your trades, which removes one of the big hurdles to affordably investing.
Compare your options and learn how to set up a self-directed investment account, or if you'd rather just deposit your nest egg and let technology do the trading for you, consider a robo-advisor — many of which allow you to select market sectors or investment themes.
You can also find entire stock index ETFs for the Dow Jones Industrial Average (DIA), S&P 500 (SPY) or NASDAQ (QQQ).
Picture: Getty Images